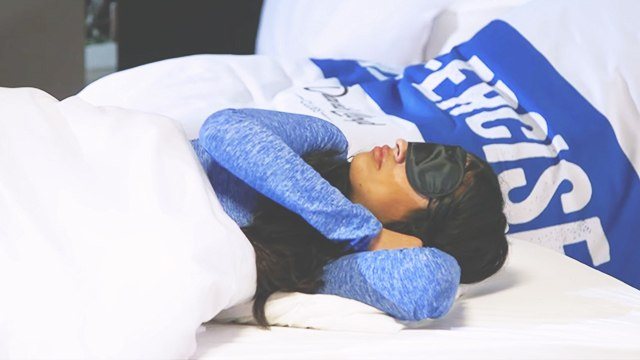 You read that right, ladies. You can now say that you went to the gym for a workout, even if what you really did was just flop in a comfy bed and take a nap.
David Lloyd Clubs in the UK now offers nap classes specifically for men and women who don't get enough sleep. Called Napercise, this one-hour class leads its participants through several stretching exercises before getting into bed and napping for 45 minutes. Everything in the room is arranged for a conducive shut-eye—from the beds, to the comforters, and even to the temperature and the gym-provided eye masks.
ADVERTISEMENT - CONTINUE READING BELOW
CONTINUE READING BELOW
Recommended Videos
According to its promotional video, Napercise can "combat tiredness" and is "designed to reinvigorate the mind, improve moods, and even burn the odd calorie."
While it may initially sound silly, the logic behind Napercise is pretty sound. According to Sleep.org, naps can help you up your energy levels and in turn, get you productive for the rest of the day. "A 20-minue snooze—called a stage two nap—is ideal to enhance motor skills and attention, while an hour to 90 minutes of napping brings Rapid Eye Movement (REM) sleep, which helps make new connections in the brain and can aid in solving creative problems." These are a few reasons why you feel refreshed after that lunchtime snooze, even if you only got in a few minutes of rest.
Napercise is currently in its trial stage, but it looks like people are pretty receptive to it, as according David Lloyd Clubs' website, its first class is already fully-booked. If everything goes well, the studio will run it in all its branches. It would be interesting to see gyms adapting it here because the reality is that sleep is more and more becoming a luxury for so many women.
ADVERTISEMENT - CONTINUE READING BELOW
So, would you pay your gym for a nap class?
Sources: David Lloyd Clubs, Mashable, Bored Panda
Load More Stories