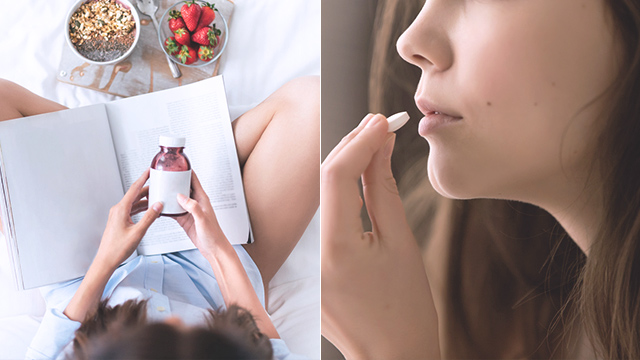 That bottle of vitamin and mineral supplements you have in your medicine box may not really be doing anything for your health especially your heart, says new research. The most common supplements such as vitamin C, vitamin D, calcium, and multivitamins were found to provide no benefits when it came to the prevention of cardiovascular disease, heart attack, stroke or premature death.

"We were surprised to find so few positive effects of the most common supplements that people consume," said lead author Dr. David Jenkins, a nutritionist at the University of Toronto and St. Michael's Hospital, in a statement. 
ADVERTISEMENT - CONTINUE READING BELOW
For the study, which is published in the Journal of the American College of Cardiology, researchers analyzed over 150 clinical trials from January 2012 to October 2017. "Our review found that if you want to use multivitamins, vitamin D, calcium or vitamin C, it does no harm—but there is no apparent advantage either," says Dr. Jenkins. 

There is an outlier, however. The team found that folic acid may reduce the risk of heart disease. And, "niacin (vitamin B3) and antioxidants showed a very small effect that might signify an increased risk of death from any cause," reads the news release. 

The findings point to the importance of consulting a healthcare professional to find out which vitamin and mineral supplements suit the patient the best, explained Dr. Jenkins. "In the absence of significant positive data—apart from folic acid's potential reduction in the risk of stroke and heart disease — it's most beneficial to rely on a healthy diet to get your fill of vitamins and minerals," he concludes.

Only take vitamins supplements if they're prescribed by your doctor, the American Heart Association (AHA) advised. It is only when the doctor has surmised that your daily diet does not provide your body with enough nutrients do supplements become necessary. "There isn't sufficient data to suggest that healthy people benefit by taking certain vitamin or mineral supplements in excess of the daily recommended allowance," said the AHA. 
When it comes to kids, "Food is the best source of nutrients," developmental pediatrician Dr. Rita Paz Rowena A. De Guzman tells to SmartParenting.com.ph. "When we talk to the parents, we get background information and ask about what the child eats. If we feel that a nutritious diet is not always provided, then a vitamin supplement becomes essential," she said. 
Vitamin supplements fill in gaps in nutritional deficiencies. They're essential in some cases as there are repercussions to the health of a child if these gaps are left unfilled, the pediatrician explained. "Many nutritionists will agree that a supplement is okay if nutrient needs are not being met by a healthy food-based diet," Penny Kris-Etherton, a professor of nutrition at the Pennsylvania State University, told AHA. 

Prioritize balanced meals for the whole family. And when the doctor says you and the kids don't need to take vitamins, take it as a compliment! 

Find the recommended food portions per meal developed by Food and Nutrition Research Institute (FNRI) of the Department of Science and Technology for adults here and for kids 3 to 12 years old here. 
ADVERTISEMENT - CONTINUE READING BELOW
This story originally appeared on Smartparenting.com.ph.
* Minor edits have been made by the Femalenetwork.com editors.
Load More Stories