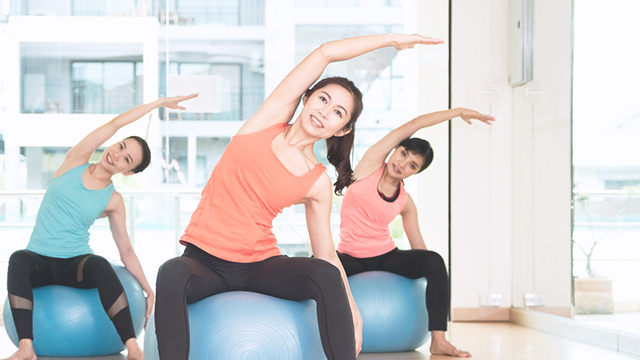 To those on the verge of giving up on working out, the return of classical Pilates is here to change your mind. Ask any beginner riding the Pilates wave and they'll confirm it's no sweat.
Ole Eugenio, who pioneered the Pilates movement in the Philippines back in 2001, can attest to this. "If you're a beginner, it caters to your level," he tells us during an immersive afternoon at Move With Options in Rockwell. "The beauty of Pilates is that it can be custom-tailored to whoever the client."
ADVERTISEMENT - CONTINUE READING BELOW
The former aerobics champion discovered Pilates in 1991. He trained with Romana Kryzanowska, one of Joseph Pilates' first disciples and the same woman who taught Stott Pilates founder Moira Stott all she knew. While Eugenio was first certified in contemporary Stott Pilates, he revisited and revived the classical method, which he considers more effective when seeking a full body workout.
Who can try it?
Anyone from ages nine to 90 years old can try this versatile exercise, says Eugenio. Think of it as your daily morning stretch—it feels good and the movements feel natural. It's for everyone—from the sedentary worker to the recovering athlete, to the expectant mother.
What fitness goals does it help you achieve?
Your regimen can be designed to fit your fitness goals. To sum it up in three words, Eugenio uses stretch, strength, and control. But with the customizable workouts, it can help you improve your posture and balance or work to heal from an injury.
ADVERTISEMENT - CONTINUE READING BELOW
How long before you recognize a change in your body?
The Pilates guarantee is that in ten sessions, you feel the difference, in 20 sessions, you look different, and in 30 sessions, you have a new body, at least according to its founder and its namesake, Joseph Pilates.
A few sessions in and we can say that Pilates is a physical activity that you can easily fulfill two to three times a week since it's a very low-impact workout. Equipment such as the reformer make each session more enjoyable and it feels nothing like a chore to commit to.
What's the difference between contemporary and classical pilates anyway?
Classical Pilates sticks to its founder's work as much as possible, while the contemporary Stott Pilates adds modern variations into the movements. One of the small differences is that classical Pilates conducts mat exercises using a posterior tilt where the lower spine is flat on the floor and the pelvis is positioned in a certain way, while contemporary Pilates does the opposite and makes space between the lower spine and the floor.
ADVERTISEMENT - CONTINUE READING BELOW
How is it different from yoga?
One of the main purposes of yoga is meditation, which some Pilates instructors incorporate into their classes. The main difference between the two has to be the latter's use of machines, which works the entire body with the intention of moving in all planes, says Eugenio. "Pilates is for your body, yoga is for your soul," he adds. Women's Health begs to differ, however, and gives much more credit to the instructors who sometimes inject yoga values into Pilates workouts, while some yoga instructors would shift the focus to core work.
ADVERTISEMENT - CONTINUE READING BELOW
Is there anyone who should avoid it?
It's not a matter of avoiding it per se, but working with a specialist. "If a client has osteoporosis or spine pathology or dysfunction, they need to see a clinical Pilates practitioner like a physical therapist or an osteopath," Eugenio recommends.
ADVERTISEMENT - CONTINUE READING BELOW
How do I find the right studio?
Pilates is something you do can even at home, but if you're looking for a studio, there are two things you should look out for: qualified trainers and well-equipped studios that carry the full range of machines.
This story originally appeared on Townandcountry.ph.
* Minor edits have been made by the Femalenetwork.com editors.
Load More Stories