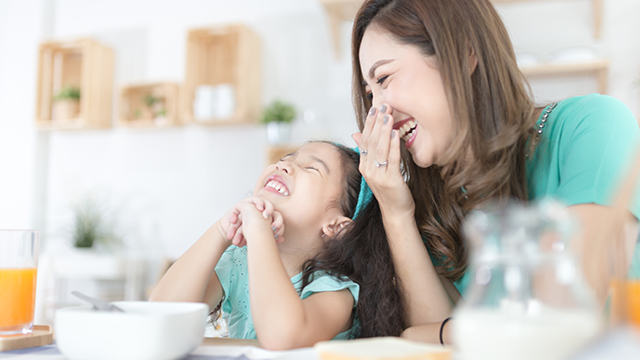 When the overwhelming realities of life consume us, it's easy to get away with not really paying attention to our health or environment. But everything changes when motherhood strikes. Once you become a mom, you want to become a positive example to your child in the hopes that they grow up healthy and happy. They look to you as an example, after all, and if you show them how easy it is to live a healthy lifestyle, they'll follow suit. Below, we asked Filipina moms Charina, 29, a project sales manager; Jaimee, 40, a senior sales manager; and Kim, 34, a leasing manager, to share the small changes they made to live healthier and more sustainably now that they have families to care for.
1. Stay active.
It's never too late to hit the gym or try a new workout, no matter what your age is. "I was never a runner, but I started running with my kids in fun runs," shares Jaimee. "Eventually, I got the hang of it to the point where I decided to run longer distances and set personal goals for myself. Last year, I even joined marathons."
Meanwhile, Charina felt pressure from her military husband and ballerina daughter to get in shape. "After giving birth, my body didn't bounce back to how it was before the pregnancy, and, to make things worse, I also have a thyroid disease that causes me to rely on a pill to help with my metabolism," the 29-year-old explains. "But instead of feeling insecure and letting myself fall behind on my health, I decided to keep up with my family's fit lifestyle. I signed up for a gym membership, hired a trainer, and now I work out three to four times a week."
2. Avoid single-use plastics.
With all the news circulating about how garbage is polluting oceans and landfills, the only responsible thing to do is to lessen the use of plastics. "My family uses glass food containers and mason jars to store our food, and each of us brings a glass straw wherever we go," says Charina. "I also keep a stack of fabric shopping bags in my car in case I do my grocery shopping and I carry around a reusable water bottle to make sure I get my eight to 10 glasses a day." While it might be more expensive to shop for reusable containers, you'll end up saving money in the long run since you won't have to keep spending on plastic bags.
3. Educate your children on living sustainably.
It's one thing to teach your kids about eating healthy, it's another to see them act on it. "Educating my son on healthy diets led him to become more conscious of what he would eat," says Kim. "He's watching what he eats now, and he started cutting out eating sweets, too!" For Jaimee, she lauds her kids for their small efforts. "Whether it's keeping a candy bar wrapper in their pocket instead of littering, not using single-use plastic straws, or switching off the faucet to conserve water," she shares, "simple habits like these could carry on as my kids grow older and become more aware of their environmental impact."
4. Create a meal plan every week.
There's more to meal planning than just controlling the number of calories you eat in a day. "Portioning your meals on a weekly basis can help you save money—you buy only what you need and it also prevents you from wasting food left in the fridge," explains Charina.
A meal plan also ensures you're getting a balanced diet. "Planned and portioned meals help you control your cravings by already setting a menu that's comprised of fruits and vegetables," Jaimee says.
5. Shop organic.
Organic products don't have to be expensive. Sometimes, you just need to know where to look. "There's a lot of trial and error when it comes to shopping at a local farmers' market," says Kim, who's made her wet market trips a weekly habit. "There are a lot of options on fresh fruits and vegetables, and everything's more affordable. But when you find your suki, you can find out more about how and where the produce was grown." At the end of the day, it comes down to investing in your health. "I believe that prevention is better than a cure," says Kim. "I want to watch my son grow up and live his life for as long as I can. That's my driving force in choosing healthier options now."
When you know where your food comes from and how it's made, you can rest easy knowing you're doing good for your child's health by shopping organic. For affordable organic milk, try Arla Organic Powdered Milk Drink—it has four organic ingredients and it's 100 percent European certified organic, this it has no pesticides and GMOs.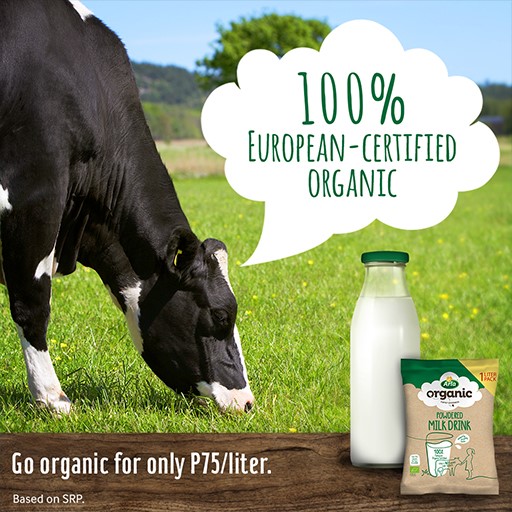 Arla Organic Powdered Milk Drink is available in leading grocery stores nationwide. Find out more about other Arla products by following the Facebook page and visiting the Arla website.
ASC REFERENCE CODE: A018P092319AW
This article was created by Summit Storylabs in partnership with Arla.