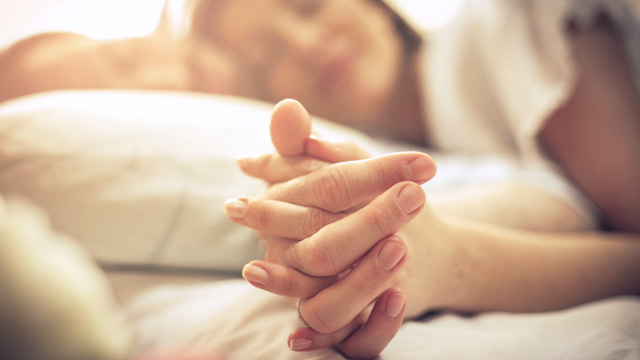 As a single woman, you may have felt you had all the time in the world, but once you become a mom, it's like the days aren't enough—you're suddenly overwhelmed with the responsibilities, including taking care of your newborn.
ADVERTISEMENT - CONTINUE READING BELOW
While the changes are expected, some moms find themselves burdened with mom guilt—to be a good mom, they need to make huge sacrifices at the expense of themselves. Often, that means putting aside their own happiness to focus on their child.

"Many women have difficulty separating themselves and their own needs from the role they have taken on as moms. For many moms, low self-esteem is prevalent as a result of the illusion they have that other women are facing these [family challenges] more successfully," explains Allen Wagner, a marriage and family therapist, to SheKnows. When moms start to de-value themselves, Wagner warns that they might "beat themselves up, [feel] selfish, and sometimes feel like failures."
4 things women should not sacrifice after becoming moms
If what Wagner said above sounds a lot like what you're feeling right now, then remember this: just because you're a mom doesn't mean that you have to let go of your old self completely. For starters, here are four important things you should not give up.
1. Being intimate with your partner
A recent study reveals that parents aren't having as much sex as they were a decade ago. And moms have a lot of reasons why, including a shift in priorities, a fear of getting pregnant again, and not being confident enough with their post-pregnancy bodies. But experts have always stressed the importance of intimacy for couples with kids. Moms, especially, should not stop themselves from finding pleasure in the act.

"It's important for women not to give up their sexuality, as this plays into their identity," Wagner says. "Human sexuality a very, very important driver of human beings; emotionally, they feel closer, and physically, they feel more connected and relaxed."

She adds, "As individuals, feeling desired and seen has a huge impact on self-esteem. Women are sexual beings, and having a baby does not need to change that."
2. Time for self-care
Yes, caring for your little one brings you joy, but focusing on him 24/7 can be draining. Mom burnout is real, which is why you need to take a break every now and then. Vlogger and inspirational speaker Jay Shetty says, "You owe yourself one hour a day of self-maintenance. One hour—1 out of 24 of your day. That's less than 5%. Make it count."

Self-care can be made up of simple things like taking an extended bathroom break, writing in your journal, or watching your favorite Netflix shows. It can also mean investing time with friends or indulging in beauty treatments.

Whatever your form of self-care, make sure to commit to it. "You can't just think, 'Someday soon I'm going to take a day for myself.' We have to prioritize the same as we would prioritize things for our kids. We'd never miss an appointment for our kids because they are important. Equally important is prioritizing yourself and your own needs," says Genevieve Shaw Brown, award-winning journalist and author of The Happiest Mommy You Know: Why Putting Your Kids First Is the Last Thing You Should Do.
ADVERTISEMENT - CONTINUE READING BELOW
3. Your passion, dreams, and career
According to a recent survey, Pinay moms find it "emotionally difficult" to leave their children at home while they head out to work. If they could, they would prefer to stay at home.

There's nothing wrong with wanting to be with your kids if you prefer it that way, but you should also not feel guilty for wanting to pursue a career even as you raise your children. You can be a good mother even as you pursue your dreams.

Malou Treñas-Del Castillo, a career coach who was able to fulfill her dream of becoming a licensed psychologist without sacrificing time with her son, says that she did it not only because she wanted to be happy but because she wanted her son to see "that his mom lives a meaningful life." She adds, "They need to understand they also need live full lives as individuals later on. As a woman, kung mas buo ka, mas buo yung identity mo, it will help you become a better mom for your kid."

If you're worried about how your career will affect your child in the long run, researchers who have looked at how the emotional lives of children are affected by their parents' jobs say that it does not have a detrimental effect as long as you still get to invest in quality time with your kids.
ADVERTISEMENT - CONTINUE READING BELOW
4. Your social life
A popular trope is that when women become moms, their social life also goes out of the window. But spending time with your friends—a.k.a. the people who knew the real you even before you became a mom—is right for your health and well-being.

Just in case you need more convincing: having a circle of friends is beneficial for baby's brain development. Venting with your best buddies also makes you feel less alone and can relieve stress brought about by the kids.

Motherhood can change your life in many different ways, but it doesn't mean that you have to stop being kind to yourself. Love yourself not for anything else, but because you're enough, and you deserve it. 
Load More Stories