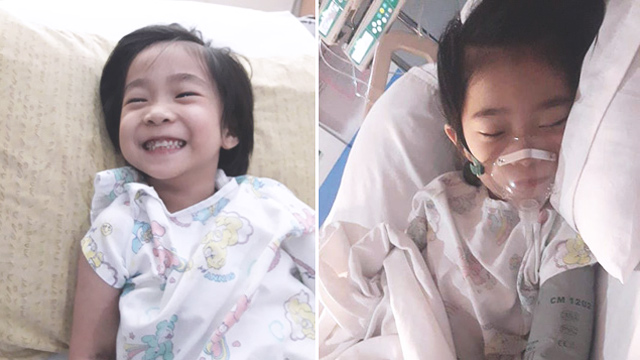 It was likely the flu. That was what mom Joanne Clarisse Reña, thought when her 3-year-old daughter, Sophia, was confined in a hospital in Manila. "We took her to the emergency room thinking that she only needed medications for her asthma and fever," she shared in an interview with SmartParenting.com.ph.  

Sophia's parents noticed that the little girl was feverish, lethargic, and had a cough. If it was not the flu, they suspected an asthma episode. "She had been confined before due to bronchial asthma and normally, once she gets admitted and given antibiotics, her asthma will subside, and her breathing will normalize," said Joanne. 

Sophia did not get better, however, despite a prescription for antibiotics. The first morning of her confinement, her breathing became labored and raspy, and a blood extraction didn't even wake her.
ADVERTISEMENT - CONTINUE READING BELOW
CONTINUE READING BELOW
Recommended Videos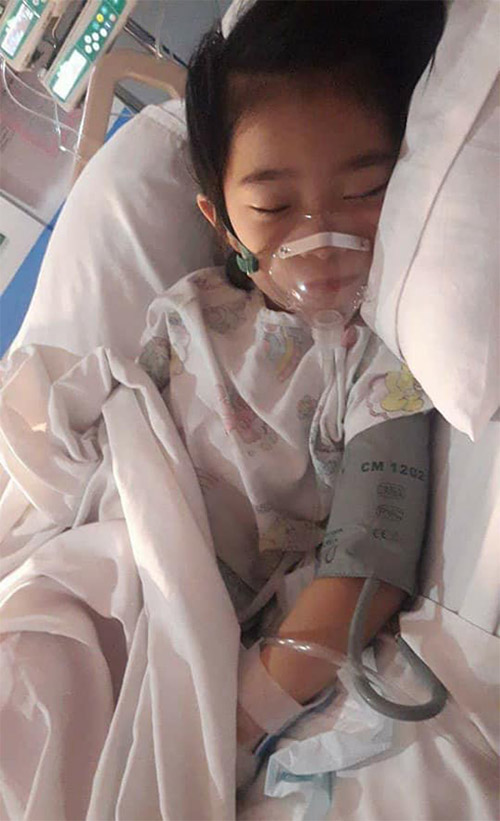 Joanne became increasingly worried and kept insisting they do more tests. "We've only had the CBC (complete blood count) and chest x-rays done, and all the results came back clear," she said. The doctors' advice when the mom came to them asking to do more tests was "observe muna natin."

"I kept coming back to the nurse station, urging them to recommend more tests because clearly nothing was working," said the mom. It was only then that an on-duty nurse suggested a urinalysis.
ADVERTISEMENT - CONTINUE READING BELOW
In just a few minutes after the parents handed over urine samples, "the whole floor went crazy," Joanne recalled. "Nurses started coming in and out — getting blood samples and doing more tests. They also changed her IV to one with no glucose. Doctors started coming in and asking questions. 
"They told me her tests showed her blood sugar level was at 600. I almost fainted. A normal adult is expected to have a blood glucose of around 90 to a maximum of 110. It seemed so absurd that I really had difficulty absorbing the connection."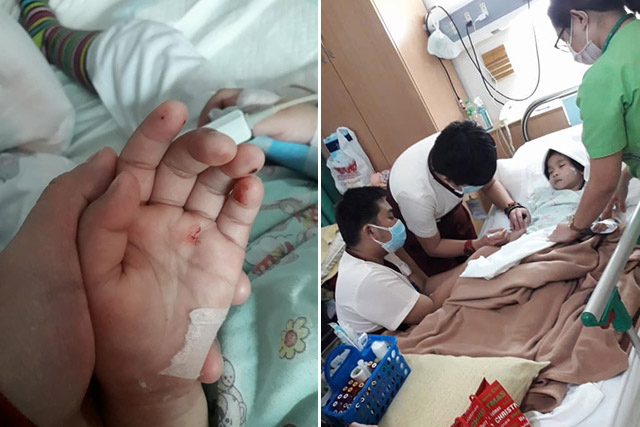 ADVERTISEMENT - CONTINUE READING BELOW
At this point, Sophia wasn't responding to attempts to wake her up. She was transferred to an intensive care unit (ICU) where she stayed for four days. They conducted blood tests on the little girl every hour. "Her fingers, wrist, and arms started to get so bruised that they had to get blood from her toes. The doctors were not assuring us of anything except [to say] they were doing everything they can, and at the same time, they were telling us our situation was very, very bad and critical."

When a pediatric endocrinologist gave Sophia an insulin drip, her blood sugar levels gradually went down, and her condition started to improve. "Only when we got to a 75 to 150 sugar level did Sophia manage to wake up, that's after three days of stupor," said Joanne. 

Joanne and her husband got the shock of their lives when Sophia was diagnosed with type 1 diabetes, a chronic condition where the pancreas produces little to no insulin. The "flu-like symptoms" that brought her to the ER was because she developed pneumonia as a complication of her diabetes. Her extremely high sugar level lowered her immune system, which made her susceptible to disease. 

"She is only 3 years old, and the slightest possibility of her having diabetes was far from our minds," Joanne shared on Facebook.  
ADVERTISEMENT - CONTINUE READING BELOW
Now at home after a week in the hospital, Sophia is insulin-dependent; that requires her to take insulin shots four times a day before meals. "Frequent high sugar levels in her body can damage her internal organs in the long run, so we need to keep her sugar levels as normal as possible," said Joanne.

"Upon coming home from the hospital, we got rid of everything in our kitchen pantry that may hurt her diabetes management, like fruit juice, candies, chips, etc. It has been a challenge explaining to her why she couldn't eat certain foods anymore. Her favorites included chocolate wafers, fruit jellies, and marshmallows. Even white rice, bananas and raisins could raise her sugar levels.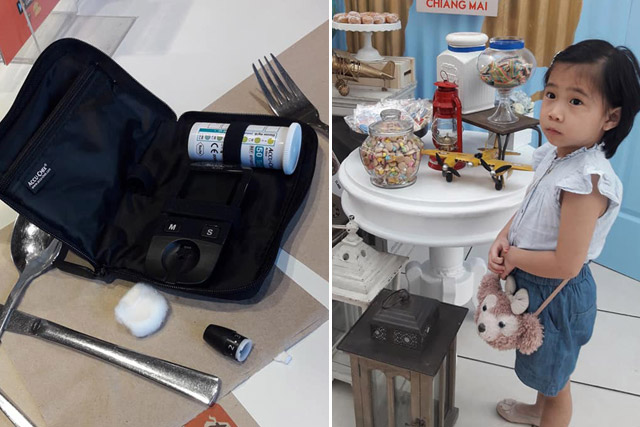 ADVERTISEMENT - CONTINUE READING BELOW
"Luckily, she has quickly adjusted and has come to expect the medications. I've taught her how to prepare her medicine with simple tasks like fetching the cotton, alcohol, needles, and glucometer, so she doesn't feel the need to be afraid of her medication. I told her that she needs to take her insulin  first before eating or we might get sick again."

Sophia's condition has changed Joanne as a parent as well. "We are lucky and blessed that Sophia is very obedient and disciplined. I noticed that I've become stricter as a mom but at the same time more forgiving and patient."

Joanne said, "I jot down everything now, and I've become meticulous with her meals." The mom has shared some meals she's come up with for Sophia's diabetes management on the Facebook page Sophia VS Diabetes. 
ADVERTISEMENT - CONTINUE READING BELOW
"Simple trips to the mall for grocery shopping has become a mini-excursion for us because of all the packing that I need to do. I pack diabetic-friendly snacks, her medical records in case of emergency, and her diabetes management kit, of course, among other things. I sleep with 'one eye open' and set alarms, in the day and night, so that I can check her blood sugar levels. We have an emergency bag ready in case we need to rush her to the hospital. 

"I no longer leave the house without taking Sophia with me because, for now, I'm the only who can do her insulin management."

Even through difficult circumstances, parents must strive to find a bit of good to keep going. "In many ways, I can feel that our bond is stronger and that I've become a better mother," said Joanne. 

"After what we went through, I'd like to advise other parents always to be vigilant about your child's well-being. Always listen to what your gut is saying because we know our kids better."

To parents who find themselves in similar circumstances, "always be brave and strong-willed in times such as this because now is when our child needs us most," said the mom.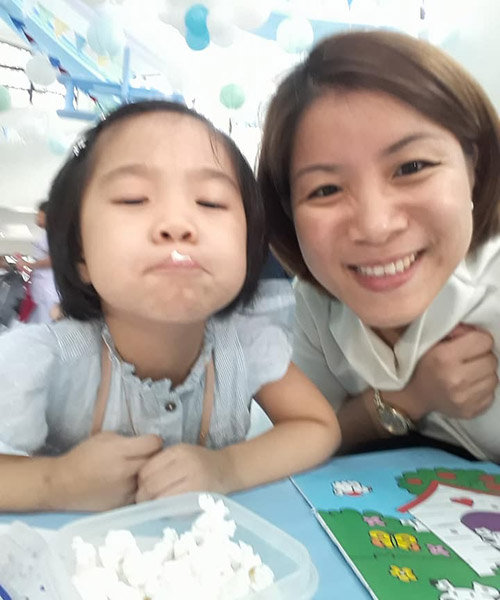 ADVERTISEMENT - CONTINUE READING BELOW
Here is a photo of the mom and daughter pair at a children's party. Sophia is having plain popcorn mom packed for her.
So, how do you know if your child has type 1 diabetes?
According to KidsHealth, type 1 diabetes symptoms include the need to pee a lot (because the kidneys are trying to flush out the extra glucose), drinking a lot of liquids (an effect of the frequent urination), feeling tired often (because the body isn't getting energy), and weight loss (as the body breaks down fat to use as energy instead).
The frustrating part of type 1 diabetes is these symptoms don't appear all the time, or if it does, it appears suddenly. Diabetes is also something you'd associate with grown-ups, not young kids.
According to Ann Marie Tan-Ting, M.D., FAAP, who is a pediatric endocrinologist at De Los Santos Medical Center, "Blood glucose levels are not routinely checked in children.
ADVERTISEMENT - CONTINUE READING BELOW
"If the patient's initial symptoms are missed and not recognized as type 1 diabetes, life-threatening complications can occur."
Learn more about the condition here, as well as how complications can be prevented with proper management.
This story originally appeared on Smartparenting.com.ph.
* Minor edits have been made by the Femalenetwork.com editors.
Comments
Load More Stories