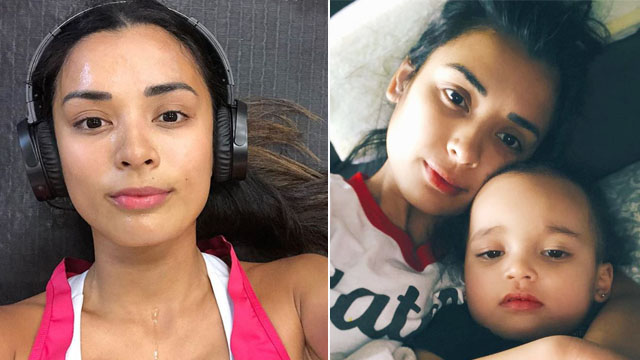 Women, especially moms, are no stranger to the feeling of sadness, or baby blues, which is quite common among new parents. Lately, more women are being diagnosed with postpartum depression (PPD), a more extreme condition which warrants immediate and specialized care and treatment.
ADVERTISEMENT - CONTINUE READING BELOW
Celebrity moms are no different, and many fall victim to PPD. But through social media and using their popularity as leverage, they are able to reach out to their followers and share with them their own journeys and how they overcome their struggles.
CONTINUE READING BELOW
Recommended Videos
Former actress Michelle Madrigal revealed that she has been battling anxiety and depression for some time now. The life events in the last few years had been hard on the 30-year-old, who gave birth to her first child, daughter Anika, in October 2017. She tied the knot with Troy Woolfolk in April after one-and-a-half years of engagement.
ADVERTISEMENT - CONTINUE READING BELOW
"I just want to share that on top of looking and feeling good...the gym has been my go to place since giving birth to Anika," she captioned a recent Instagram post. "My life has gone through a huge transition from moving to U.S, leaving my career, starting over, losing my father, being a mom away from family etc." 
Michelle left her career in show business in the Philippines to study culinary arts in the United States in 2016. In July 2017, she and her American fiance got engaged while she was pregnant with their child. Following weeks of kidney and liver complications, her father passed away in March the following year.
Through it all, Michelle had stayed resilient, even as she herself was adjusting to the life of a first-time mom in a faraway place. She has bravely documented her postpartum fitness journey since January 2018 when she first posted a raw photo of her new-mom physique for a fitness contest, saying she wants to be "in the best shape of my life."
ADVERTISEMENT - CONTINUE READING BELOW
A year since then, Michelle only needed two photos to illustrate the results perseverance and self-discipline bring.
"The progress is real!!!(Hello quads) Now, this didn't happen overnight.... 1 year of consistently training from weight loss to gaining muscle mass. It has been a great journey of learning how to properly fuel my body and doing the exercises that works best for me. 
ADVERTISEMENT - CONTINUE READING BELOW
"Was I always motivated? Heck NO!!!! But I wanted to feel great and look good in bikinis and crop tops lol ???? On a serious note, I had a GOAL of getting back into my pre baby weight... and once I hit that, I set a new one and that it so build muscle mass around my legs, glutes & back. I knew how I WANTED to feel about my body."
ADVERTISEMENT - CONTINUE READING BELOW
As she went along, it seems Michelle has found a deeper sense of purpose for wanting to become fit, and it's something many moms might find useful.
In a recent post, she added, "I have been using fitness as an outlet to kinda focus on myself specially when my anxiety and depression kicks in. I am here to share that I honestly feel good from the inside out whenever I train."
ADVERTISEMENT - CONTINUE READING BELOW
Studies have shown that physical activity during pregnancy and after chilbirth, even low-intensity exercises, have a positive effect on the mother's well-being, and could possibly ward off symptoms of postpartum depression.
Need help? You can find mental health facilities in the Philippines using this interactive map. 
Don't be afraid to reach out if you are feeling anxious, helpless, or despondent. If you need someone to talk to: 
ADVERTISEMENT - CONTINUE READING BELOW
Comments
Load More Stories