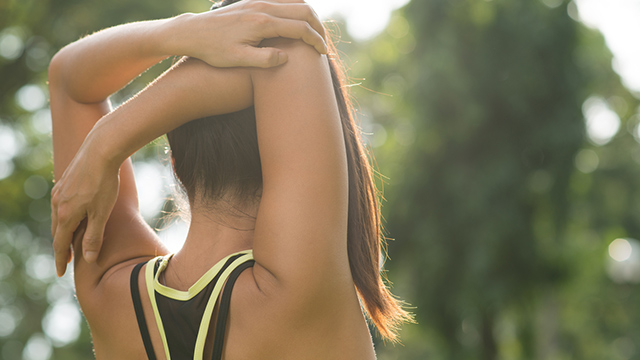 Some women are lucky enough to recognize their passion early on in life, while some need to follow other paths before first before choosing their destination. Either way, there's always a chance and the time to follow your heart, just as dancer and choreographer Mia Cabalfin followed hers.
"To be honest, I started my professional dance career quite late, I started when I was 21!" She said in an interview with Female Network. "But I remember, as a kid, I always loved dancing (and when I say this, I mean dancing by myself in my room or in the sala). I was always in dance productions in school, and was even president of the Company of Ateneo Dancers back in college. But I never really took formal lessons until after I graduated, at Steps Dance Studio."
It was during this time when her broadcasting career started taking off, and she had to put dancing in the back burner—at least until she realized it was something she really wanted to do regularly.
ADVERTISEMENT - CONTINUE READING BELOW
"I couldn't live without it, so I looked for classes near ABS-CBN.  I found Airdance and started taking hiphop and jazz classes." It was with contemporary dance that she found her calling, so when Airdance held auditions for a summer workshop scholarship, Mia tried out. "I joined, and I luckily passed! From a scholar, I became an apprentice, and then a company member, and then a choreographer and faculty member. I was with Airdance for 11 years, and although I'm no longer a full-time company dancer, I know for a fact that I cannot live without dance. I'm grateful to still be able to do projects here and there."
It wasn't an easy road for Mia, but her love for dance was worth it, and the craft became her pillar through the ups and downs of life.
Female Network: Tell us about the kind of training you went through to get to where you are now.
Mia Cabalfin: When I joined Airdance, I knew I had to catch up quadruple time. Practically everyone around me had years of formal training under his/her belt. I had to combat my own self-doubt and swallow my pride. This inspired and motivated me to try and improve and be closer to their level.
"From dance, I learned true discipline, as well as how to challenge the body and build to be able to dance in my best shape."
At the peak of my full-time dance career, we were doing company classes two to three times a day, followed by hours of rehearsals. I loved Airdance because we did all sorts of classes: from ballet, contemporary, jazz, hiphop, aerial dance, improvisation, and sometimes even choreography theory. I had no formal ballet training, so sometimes I would ask one of the more experienced company members to teach me so I could work on my own. From dance, I learned true discipline, as well as how to challenge the body and build to be able to dance in my best shape.
FN: Was there ever a time that you relied on dance to help you get through a life-changing experience?
MC: Dancing/choreographing has helped me through many tough spots. I choose to express myself through dance, and as cliché as it sounds, I have done many successful pieces based on life-changing situations (best example: heartbreak, haha). Or, at least if I was going through something stressful, just being in a dance class helped me be in the moment and not think of anything else for the time being. The physical act of dancing gives you endorphins, yes, but also helps you mentally by helping you be in the present moment.
ADVERTISEMENT - CONTINUE READING BELOW
FN: What has dance taught you about yourself and loving the body you're in?
MC: I wasn't born with a typical "dancer's body" [or] "ballerina body." I'm big-boned, I have hips that do not lie, and I have poor turnout of my hips. But what I am SO grateful for to this day, is that my teachers in Airdance accepted me for what I was. I did not have the body or the innate talent or the dance background, but I possessed passion, drive, and a lot of heart. I was never discouraged because I didn't have the typical dancer's body, rather, Airdance celebrated all kinds of individual physicalities and talents. But this did not give me leeway to be lazy—it was my impetus to work doubly hard and to be disciplined enough to have a body that was fit enough to dance to my fullest potential.
"When you fall [or] fail, you learn to get up and move forward—the show must go on, right?"
Pursuing a career in dance is crazy, haha. You are really pushed to the limit—physically, mentally, emotionally! But I learned to love my body even more because I knew that with each class, I was getting stronger, and this dancing body that I have allows me to be challenged and reach new goals or maybe push past my own pre-conceived limitations. When you train, there is always room to be better, there is always something to improve on–so dance taught me how to go the extra mile. Dance has really strengthened me in so many ways. And when you fall [or] fail, you learn to get up and move forward—the show must go on, right?
Also in Airdance, we were always encouraged to create and to choreograph. This has been one of the gifts that I received from the company–being given the opportunity to create work and chase artistic endeavors. It isn't a "normal" life, but being able to dance here and abroad (even representing the Philippines!) has been the greatest dream come true.
Dance has also taught me to take care of my body! I remember one of my teachers saying at a show 'Either you dance or you don't!,' meaning nothing half-baked, meaning either you are fit enough to dance, otherwise you step off the stage. So keeping in this mind, I always made sure to nourish my body with good food, rest when I needed, and really practice self-care to avoid getting sick or injured! Especially now that I am teaching fitness/dance full time, this is so important—to be strong enough to be able to teach and motivate others.
ADVERTISEMENT - CONTINUE READING BELOW
FN: Is it ever too late for anyone to start getting formal dancing lessons? What would you say to women who have always wanted to dance but don't have the confidence to do so?
It is NEVER TOO LATE! I can't stress this enough! I started dancing professionally quite late in life. And for those who want to learn how to dance, any age is the best age to get moving. For those who are older, I always hear 'It's so embarrassing!' I say, forget about your pride and self-doubt! It's all about coming out of your shell and stepping into the spotlight. Believe me—when you take that leap, you'll feel awesome. Dance, for me, has never been purely physical. Yes, you will get fit, yes you will feel the endorphins, yes it has so many amazing physical benefits. But for me, it's always been more than that. I've experienced it for myself and have seen it in my students. The rewards outweigh the initial hiya or self-doubt. Dance helps build confidence and self-esteem, as well as self-efficacy and creativity, and an overall feeling of fulfillment.
Load More Stories