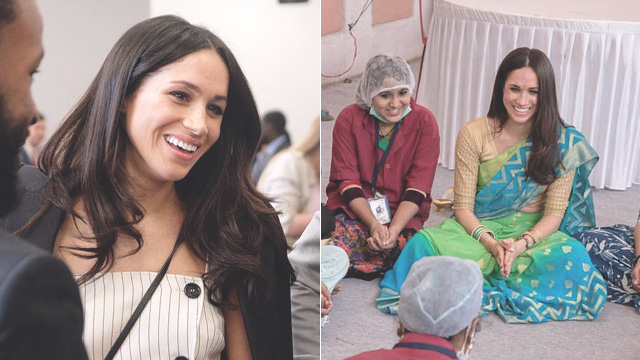 Before Meghan Markle was the Duchess of Sussex, she wasn't just an actress. She was also a passionate and active humanitarian. According to her bio on the royal family's website, in partnership with World Vision, she visited India to learn more about the girls' lack of access to education. On her trip, she found a new advocacy: Through the Myna Mahila Foundation, the Duchess saw the importance of access to menstrual hygiene products as a way of empowering women. (The Myna Mahila Foundation is also one of the many charities that received donations from the #RoyalWedding.)
ADVERTISEMENT - CONTINUE READING BELOW
According to the women's group, during her visit, the Duchess "so lovingly listened" to the Mynas in India during her visit. As they wrote about watching the royal wedding on Instagram, they mentioned that "she looks as calm, pristine and beautiful as ever..." Looks like Meghan made quite an impact!
In fact, Meghan wrote an op-ed for TIME.com in 2017 titled, "How Periods Affect Potential." Though Westernized nations still have a long way to go when it comes to normalizing menstruation, girls in underdeveloped countries, like India, face an even greater problem. Meghan wrote, "One hundred and thirteen million adolescent girls between the ages of 12-14 in India alone are at risk of dropping out of school because of the stigma surrounding menstrual health. During my time in the field, many girls shared that they feel embarrassed to go to school during their periods, ill equipped with rags instead of pads, unable to participate in sports, and without bathrooms available to care for themselves, they often opt to drop out of school entirely."
Because no is talking to these girls about their periods, on a personal or institutional level, they believe their bodies are "purging evil spirits or that they are injured once a month."
Meghan mentioned the Indian government's attempt to empower these girls with the campaign "Save the Girl Child, Educate the Girl Child" but the fact of the matter is, they need to do more: "...Only [50] percent of secondary schools in India have toilets, leaving roughly [50] percent of the population deterred from attending."
ADVERTISEMENT - CONTINUE READING BELOW
If you do the math, and Meghan did, that puts female students behind their male classmates by 145 days. What does this mean long-term for the girls in India? A lack of education puts them at risk for "subjection to dangerous work, susceptibility to being victims of violence, and most commonly, being conditioned for early childhood marriage." Girls need access to something as basic as sanitary pads or napkins.
ADVERTISEMENT - CONTINUE READING BELOW
In the Philippines, one of the many things that we do need to keep working on is being more vocal about menstrual hygiene. We need to empower young girls with knowledge about what's happening to their bodies. (There are LOTS of Filipino myths about periods out there!) Whether we admit it or not, there is still stigma attached to periods. We see this every time a woman feels the need to hide her napkin when she's walking to the CR, when a man is embarrassed to run to the grocery to buy pads, or when a commercial uses blue dye instead of red. Periods are normal, and more than half of the world's population experiences it.
It's Menstrual Hygiene Day, so let's start talking.
This story originally appeared on Cosmo.ph.
* Minor edits have been made by the Femalenetwork.com editors.
Load More Stories