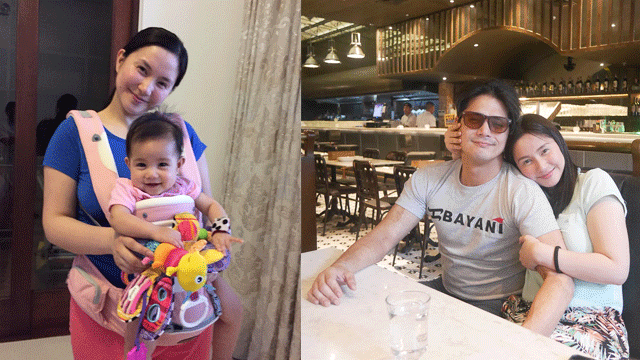 Just recently, new mom Mariel Padilla was officially launched as one of the weight loss success stories of a slimming company. 
For a time, the TV host refrained from posting photos of herself on social media after giving birth to her daughter, Maria Isabella, because she felt uncomfortable about her postpartum weight. Now, all her sacrifices and hard work are paying off as she is only 15 pounds away from her ideal weight. Mariel has already lost 40 pounds! 
ADVERTISEMENT - CONTINUE READING BELOW
The new mom had been going to Marie France to help her shed the excess weight since her daughter turned nine months old. "It didn't happen overnight," Mariel shared. "We had to take it slow because I was breastfeeding, so I couldn't do machines with RF (radiation)," she wrote on Instagram. But with patience, she made it happen! 
In an interview with Pep.ph, Mariel revealed that she went through a bout of depression after becoming a mom due to her weight gain. 
"I was really depressed. I mean, I was happy, of course. Siyempre, I was a new mom. I was happy to have a baby, and I worked so hard to have a baby. But it wasn't what I thought it would be," she said, adding she had hoped they would have lovely photos together after she gives birth.
Mariel said that eating a lot and gaining weight was the sacrifice she needed to make to be able to breastfeed her daughter exclusively. 
"I didn't have a lot of milk because I had polycystic ovary syndrome (PCOS). Meron akong hormonal issues," Mariel explained. "I did everything I could so that I would have enough milk to feed her. I ate through it," she said. It helped her body produce enough breast milk. 
She consumed all kinds of galactagogues—fenugreek, malunggay, halaan, lactation cookies, etc.—to help increase her milk supply. "I was able to breastfeed her for 14 months, so we were very successful," she shared, but gaining weight was the trade-off. 
The new mom shared she was at her heaviest at 178 pounds. "I had no clothes [to wear]. I was still wearing maternity clothes. I was heavier than when I actually had Isabella in my belly," Mariel stressed. She weighed more than her husband Robin Padilla, and even his pants didn't fit her. 
"After a while I just accepted it; so it didn't happen the way I wanted it to happen," Mariel said on how she coped. "I have a healthy baby. She's perfect... At the end of the day, I was still very blessed," she added, after weighing the pros and cons of her situation.  
ADVERTISEMENT - CONTINUE READING BELOW
She also told herself that she wasn't going to be fat forever. "I wasn't going to breastfeed [Isabella] forever anyway," she shared. "I loved myself for 32 years; what's a year for her? And it is worth it," Mariel stressed. "If I had to do it all over again, she's worth it. She's worth everything," she said.  
This story originally appeared on Smartparenting.com.ph.
* Minor edits have been made by the Femalenetwork.com editors.
Load More Stories