"Fiber will bloat you." My eyebrows furrowed upon hearing this piece of information. "Are you kidding me?" I asked. "Yes. And all cruciferous vegetables." I made a mental note to research the definition of cruciferous as Jinky Ureta sat across me in a coffee shop, looking much younger than her actual age. She is also much fitter than a lot of people who are decades younger than she is, and so when she says things like "fiber will bloat you," you probably need to listen.
ADVERTISEMENT - CONTINUE READING BELOW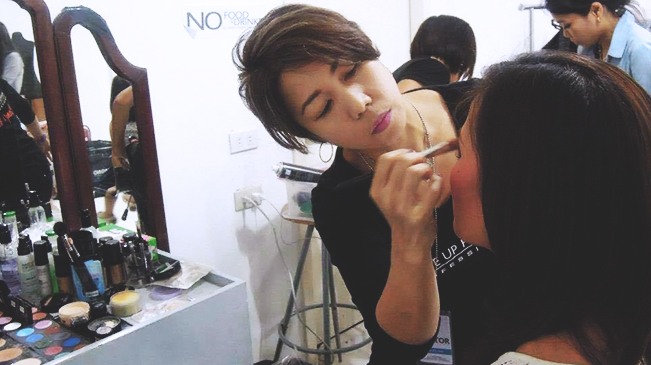 The 46-year-old makeup artist cum body builder looked fresh and energetic as she recounted her fitness journey for me. I met her as a makeup artist for one of Polecats Manila's student recitals, where she watched regular women wow the audience as they flipped and spun around a vertical pole. The sport interested her so much that she eventually took classes with the Polecats. When recital time came around, she decided that she wanted to get stronger for her performance, and she wanted to look good for it. So she turned that desire into action by researching on different ways to achieve her goals.
"Social media really helped. I saw a lot of Instagram pages and saw transformation stories. I started following a lot of health sites and bodybuilders."
Seeing all of the amazing stories online really inspired her, and added to her determination to see her little project through.
Jinky started to eat a lot better, replacing some food with healthier options, removing sugar from her diet, and making her own baon to bring with her when she had to be on the go. Being a successful makeup artist meant she managed her own schedule, and she made sure to allocate time for food prep.
She didn't even realize that she was losing weight until people started complimenting her on it. When she started choosing healthier food options, she felt like she was never hungry, but she felt lighter and more energetic. She says she never once felt like she was depriving herself.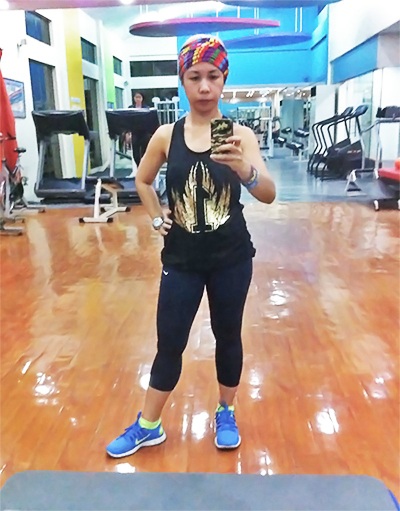 ADVERTISEMENT - CONTINUE READING BELOW
When 2015 rolled around, Jinky was feeling better than ever. But that wasn't enough for this go-getter. She decided she wanted to get stronger as well, and needed to supplement her pole fitness. Since she was a lifetime member of Slimmers World, she decided to give it a go. She hired a personal trainer who created a strengthening program specifically for pole, but she had no idea where this was going to lead. The trainers were already looking for competitors for Great Bodies 2016, an annual competition held by Slimmers World, and Jinky caught their eye. The trainers kept on coaxing her to join, but she had her hesitations.
"Kaya ko ba 'yun at my age? Sabi nila, kaya 'yun."
In February 2016, her alpha spirit kicked in and Jinky finally decided she was going to try something she had never before even considered doing- she was going to be a body builder and a bikini competitor. "Gusto kong ma-prove kung kaya ba talaga ng katawan ko 'yun." Since she already knew that she could be disciplined when it came to a strict diet, what was needed now was months of rigorous training until November. 
ADVERTISEMENT - CONTINUE READING BELOW
So for months she dedicated time, money, effort, and power to transform herself. The closer she got to the competition date, the more intense her diet and training became. "Dun ko nalaman yung power ng asin." She said jokingly, as she talked about all the steamed or boiled food she had to consume. With this being her first foray into the world of bodybuilding and bikini competitions, people were telling her to just enjoy the process. But Jinky wasn't in it just for fun. "I'm not the type of person who would just 'enjoy' an experience. Are you joking? You're gonna tell me to enjoy it? Okay ka lang, walang asin sa diet ko and you want me to enjoy it? No. I wanted to win."
Pre-judging day finally came around, which was always held a couple of days before the actual competition, and Jinky felt on point. Everything felt good, everything looked good, and she carried this confidence with her as she faced the judges and did her thing. At the end of it, she knew she did well, and she felt pumped and elated.
ADVERTISEMENT - CONTINUE READING BELOW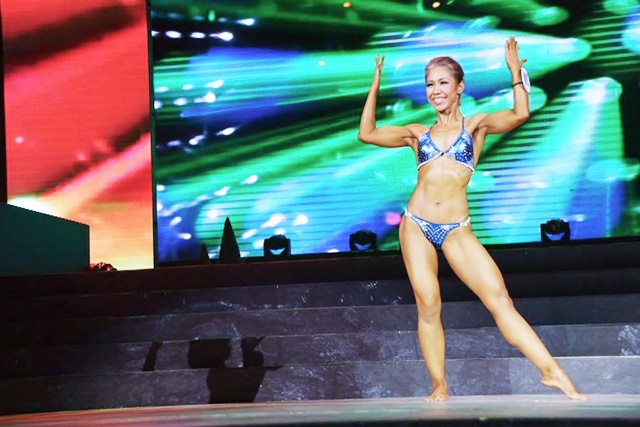 But in the few days between pre-judging and the actual competition, she started to feel unwell. They were still rehearsing their numbers, and this would go on until midnight. All the effort and rehearsals left her with a pulled hamstring and no voice on the day of the competition. Needless to say, her mood was not as good as it was just a few days before. She was down. But she got this far, and she wasn't going to give up or do a mediocre job, not even when during the creative posing segment, she realized her outfit was upside down. Jinky went out there, she gave it her all, and, as the young ones would say it, she slayed. And that's it, she did her best and now it was all in the hands of the judges.
ADVERTISEMENT - CONTINUE READING BELOW
When Jinky was called for the top 5, she was not expecting it.
Tired, injured, and no voice to cheer with- but there she was on stage, outdoing so many younger people, a body builder and a bikini competitor snagging top 5. "It was a mixture of emotion. But it's an experience na hindi ko pinagsisihan. It's a long, challenging, but rewarding journey."
Jinky mentions many names that helped her on her road to fitness and bodybuilding, including her supportive husband, who was amazing all the way. Although she is undecided whether she will go for another competition, she is carrying with her all the things she has learned from this journey for the rest of her life. "I have a newfound community, and I have new knowledge about my body and how to take care of it. It is possible to be fit and sexy at any age."
Before we parted ways, I made sure to ask her what advice she would give to anybody who is struggling with their own fitness stories. She keeps it straight and simple, "If you want something, decide to start." And that's how winners are truly made.
ADVERTISEMENT - CONTINUE READING BELOW
Load More Stories