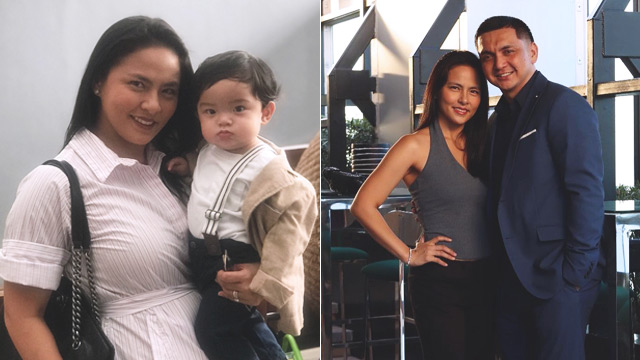 Even if she was convinced the weighing scale was broken when she registered 150 pounds on it, entrepreneur and mom of three LJ Moreno-Alapag made a life-changing decision in 2018 anyway: she was going to get back in shape. 
ADVERTISEMENT - CONTINUE READING BELOW
A year later, LJ is now almost back to her pre-wedding weight of 115 pounds and is sporting a toned physique. The mom of Ian Maximus, 6, Keona, 4, and Calen, 1, reveals how she lost the extra pounds slowly but surely. Posting photos of herself taken exactly one year apart, LJ wrote about her dramatic transformation.
"Been training with coach @mondalaedwin for a year now. He posted the photo on the left today so I wanted to take another one to see the progress. I weighed 150 lbs. on the left photo and even if I was convinced the weighing scale was broken, I made a decision to get back in shape." 
She said her target was to get back into her weight of 115 pounds before she got married, which means she would have to shed 30 pounds while taking care of three young kids and her husband, cager Jimmy Alapag, and being on top of her food business.
"I challenged myself to get back to my pre wedding weight which is 115 lbs.
"Those were the days when @tjgroves and I would do yoga 4-5 times a week! I thought I wouldn't be able to do it because of how busy my schedule is specially with the 3 kids but when you want to achieve something you really just have to make time and put your mind to it. 
ADVERTISEMENT - CONTINUE READING BELOW
"Today I'm at 120lbs. 5 pounds away from my goal! 
"For those that have been asking how I lost the weight it's because I eat a lot better now..."
"I also make it a point to workout 3-4 times a week, If I can't do Muay Thai I do a combination of kickboxing and zumba workouts on You Tube."
ADVERTISEMENT - CONTINUE READING BELOW
LJ proves that when it comes to fitness, there are no shortcuts. She also gives a shoutout to her followers who need encouragement in their fitness goals:
"So to my fellow mamas who are trying to get back in to shape keep going we can do this!"
This story originally appeared on Smartparenting.com.ph.
* Minor edits have been made by the Femalenetwork.com editors.
Load More Stories