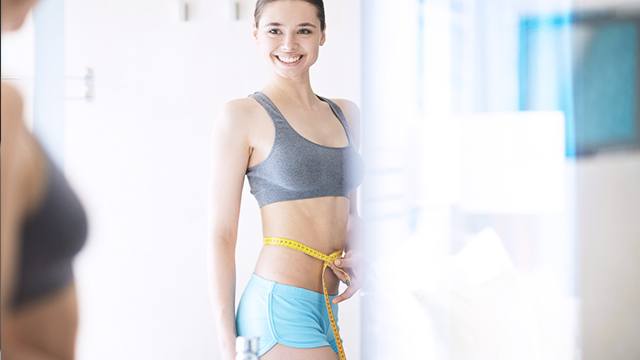 By now, we all know that we shouldn't easily fall for diet trends without asking the important questions, especially when a diet sounds too good to be true. So when I first heard about the ketogenic diet, I had my hesitations. (So when you say I can have bacon...you mean I can really have bacon?) But after trying The Sexy Chef's Keto meal delivery service for 10 days, I saw how this meal plan could be ideal for on-the-go women who struggle with having a lot of dietary restrictions.
ADVERTISEMENT - CONTINUE READING BELOW
According to their brief, keto is a "very low-carb, moderate-protein, high-fat diet. The drastic reduction in carb and increase in fat intake puts the body into a metabolic state called ketosis," which, "makes the body extremely efficient at burning fat for energy." This aso keeps hunger and cravings at bay.
So what exactly can you eat?
For starters, you have to give up grains like rice and quinoa, bread, sugar and sweets (unless it's Stevia), low-fat products, as well as tropical, high-carb and dried fruits. You can, however, consume meat, seafood, leafy greens, healthy fats like coconut oil and milk, avocado, seeds, dark chocolate, string cheese and sugar-free tomato products. For the Keto meal plan of Sexy Chef, instead of our usual carb-heavy breakfast of tapa and rice, they replace it with Butter "Bulletproof" Coffee which has organic coffee, grass-fed butter, coconut oil, water, and stevia. It's meant to suppress hunger, provides lasting energy and mental clarity.
In an interview with FemaleNetwork.com, The Sexy Chef owner and ultimate fitspiration Rachel Alejandro shares why the keto diet could be the weight loss method you've been waiting for.
What are the best reasons for Pinays in their 30s to go on the keto diet? At the same time, are there any cons or negative effects (long, short term) to watch out for?
One of the best reasons for women and pretty much anyone to go on KETO Diet is the rapid weight loss results. It's not uncommon for our clients to report a loss of up to a pound a day. People are impatient and sometimes when they don't see substantial movement on the scale after one to two weeks of dieting, they give up and throw in the towel. Another good reason is that KETO forces us to get rid of fake food. For years, we have been deluded that pre-packaged food labeled low-fat or non-fat are suppose to be healthier. On the contrary, more often than not, the fat is replaced with additives, binders and extenders. These add more carbs and sometimes even cause inflammation in the body. 
ADVERTISEMENT - CONTINUE READING BELOW
If you are doing it right, I don't see why KETO would be unhealthy for anyone, although of course there are some people with medical conditions that would do best to consult their doctor first before trying this diet. For instance, if you have gout, you would have to avoid some of the ingredients used in our KETO Meals. In that case, we may be able to replace those meals with something else. 
There are different stages to Ketogenic Diet for weight loss and maintenance. It's best to follow the guidelines provided in books and certain websites. Some people tend to misunderstand the principles of this diet and end up eating too much food and consuming too many calories. Some may also make the mistake of overly restricting their intake of plant-based food and miss out on essential nutrients.That's usually the draw back with diet plans that do not specify amounts and are supposed to be self regulating. 
ADVERTISEMENT - CONTINUE READING BELOW
Is the keto diet applicable to all lifestyles and fitness levels? Or are there any restrictions? 
Yes to the first question. And KETO is perfect for those who are working out and want to build muscle. Because you are fat fueled, you tend to have more sustained energy compared to someone deriving energy from glucose. The adequate protein in the meals help in repairing and building muscles on off days. 
Again, for those on medication, it's best to check with your doctor before trying any diet plan. 
We do not recommend KETO for pregnant women. It is a weight loss diet after all and pregnant women should expect to add a bit more calories to their daily intake and gain a reasonable amount of weight, usually around 30-35 lbs during the duration of their pregnancy. These are all essential to the normal growth and health of the baby. The misconception with KETO is that calories don't matter. On the contrary, the high fat, low carb meals are designed that way so you get full faster and for longer periods. A a result, you eat less and consume less total calories per day. That's not an ideal situation when pregnant. 
ADVERTISEMENT - CONTINUE READING BELOW
What are other health concerns the KETO diet helps with? What can women hope to achieve aside from weight loss?
Many studies show that sugar is the main source of fuel which feeds cancer and causes inflammation in the body. It can increase the risk for cancer and other diseases. So it makes sense that since KETO is low-carb, it naturally helps prevent certain illnesses caused by a high-carb diet. Healthy fats are practically the only food that directly benefit the brain. MCT oil (medium chain triglycerides, the healthiest part of coconut oil), a potent part of the Butter "Bulletproof" Coffee which The Sexy Chef  provides on our KETO plan, has been discovered to cause marked improvement in patients suffering from Alzheimer's and dementia.  
On KETO, aside from weight loss, women can also experience increased energy and mental clarity. 
How long is it advisable to be on the KETO diet?
The duration of the weight loss phase of KETO depends on how much weight a person wants to lose. Like I mentioned, if the principles are being followed to the letter and are not misconstrued, I don't see any possible negative impact on our health long-term on the maintenance phase. 
ADVERTISEMENT - CONTINUE READING BELOW
Is this diet alright for women who suffer from acidity? Does the bulletproof coffee impact it in any way?
Those suffering from acidity should refrain from food that triggers their symptoms. This varies from person to person. If there is anything on our KETO Menu that you think may cause a flare up, it's best to discuss it with our nutritionist and see if we can replace that meal. I wouldn't advise taking our breakfast of Butter Coffee for those with acidity because as many know, coffee can be very acidic. A morning meal of eggs would be a good replacement. 
Why should a Pinay woman with a busy schedule consider going on a keto diet versus other diet trends out there today?
Going on a ketogenic diet on your own on a busy schedule is very doable if you know how to prepare simple meals that follow its principles. When ordering in restaurants, it's also not that hard to stick to ketogenic meal choices. Just make sure your protein is of adequate size for weight loss (around the size of the palm of your hand) and that it is cooked in a heart-healthy oil like coconut oil, olive oil, etc. You can order a small side dish of veggies cooked in the same oils mentioned or if a salad, drizzled with that also. Skip any sauces that may have flour or corn starch in it and sadly, you would also have to pass on dessert. That is the ultimate price of losing weight rapidly on KETO. 
ADVERTISEMENT - CONTINUE READING BELOW
Busy women want real results and KETO can provide that. And that's why this is the diet of choice for many of our clients today. 
Are there any other cleanses that would go well with KETO?
If you mean a juice cleanse, then it actually operates the opposite way KETO does because a juice cleanse gets its calories mainly for carbs and practically no fat. 
Other than KETO, The Sexy Chef offers vegan meals + detox juice plans such as Eat Clean Detox and Fat Flush with SEXY BEAST because when it comes to health and weight loss, there is no such thing as one diet fits all. People react to food in different ways. The best diet is the one that is most natural to you, the one you can sustain long term. A vegan juice cleanse is perfect for those who intend to graduate to a mostly plant-based lifestyle or those who see themselves eating calorie-controlled meals that do not exclude any food group. 
ADVERTISEMENT - CONTINUE READING BELOW
For utmost convenience and if you're not 100% certain you know how to do KETO right, you can just order the meals from The Sexy Chef at http://www.thesexychef.ph/product/keto/ or call 0917-7992433. 
Load More Stories