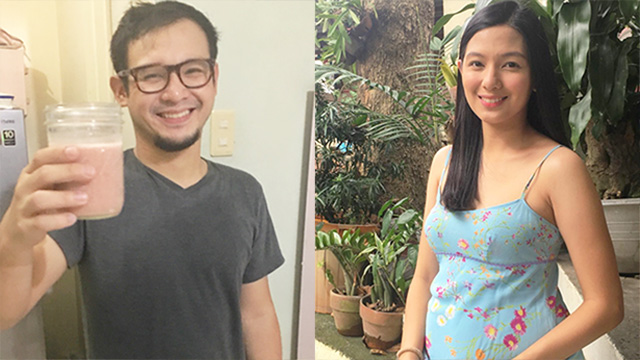 Mom of two Jennica Garcia-Uytingco, an advocate of natural childbirth and natural parenting, had a lotus birth when she delivered her second child on June 25, 2018. "Lotus birth" refers to the practice of leaving the umbilical cord uncut after the birth until it naturally detaches by itself after a few days.
ADVERTISEMENT - CONTINUE READING BELOW
On Instagram, Jennica posted a photo of their new baby whom Alwyn says they might name "Baby Alexis," and shared what they did with the placenta.
"In the next photo, thanks to @irina_doula, you will see a lovingly prepared fruit smoothie. Blended with it is a small piece of my daughter's placenta. To my surprise, my husband drank two sips from my smoothie before handing it over to me! Kaya siguro mahal na mahal ko ang asawa ko," she said.
She continues, "While most would probably take the smoothie in one go, being worried that there might actually be a foul taste or smell from the placenta, I took a sweet time drinking mine and enjoyed every moment of it. We even kept a few more pieces in the freezer to be able to make more for later."
The concoction was prepared for her by doula Irina Otmakhova of Conscious Birth Manila.  
ADVERTISEMENT - CONTINUE READING BELOW
In a previous interview with SmartParenting.com.ph, Irina has spoken about the benefits of the practice to new moms. She is an expert on placentophagy, or the consumption of the placenta, and studied encapsulation methods with the Placenta Benefits and International Association for Placenta and Postpartum (IPPA).
Placenta and its capsulated form is said to help increase the production of estrogen, progesterone, testosterone, prostaglandin, among others, which can help prepare the mother's body for lactation and regulate uterine cramping.
These hormone —in particular the Corticotropin Releasing Hormone (CRH)—are also said to help reduce stress before and during labor. Advocates say the CRH-rich placenta helps alleviate postpartum depression, a state in which low levels of CRH are noted.
According to Irina, she advices moms to take placenta capsules two to three times a day, depending on the following:
how they feel emotionally, and if they're experiencing "baby blues"
their milk supply 
their energy level
their food intake
if they experience postpartum cramping
ADVERTISEMENT - CONTINUE READING BELOW
Medically speaking, Claudette Mendiola, M.D., obstetrician-gynecologist at De Los Santos Medical Center in Quezon City, Dr. Mendiola tells Smart Parenting in an article on placenta that there are very limited studies to prove the benefits of eating the placenta. (Like your birth plan choices, however, what you may want to do with your placenta after birth entirely up to you.)
ADVERTISEMENT - CONTINUE READING BELOW
Depending on their beliefs, some moms eat (or drink) the placenta, make art out of it, or bury it after it naturally detaches from the baby, to form a bond between the baby and the earth.
This story originally appeared on Smartparenting.com.ph.
* Minor edits have been made by the Femalenetwork.com editors.
Load More Stories