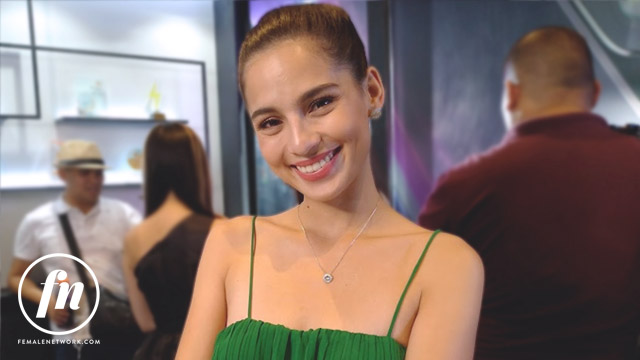 You're at the age when you're bombarded by social media updates and images of your former classmates' "successes"—whether they're tying the knot, having kids, getting promoted, starting a business, or traveling the world. It's so easy to get lost in all these posts, which, admittedly, often look very nakaiinggit.
ADVERTISEMENT - CONTINUE READING BELOW
But if there's one thing about social media that you should know by now, it is that not everything is what is seems. Your friend who seems to have everything put together online may just be struggling with other things offline. Everyone puts on a front when facing the public, which is why you should never compare yourself with the ideals of others.
In an interview with Female Network during the launch of the Limited Edition Marvel's Avengers OPPO F11 Pro, actress Jasmine Curtis-Smith shares how she manages the noise of social media.
"I've muted a lot of people that I follow," she reveals. "And other than that, I've just come to terms with a lot of my insecurities by facing them, finding a way to turn [them] into inspiration para I don't get frustrated."
It's so easy to get sucked in glossy images of the good life online, when in fact, comparing yourself to the illusion of perfection can be personally damaging, as a feature on Huffington Post notes:
ADVERTISEMENT - CONTINUE READING BELOW
Recommended Videos
"Comparing breeds feelings of envy, low-self confidence, and depression, as well as compromises our ability to trustothers. While downward comparison, comparing ourselves to those less fortunate, can provide some benefit to one's sense of self, even this form of comparison comes at a price. It requires that we take pleasure in someone else's failures or misfortunes in order to feel adequate, which can fuel mean-spirited competitiveness versus collaboration; jealousy versus connection. When comparing leads you to devalue yourself or others you've entered dangerous territory."
This is why it's important to learn how to appreciate and be content with what you have, especially if you know that they're fruits of your hard work.
Jasmine shares that practicing gratitude helps her ground herself when she feels her insecurities rising to the surface. "[I] list down the things that I have and that I am grateful for, and that I have accomplished already, para I don't forget how far I've come, and I stop comparing myself…
ADVERTISEMENT - CONTINUE READING BELOW
"Kasi you end up spending more time looking and watching people's lives that you're actually living your own, so, 'yon. I mute people, or I give myself enough time to just read then rest from all of that."
Unwarranted and unhealthy comparisons, in fact, don't help you achieve your personal goals. When you start questioning yourself "Bakit nandito pa rin ako?" as you scroll through your newsfeed, remember that each person has his or her own journey, and you're exactly where you should be at this point. If you're feeling inadequate, Jasmine says, "I think you have to start looking at yourself, your core, your beliefs, your goals. Lay it out for yourself para nakikita mo siya… Parang gamit lang. 'Pag nakikita mo 'yong gamit mong laging naka-display… hindi mo siya makakalimutan.
"When you also lay out your plans for yourself and put them somewhere where you can constantly look at them and be reminded by them, ma-a-align mo 'yong sarili mo lagi, and you can allow yourself to be just you without having to pressure yourself against, or compared to other people's timelines."
ADVERTISEMENT - CONTINUE READING BELOW
Load More Stories