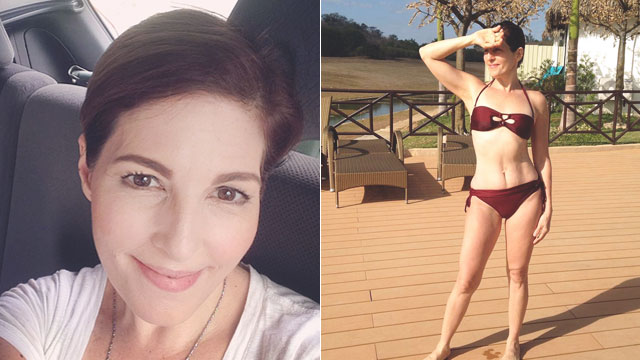 Her Instagram followers are impressed: Jackie Lou Blanco is looking incredibly fit and sexy, and the fact that she's working hard on her fitness at 54 is even more impressive!
The Kapuso actress bared her bikini-ready body in her post on Sunday, February 11.
She said in her caption it took her three years to achieve that kind of body.
ADVERTISEMENT - CONTINUE READING BELOW
Her full caption read: "The last time I wore a bikini was 20 years ago when I joined Great Bodies. My tummy was never flat. I was a chubby child. It still isn't and thats why I rarely wear one. Naco-conscious ako. 3 years ago I had a problem losing weight. I didn't know what I was doing wrong or if I was doing anything right. Was so frustrating.
"Then I met @pauquiza and little by little the weight came off and I started getting more toned.
"I wasn't sure whether I was going to post this foto, But as I turn a year older today, I realized I am not at that frustrating place I was years ago and I am grateful and thankful.
"Still a long way to go but with the love and support of those I love, I know the journey will be worth it.
"So today I celebrate my struggles, my strengths,my weaknesess and my victories.
"I celebrate all the women out there, all shapes and sizes. Know you are not alone in your struggles. I celebrate YOU! I celebrate Life!"
In a previous Instagram post in September 2017, Jackie Lou shared some details of her diet and workout routine prepared by her fitness coach.
She wrote, "A year ago, I wouldn't have dared wear something like this. My arms were puffy and i needed to lose at least 20 lbs.
"Was working out then but not very consistently. My food intake was alright but got so frustrated because not much was happening.
"When i met @pauquiza, everything changed. Her workouts challenged me and i trained everyday.
"As for what i ate, She suggested i lessened my sugar and dairy intake. Our bodies change as we age and we need to make adjustments.
"That made such a huge difference. Little by little, I shed off the weight and got leaner and stronger.
ADVERTISEMENT - CONTINUE READING BELOW
"Age is truly just a number. We just need to be consistent with our workouts and eating healthy should be a habit.
"Thank you so much Pau for taking care of me. I have never been happier with how my body is now.
"You are such a gift to me and all of us you take care of. So much love and respect for you"
This story originally appeared on Pep.ph.
* Minor edits have been made by the Femalenetwork.com editors.
Load More Stories