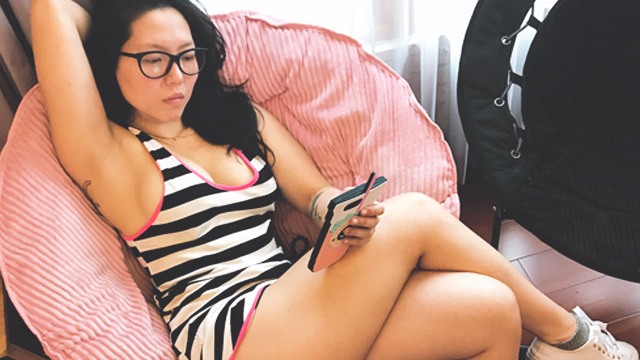 You must've already read our story about the sexy Pinay baker who documents her workouts on Instagram, but if not, get ready to meet your new fitness inspo.
Aila Sim Yonzon, 36, is a mom of three and an entrepreneur—she owns The Bunny Baker Cafe and Cake Studio, which she runs with her husband Zach.
Saying her IG account "documents her workouts" is an understatement, because in between posts of dumbbell presses and "overhead Bulgarian split squats" (her words, not mine), you'll see her scantily-clad photos that would give conservative titas a heart attack. 
It's easy to scroll through her IG grid and judge her for her butt cheek shots, but Aila has actually taught us 10 important things about loving our body:
1. There is no shame in having cosmetic surgery if it gives you confidence and it makes you happy!
Aila had her boobs done after she weaned her third child from breastfeeding: "Millions of mothers go through this, the secret shame of boobs dilapidated from the sacrifice of breastfeeding. I had no plans to get breast augmentation, but I wasn't happy with how I could no longer wear tanks, with how the flaps of loose skin would sometimes show through." She added, "I have never made a secret of my breast augmentation. I always truthfully answered anyone and everyone who asked me privately if I had them done."
2. It's OK to feel like shit. Everyone has off days! Forgive yourself. 
3. In case Instagram post-workout selfies told you otherwise—when you exercise, you actually SWEAT. 
4. Give your body the chance to prove how strong it is. You'll be amazed! 
5. You might even be able to do this!
6. You CAN exercise when you're PMSing.
7. A sexy booty doesn't come easily. You gotta work for it! 
8. "Sometimes it's better to skip a [workout] sesh and come back stronger. Listen to your body!"
9. Don't be afraid to lift weights. You won't look "manly."
Aila shared, "Lifting gives a woman curves in all the right places and a fullness you won't get from just doing cardio or dieting. But looking great is just the bonus! You'll feel stronger, healthier, and have more energy."
10. When someone online is mema and says you need to "work harder" on your abs/arms/butt, remember: "The only opinion of your body that matters is yours."
Get your dose of body love by following Aila's Instagram page, pinksunstory.
This story originally appeared on Cosmo.ph.
* Minor edits have been made by the Femalenetwork.com editors.
Load More Stories