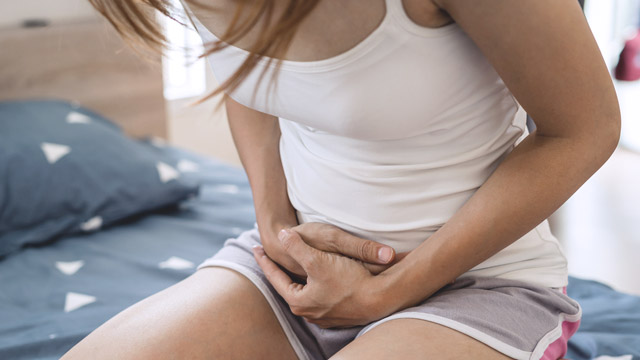 Polycystic ovarian syndrome (PCOS) is the most common hormonal disorder among women of reproductive age. Women and girls ranging from eight or nine years old to their post-menopause years have been diagnosed with PCOS. Between the fact that PCOS affects approximately 5 to 10 percent of women and the activity on the GirlTalk thread telling us that you want to know all about it, we've decided to help you get the information you need. Just read on! 
ADVERTISEMENT - CONTINUE READING BELOW
How to Detect PCOS
PCOS can usually be detected by ultrasound. Most, but not all, women with this condition have enlarged ovaries and numerous small cysts located along the outer edge of each ovary (polycystic appearance). The presence of these cysts is what the condition is named after.

Signs and symptoms vary from person to person, in both type and severity. Ethnic background may also be a factor—women of Asian descent, for example, do not manifest the skin discolorations that signal PCOS.  

To be diagnosed with the PCOS, your doctor looks for three things: (1) symptoms and physical findings of PCOS, (2) positive results from hormonal testing, and (3) verification via ultrasound.

Female Network spoke with Dr. Paulene Chan, an OB-GYN at the Cardinal Santos Hospital, who taught us about the symptoms and treatments for PCOS and helped us understand this condition, which has no known cause.
Note: Special thanks to Dr. Paulene Chan. Want to consult Dr. Chan yourself? Visit her at Room 371, MAB 3, at the Cardinal Santos Medical Center; you can also call (02) 722-7198 or (02) 727-0001 local 2371.  Clinic hours are Mondays and Thursdays from 2:00 to 5:00 PM, Tuesdays from 4:00 to 6:00 PM, and Saturdays from 10:00 AM to 12:00 PM. 
Symptoms of PCOS
As we've already established, PCOS symptoms can vary from patient to patient. However, here are some of the more common ones:
1. Irregular or no menstrual periods
Menstrual abnormality is the most common symptom of PCOS. Menstrual abnormalities include menstrual intervals longer than 36 days, having less than eight periods in a year, having no menstruation at all for four months or longer; and prolonged periods that may be scant or heavy.
2. Acne, oily skin, or excessive or abnormal hair growth and distribution
Elevated levels of the male hormone androgen may result in excess facial and body hair, adult acne or severe adolescent acne, and male-pattern baldness (androgenic alopecia). However, the physical signs of androgen excess vary with ethnicity; studies have shown that women of Northern European or Asian descent may not be affected.
3. Polycystic ovaries on ultrasound
Findings of 12 or more small (2 to 9 mm) follicles in each ovary on ultrasound suggest PCOS.
ADVERTISEMENT - CONTINUE READING BELOW
4. Obesity, weight gain, or the inability to lose weight
Approximately 60 percent of women with PCOS have weight management issues that can lead to obesity. Energy in the form of glucose (from food) is stored as fat after digestion instead of being made available for other functions within the body. This can lead to chronic fatigue and undernourishment, despite adequate food intake and even the appearance of overnourishment. However, it's important to note that 40 percent of women with PCOS are of normal weight or fall under a normal weight range.
5. Difficulty getting pregnant
Women with polycystic ovary syndrome may have trouble becoming pregnant because of irregular or infrequent ovulation—or even lack of ovulation altogether. PCOS is the most common cause of female infertility. 
6. Skin discolorations or skin tags
Acanthosis nigricans (AN) is the medical term for darkened, velvety skin on the nape of your neck, armpits, inner thighs, vulva, or under your breasts; it is caused by insulin resistance.
ADVERTISEMENT - CONTINUE READING BELOW
"The best possible description for AN is that it looks like the affected area is 'dirty' and would benefit from scrubbing," says Dr. Chan. "Obviously, this is not the case. There is an association of this finding with simple obesity as well as other endocrine disorders. Although less common, it may be a warning signal of cancer."
"PCOS is also associated with insulin resistance. Women with PCOS produce too much insulin, which in turn signals their bodies to release the male hormone testosterone. Too much testosterone creates facial hair, acne, weight gain and multiple cysts on the ovaries," she adds.
When to see a doctor for PCOS
Early diagnosis and treatment of polycystic ovary syndrome may help reduce your risk of long-term complications, such as type 2 diabetes, high blood pressure, heart disease, stroke, and endometrial and breast cancer.
Talk to your doctor if you experience menstrual irregularities—such as infrequent periods, prolonged periods, or no menstrual periods at all—and have an acne problem or excess hair on your face and body. 
ADVERTISEMENT - CONTINUE READING BELOW
Causes of PCOS
The exact cause of polycystic ovary syndrome is unknown.
According to Dr. Chan, "There is some evidence for an inherited (genetic) cause for PCOS, although no specific genetic mutation has been identified as the cause."
How to treat PCOS
Although there is no cure for PCOS, it can be successfully managed through diet, exercise, and, in some cases, medical intervention. Management of PCOS is essential—unmanaged PCOS can progress to diabetes and can also lead to certain forms of cancer if unaddressed.
Dr. Chan lists some forms of medical intervention available for the management of PCOS. If you do have PCOS, be sure to consult your doctor to properly assess which form of treatment would be best suited for you.
1. Lifestyle modification
With exercise and diet modification, there can be improvement in endocrine parameters, weight loss, and probably a return in menses.
2. Progestins
Progestin (Provera or Duphaston) is medication that mimics the action of progesterone and may be used to regulate the menstrual cycle.
ADVERTISEMENT - CONTINUE READING BELOW
3. Oral contraceptives
Oral contraceptives (OCs) are a mainstay of treatment of PCOS in women who do not want to become pregnant. Menses are often regulated, and overall there are numerous positive health benefits.
4. Anti-androgens 
The anti-androgen group of medications (which includes Spironolactone, Flutamide, Cyproterone acetate, and Finasteride) can be used only when not attempting a pregnancy. The value of the agents for PCOS patients is to improve the skin problems such as acne and unwanted hair growth. Some may have potentially serious side effects. 
5. GnRH analogs
Gonadotropin-releasing hormone (GnRH) is a hormone that is released from the hypothalamus and promotes production and release of the gonadotropins (LH and FSH) from the pituitary gland. While quite a good therapy for suppression of the ovary and its abnormal hormonal production of cysts, the high cost and undesirable side effects limit GnRH use. 
6. Fertility therapy
In PCOS, ovulation is disturbed. As a result, so-called fertility drugs are commonly used in an attempt to temporarily override the problem and facilitate ovulation. 
ADVERTISEMENT - CONTINUE READING BELOW
7. Surgical therapy
Electrosurgical incisions, or "ovarian drilling," has become relatively commonplace. Success rates of microcautery vary—while the formation of adhesions or cysts may be considerably less, it is still common.
8. Anti-diabetic agents
By treating the insulin resistance with anti-diabetic agents like Metformin and Troglitazone, PCOS may be also treated and possibly even reversed. However, it remains unsettled as to which PCOS patients may derive benefit from these medications. With some PCOS patients, these medications have successfully restored normal menstruation and fertility, even the absence of the insulin resistance.  
Load More Stories