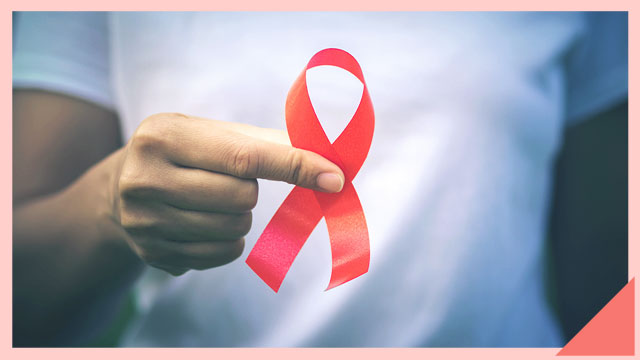 UNAIDS (Joint United Nations Programme on HIV/AIDS) defines HIV, or human immunodeficiency virus, as "a retrovirus that infects cells of the human immune system... and destroys or impairs their function. Infection with this virus results in the progressive depletion of the immune system, leading to immunodeficiency." 
ADVERTISEMENT - CONTINUE READING BELOW
Only a certain number of bodily fluids can transmit HIV. These include blood, breast milk, semen, pre-seminal fluids, rectal fluids, vaginal fluids. According to the U.S. Department of Health and Human Services, it can only be transmitted when "fluids come in contact with a mucous membrane or damaged tissue or are directly injected into the bloodstream (from a needle or syringe)." 
It is not transmitted through one's saliva, sweat, or urine.
There is still a great deal of stigma surrounding HIV, and sadly, a recent UNAIDS report has revealed that the Philippines "is the highest in the Asia Pacific Region in terms of increase in HIV cases at 140 percent over the past decade." It's worrisome news, but there is progress in terms of treatments for HIV, and these developments reduced it from being a fatal disease to a manageable chronic illness.
Joey* has been living with HIV for several years. In an online interview with FemaleNetwork.com, Joey shares routines, and how, like other chronic illnesses, one should be practical about taking care of both the mind and the body in order to stay healthy.
Female Network: How did your diet change? Are there any restrictions? Any tips when cooking for yourself?
Joey: When I found I was positive, I was recovering from tuberculosis, pneumonia. and mouth thrush. So eating is one of the worst activities you have to deal everyday. Take a break from the meds and eat your favorite food. If gusto mong kumain pero the effects of the medicines are not allowing you and your appetite to do so—take a break.
"Relax as often as you can. Meditate."
When I was recovering and started to take my HIV meds, I was told to stay away from raw food—kinilaw or rare steak—because of exposure to bacteria. If you want to eat salad, prepare the salad yourself, at home, to make sure this is prepared clean and properly. Your low CD4(CD4+ T-Cells - white blood cells that fight infection) can cause you to take in virus from food or in your environment. This is being checked periodically as your doctor whould advise.
ADVERTISEMENT - CONTINUE READING BELOW
Other than that, you can eat practically anything. Eat a lot of proteins because our body is suceptible to fatigue, making us loose a lot of weight. Fats, always in moderation.
FN: How do you keep fit? Are there any regimens that work better for you than others?
Joey: Exercise when you can. Go to the gym. You need to feel better about yourself. You need to look good. This especially [true] when you are recovering. If you cannot afford a gym membership, do pushups at home and drink plenty of fluids. Yoga is also helpful. Dealing with your environment everyday, stress and worrying about a lot of things can wear you out. Yoga helps you control of your emotions and instill discipline in your body.
"You need to trust your doctors and work with them and be honest about your lifestyle and everything."
Don't wear yourself by starting right away with heavy exercises or physical activities. Do it gradually, build your strength but don't forget to relax. Exercise in your own pace don't be pressured about what others around you are doing.
ADVERTISEMENT - CONTINUE READING BELOW
FN: What other things in your daily routine did you have the improve on? What habits did you need to stop?
Joey: Get as many hours of sleep as you can. Allow your body to recover. Having HIV makes our body suceptible to fatigue. Relax as often as you can. Meditate. Avoid and manage your stress (if you are working). Don't do drugs, stop alcohol (wine is good), stop smoking, vaping is no exception—stop it. If you want to live long and love all the people that love, you commit yourself to stop doing things [that are] bad for your health. Always take your meds.
FN: Medication can be pretty expensive locally. Are there places where you can get them at a discount?
Joey: SHIP (Sustained Health Initiatives of the Philippines) clinic can give you free HIV medicines. But HIV medicines are composed of different other drugs (your HIV meds have to be mixed with other drugs—this is as needed and your doctor will determine this through tests, etc.).
ADVERTISEMENT - CONTINUE READING BELOW
"Accept yourself, love yoursef, forgive yourself. It's not a life sentence."
Sometimes, the meds work for you. At times they don't. That's why you need to trust your doctors and work with them and be honest about your lifestyle and everything. If you are into alcohol or doing recreational drugs, tell them so they will know what to give you. Some drugs prescribed are not free—I have to budget P800/month for the other drugs.
FN: What would you say to one who has only recently found out that he/she has HIV? What places can you recommend to get help?
Joey: First thing to do is to accept the situation. Accept yourself, love yourself, forgive yourself. It's not a life sentence, you will still have a life. Tell your family you have HIV. It can be daunting, but the only people who will love you and accept you will be your family. Your family can also be your closest friends—ask for their help, ask for acceptance without judgements.
ADVERTISEMENT - CONTINUE READING BELOW
Get medication go to SHIP Clinic (566 Shaw Blvd., Mandalutyong City MM - Hotline 0234917349). For FREE medications go to PGH via RITM Unit. When you are able, get a job. You need money to pay your medication, pay rent, and buy food.
Lastly be with people who will love you and accept you. These people will help you go through all this HIV battle. Always pray and hang on—help for breakthrough medication is on the way.
ADVERTISEMENT - CONTINUE READING BELOW
How you can help
Many organizations that raise both funds and awareness to help fight HIV. Here are a few small things you can do to help the cause:
Stay protected
Buy condoms and practice safe sex. Condom brand Durex has made it its advocacy to help fund the fight against HIV and AIDS in areas in South Africa, where the disease is most rampant. A portion of every purchase you make of the #DurexRed bundle from Lazada will go to the fund.
Volunteer
LoveYourself.ph, an organization supported by queens Pia Wurtzbach and Catriona Gray, is always on the look-out for people willing to help out. Simply head on to their website and sign up. 
Spread correct information
Stop the stigma by actively sharing factual information about HIV. There are many people diagnosed with the disease that are too scared to ask around and find help, so signal boosting information about institutions where they can seek assistance can actually save their lives.
ADVERTISEMENT - CONTINUE READING BELOW
Load More Stories