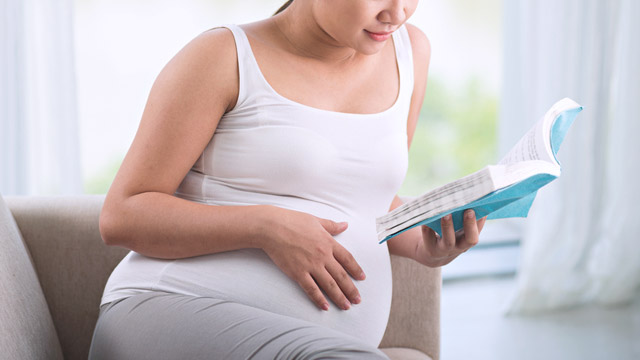 While it's a wonderful blessing, pregnancy will overhaul your body and your life. Your body will go through many changes, from your senses down to your hormones. These changes require regular monitoring, so you need to show up for every prenatal checkup. One of the things your doctor will always check is your blood pressure and any increase no matter how small can be a sign of preeclampsia.
ADVERTISEMENT - CONTINUE READING BELOW
Preeclampsia usually begins after 20 weeks of pregnancy in women whose blood pressure had been normal. Aside from elevated blood pressure, edema (swelling under your skin especially in the legs and or arms) and increased protein in the urine are possible signs of preeclampsia, according to obstetrician-gynecologist Dr. Gergen Marie Lazaro-Dizon of Makati Medical Center who spoke at Smart Parenting Village's first Facebook Live Chat With Experts.
Other symptoms include a severe headache, vision problems, and abdominal pain that's usually just below the ribs. If you manifest only one of the signs, it's usually not a cause for alarm unless you develop other symptoms, which is why prenatal checkups are needed.
High blood pressure during pregnancy will also affect your blood volume wherein it won't increase as it should during pregnancy. If that happens, it keeps your baby from getting enough blood and oxygen.
ADVERTISEMENT - CONTINUE READING BELOW
What causes preeclampsia?
The cause is unknown, but some doctors suggest it could be genetic. Damage to blood vessels or issues with the immune system, which treats the baby as a foreign entity in the woman's body, may also cause preeclampsia. There are, however, several factors that put you at risk for developing the condition. The American Congress of Obstetricians and Gynecologists (ACOG) considers a pregnant woman at risk for preeclampsia if:
she has chronic hypertension or a history of hypertension even before she got pregnant;
she has a history of kidney disease;
she has diabetes, thrombophilia, or lupus;
she is obese;
she is pregnant for the first time;
she is over age 40;
she's had preeclampsia in previous pregnancies;
she's pregnant again not more than two years after the previous one;
she's carrying multiples; and
she conceived via in vitro fertilization.
Dr. Lazaro-Dizon clarifies that if a pregnant woman has had preeclampsia, it doesn't mean she'll automatically have it in her succeeding pregnancies. If women had it in her first or previous pregnancies, there's a one in three chances of developing it again, according to the book What To Expect When You're Expecting.
ADVERTISEMENT - CONTINUE READING BELOW
Is preeclampsia serious?
Very for both the mom and the unborn baby. Preeclampsia is one of the major causes of preterm birth. Having high blood pressure affects the amount of blood and oxygen transferred to the placenta and thus to your unborn baby. It can also result in stillbirths when the placenta separates from the uterus, also called placental abruption, and can cause the mother to bleed profusely.
Preeclampsia, if not managed early, can damage a woman's kidneys, liver, brain, cardiovascular system, and other organs. Unchecked, it can develop into eclampsia, a much more severe condition characterized by having seizures or falling into a coma.
How is preeclampsia treated?
The only way to treat the condition is to give birth. If you're already at 37 weeks, your doctor may choose to deliver the baby early. "In severe cases of preeclampsia, the ob-gyn will do a C-section," Dr. Lazaro-Dizon said. The baby needs to be delivered as quickly as possible to prevent fetal distress due to lack of oxygen. 
ADVERTISEMENT - CONTINUE READING BELOW
If it's possible to wait, then your doctor may advise you to be on bed rest to try to lower your blood pressure. You can be admitted to the hospital because your doctor needs to closely monitor your blood pressure and conduct tests on your urine's protein levels, kidney functions, and platelet count. 
In some cases, your doctor may also prescribe aspirin early in the pregnancy, according to the U.S. National Institutes of Health (NIH). Doctors may also prescribe anticonvulsive medication, such as magnesium sulfate if the pregnant woman has seizures.
Can preeclampsia be prevented? 
The key is to determine if you're at risk and manage it early before it even manifests. To do this, you need to modify your diet to eat healthy and exercise or lose weight if needed. Take your prenatal vitamins religiously and never miss your prenatal checkups. 
This story originally appeared on Smartparenting.com.ph.
ADVERTISEMENT - CONTINUE READING BELOW
* Minor edits have been made by the Femalenetwork.com editors.
Recommended Videos
Comments
Load More Stories