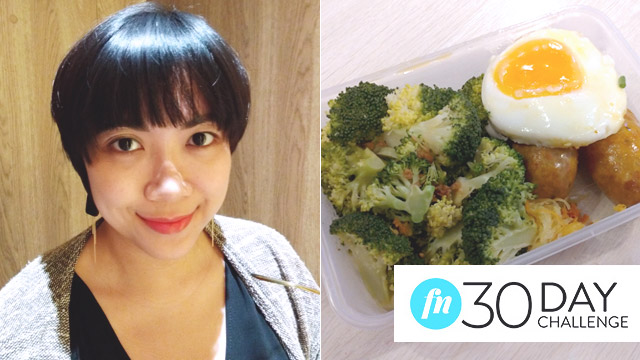 I love to eat. I seriously appreciate a nicely-cooked meal and how it travels from your taste buds to your tummy, and all the way into your soul (yes, I'm dramatic about it). Food for me is an adventure, which is also one reason why I jump from sweet to salty to savory in an effort to satisfy my cravings.
This is also why I'm not too big on meal plans.
Meal plans for me are a bit constricting, and I can only really do it for a week, tops. Add that to the fact that part of my job involves a lot of eating (I'm not complaining, though), and it really becomes a challenge for me to go on a meal plan for a month; getting into it, I knew that I was bound to skip a few packed lunches.
ADVERTISEMENT - CONTINUE READING BELOW
Before I started, I outlined my goals:
I'm trying a meal plan to fix my eating schedule. I tend to skip breakfast a lot and eat dinner late in the evening. I know for a fact that timing one's meals right is actually a huge factor in staying fit, so maybe having a pre-fixed meal would help me achieve this.
It won't be about weight loss. I'm not going to beat myself over what I see on the weighing scale and feel sad while munching on a broccoli. This meal plan is all about appreciating that nutritious food can be good, as well as exploring different ways of cooking the same thing.
I picked Fit Food's Fit Food Plus at 1,500 calories, which is a paleo-inspired plan that includes three main meals and two snacks that are low-sugar, low-carb, high-protein, and high-fiber. That's P3,050 for 5 days (plus delivery charge that's around P50). Looking at how much I spend for food (I eat a lot at the oddest times), it isn't really so bad. There are also cheaper options such as the Fit Food Original at 1,200 calories, which only goes for P370 a day plus delivery charge.
Full disclosure: Part of the reason behind this experiment it because I'd rather buy outside than cook meals because the place I'm staying at only allows electric stoves, and what has been previously installed was a big @ss electric stove that consumes way too much energy. I don't have a tabletop induction stove and I'm only cooking for one, so the expense and the effort simply isn't worth it; buying meals seemed more logical than a bloated electric bill.
Week 1, Day 1
Hello, tiny trees! For the first time in a long while, I ate breakfast at work and didn't jump directly to lunch. That's a big milestone for me. The pack included carb-free bread which was admittedly a bit dry. Imagine a corn muffin—that's how it tastes like. But I guess if it's carb free, you shouldn't really expect a lot of soft, creamy goodness.
The meals had hefty servings of broccoli (grated to imitate rice) and cauliflower (prepared as "mac" and cheese). The star of the show, however, was the Beef Caldereta with Coconut Milk on Roasted Carrots, which was what I had for dinner.
Each meal (including the two snacks) was filling, so I didn't really eat anything other than what was delivered to me. It was a good way to start.
ADVERTISEMENT - CONTINUE READING BELOW
Week 1, Day 3
There seemed to be broccoli and/or cauliflower in one or two meals per delivery, and it was today that I realized that they made me gassy. I ended up with a bloated tummy. I was staring at the mirror, looking at it in all angles and was really curious about how it could have gone from a regular tummy to a full-on lumpy balloon.
I then resolved to eat less of the broccolis and the cauliflowers. If one meal already had cauli, I would set aside the broccoli from the next meal. My sister and some of my officemates were more than willing to snack on them. The snacks compensated for what I removed.
Week 2, Day 8
My stomach had more or less gotten used to my new eating schedule, so I now get hungry in the morning (which is good). I've also managed to pace my meals, so I don't eat later than 9 in the evening—a huge jump from eating dinner at 11 p.m.
Since I was already eating right, I thought that it might be the right time to start a fitness regimen. I'd been planning to do yoga for the longest time, and it seemed like a good idea enroll in classes while on the meal plan.
I signed up at a nearby Yoga Plus studio and resolved to take the 6:45 a.m. classes at least thrice a week. It's not easy, but it does feel pretty awesome to get moving in the morning, just before a hearty breakfast.
Week 2, Day 13
I usually go home to my parents' house every weekend, which only means one thing: kanin. Meal plans are awesome, but nothing can really compare to what your mom cooks for you. The upside is that our family also makes an effort to eat healthy meals—my mom uses less to no oil, salt, and sugar when she cooks. Everything is natural as she doesn't use powder mixes for additional umami. The rice is usually brown as well, and there's always a healthy serving of veggies.
I shared my meals for the day with the family. My mom said that she'll be keeping the menus and try duplicating the dishes because they were good and healthy. I told her that the breakfast from the day before was pretty good: Carb-free Cheese and Bacon Pizza. We just needed to know where to get carb-free bread.
ADVERTISEMENT - CONTINUE READING BELOW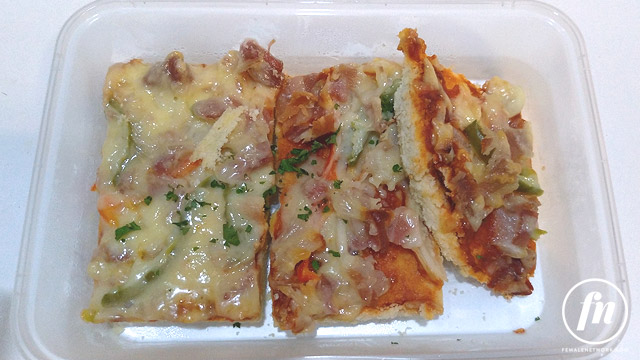 Week 3, Day 15
My intestines may have gotten a bit smaller as I now get full easily. I initially thought that 1,500 calories weren't enough for me, but surprise, surprise, they were. One trick I learned was not to eat the morning snack if breakfast gets me busog. Instead, I'd eat both snacks at around 4 p.m., which were just enough to tide me over until dinner.
I've also stuck with yoga and mat Pilates, and the early morning exercise made me look forward to eating breakfast. I've also noticed less bloat as I got used to my eating and fitness habits. It's all just good vibes.
Week 4, Day 23
Funnily enough, I lost a pound. I know, I know, it's just a pound, but seriously, if you're a bit overweight and have slow metabolism, a pound is a huge deal. While I said that I didn't start this meal plan with the hopes of losing weight, seeing one less line on the weighing scale actually feels pretty good. There's really no other way to get healthy—just the right food and enough exercise.
Week 5, Day 30
As I ended the meal plan, I oddly didn't feel like I was released from food prison. In fact, when faced with a line of restos, I felt like picking healthier options. Case in point: when my friend wanted to eat at Salad Stop for lunch, I didn't feel like I was depriving myself of anything, instead, I actually felt good about the choice.
The Upside
For a 30-something Pinay who works long hours and doesn't really have time to cook, healthy meal plans are god-sent. You don't only get a balanced diet, you also know that you get quality food all the time. I won't say that every meal was my favorite (I'm looking at you, carb-free bread), but generally, everything was good (hello, chicken sisig with broccoli rice)!
Getting on the meal plan also made me realize that aside from my crazy eating schedule, my diet isn't really so bad. I actually like vegetables so I eat lots of them on a regular basis. Plus, I've lost my taste for too-sharp sweets ever since stopped putting sugar in my coffee. (FN Tip: If you want to cut back on sugar, start with something as simple as that. Trust me, it will make a huge difference.) Do I still eat burgers? Sure, but if there's an option for grilled patties, I'd choose that over regular fried once without thinking. The point is to eat the right things without depriving yourself.
ADVERTISEMENT - CONTINUE READING BELOW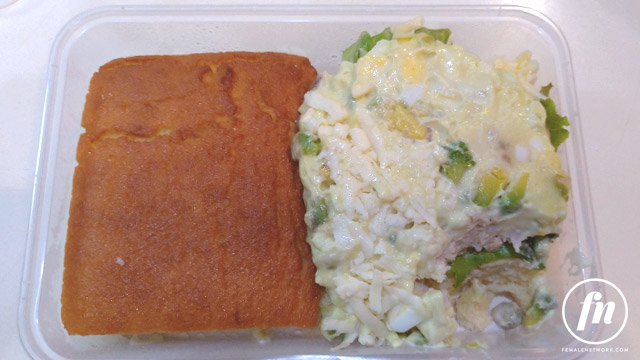 The Downside
As this is a meal delivery service, I now have a TON of plastic containers sitting on my kitchen counter. I'm hoping that they can come up with a more sustainable solution other than all this plastic, like maybe a reusable metal lunch box which can be picked up by the service as they deliver the next meal. In any case, I'll just probably make tons of coffee jelly, put them in the said containers, and give them away as gifts. Or keep them as temporary "pots" for succulents.
[UPDATE: February 7, 2019, 6:20 p.m.: I have just learned that you can return the plastic containers to Fit Food's delivery personnel for recycling, which is honestly makes me happy. Just remember to ask about it, and of course, wash your containers before returning them!]
Was it worth it?
I think it was! I ticked off both my objectives: I now can't go a day without breakfast, but I still need to adjust dinner time. I suggest going for it for initially a week or for days when you know you can't cook for yourself. I also appreciate how the people behind the service try to serve different and creative dishes every day—I don't think I experienced a repeat ulam, or if I did, it was rare and the food was awesome (hello again, chicken sisig). The meal plan is great for busy women who don't have the time or energy to cook, as well as for those who want to reboot their eating habits. As it has a lot of protein, it's also good for those who wish to restart their fitness journey. Just don't feel guilty if you can't help but skip a few meals—as long as you choose other healthy options, you're good to go.
For more details on meal plans, visit Fit Food Manila's Facebook page. If you're interested to try yoga, check out Yoga Plus on Instagram.
Load More Stories