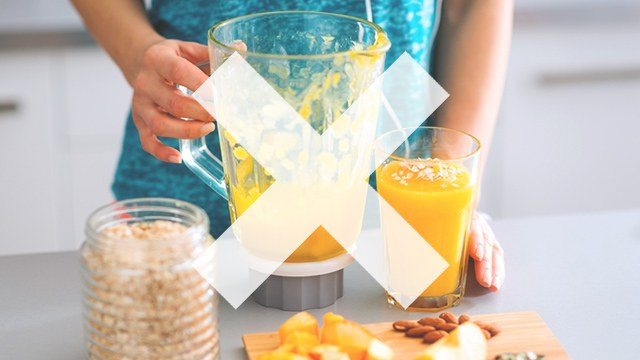 In her book, Sexy at Any Age, celebrity nutritionist Nadine Tengco quotes my spirit animal, Tony Robbins, in saying "Change is not a matter of ability but a matter of psychology." 
"This is true for me, as well as my clients," Nadine writes. "Their success or failure is largely determined by their why's, with a little of my magic how's."
ADVERTISEMENT - CONTINUE READING BELOW
I was able to experience this "magic how" in the form Sexy Chef's 5-day Fat Flush + Sexy Beast diet plan, a partnership the company has with Nadine Tengco herself. Good, I thought to myself while mentally preparing for the detox. Looks like it's now solely up to my "whys" to get me through.
To start you off, let me explain: I'm a creature of variety. I'm not loyal to any specific exercise or diet; I just do what I want, when I want, and rely on the fact that I try to do almost everything in moderation. I have tried juicing before, but the most I've lasted was three days. A five-day plan? Good luck to me. Especially after reading that Sexy Chef describes their Fat Flush + Sexy Beast plan as their most hard-core detox plan.
But reading up on it a little more, I started to feel less worried:
ADVERTISEMENT - CONTINUE READING BELOW
Recommended Videos
"It features a nut milk, two detox juices, a vegan salad and soup per day for the ultimate cleansing plan. It's basically THE detox plan of choice for those who have been wanting to do a liquid juice fast but think that may be too radical for them to not have any solid food for a number of days. This is a perfect plan to do days before a beach holiday or special occasion where you want to de-bloat to fit better into your dress. It's also good for resetting the metabolism in preparation for a long-term weight loss plan."
The Juices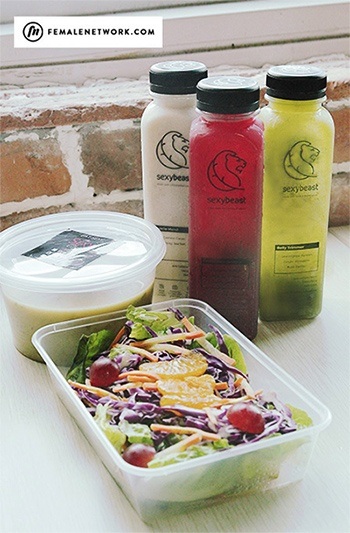 ADVERTISEMENT - CONTINUE READING BELOW
L-R: Muscle Mend was my favorite among the three—it's rich, creamy and quite filling. It kept me full until lunch, so I wasn't really craving for anything in the mornings. This drink is meant to help create lean muscles.
My second fave, the Endurance Booster, contains pressed beet juice. This is to help muscles "use oxygen more efficiently." 
Lastly, the Belly Trimmer has "anti-bloat ingredients such as basil for alleviating inflammation, parsley and pineapple which both aid in digestion and prevent constipation." Ah, every girl's dream.
The Soups and Salads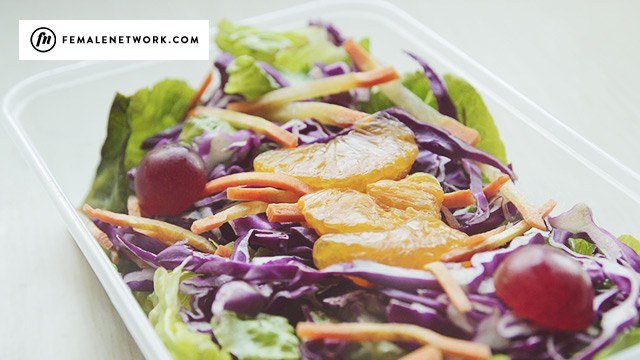 ADVERTISEMENT - CONTINUE READING BELOW
I love soup (all kinds, from sinigang broth to creamy vegetable soups and chowders) so I enjoyed them all. They were all quite filling, too, so as recommended, I had the soups for lunch and salads for dinner. To avoid getting hungry at night, by Day 3, I learned to have the salads a little later than normal, and I'd reserve one juice (usually the Belly Trimmer) for my midnight snack, which would typically be around 10PM.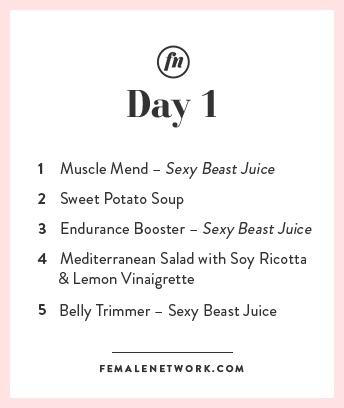 ADVERTISEMENT - CONTINUE READING BELOW
I was pleasantly surprised that the juices tasted good; they're a little sweeter than the ones I've tried before, therefore easier to consume. (I love eating vegetables but drinking them is really not my thing.) My favorite by far was the Muscle Mend, it's milky, super filling, and refreshing. It helped wake me up and keep me going in the morning. But I am a coffee person, and you're allowed to have black coffee throughout the cleanse, so I had a cup daily.
Since I was still pretty excited about the detox, Day 1 was definitely the easiest. I was feeling a little hungry at night, so I just locked myself in my room and binge-watched episodes of The Carrie Diaries.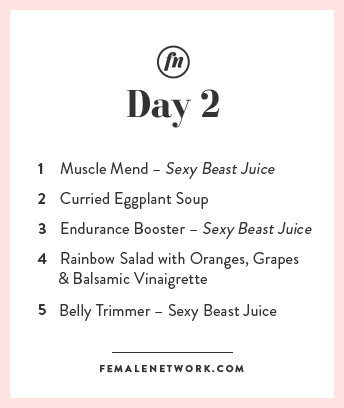 ADVERTISEMENT - CONTINUE READING BELOW
The curried eggplant soup was my least favorite of all the soups (it was a little strong), but the rainbow salad (pictured above) was the best among the salads. My low EQ also made me reach for a couple of bites during our food tasting/brainstorming sesh at work, but I decided not to feel too bad about it. I just told myself to do better in the coming days. In fact, Sexy Chef says that you can have a piece of fruit to supplement your cleanse. So in the coming days, I just made it a rule to have a piece of fruit to satiate my hunger--which I didn't even need for days four and five.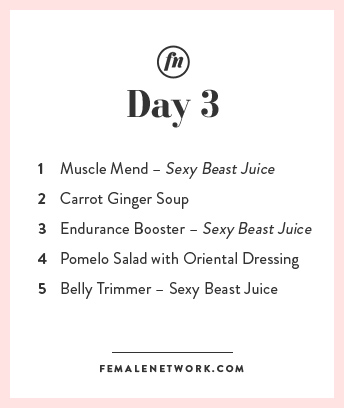 ADVERTISEMENT - CONTINUE READING BELOW
The carrot ginger soup is the best! I wanted more, more, more. This was a busy day at work so I wasn't really thinking about food for the most part. What I did miss was working out. But as per Ann of Sexy Chef, you're only supposed to do activities like yoga during the detox, and since I'm really more of a runner than a yogi, I just went for a long walk.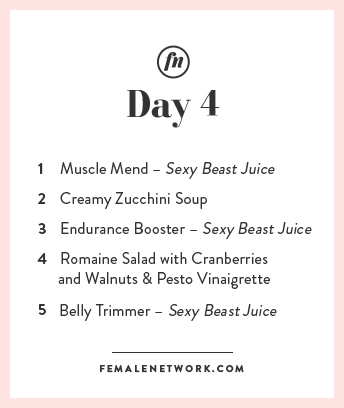 ADVERTISEMENT - CONTINUE READING BELOW
I really enjoyed the zucchini soup (I swear, this diet was made for me!) so this set was fun. Day four was the easiest for me, and I felt like I had the sched down pat by this point.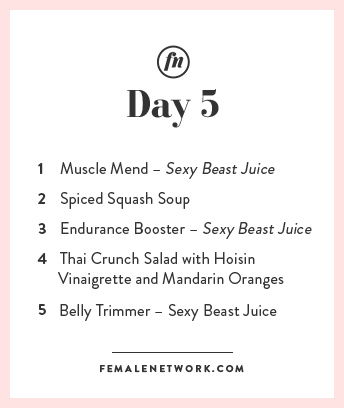 Unlike day four, day five was the hardest. The last stretch is always tough because I get that feeling of wanting to get it over with already. To get me through, I started planning my meals for the following day. However, I was careful to choose dishes that wouldn't shock my system. I once made the mistake of eating at Mister Kebab after a night of drinking right after a cleanse and it did not go well. (In my defense, I was 23.) 
ADVERTISEMENT - CONTINUE READING BELOW
Post-Detox:
I immediately felt lighter, and found that I also slept a little bit better. I had more energy, too in the days following the cleanse. I made sure to avoid fried and junk food so my transition would be smoother, and para hindi sayang. This is definitely something I'd consider doing again. It's still challenging, but definitely manageable since I still had meals that kept me on an eating schedule. If you want to give it a shot, you can avail of a 4-day package at P4,840 or the 5-day plan at P6,050. They deliver it the night before so it's very convenient! Happy detoxing, ladies!
Load More Stories