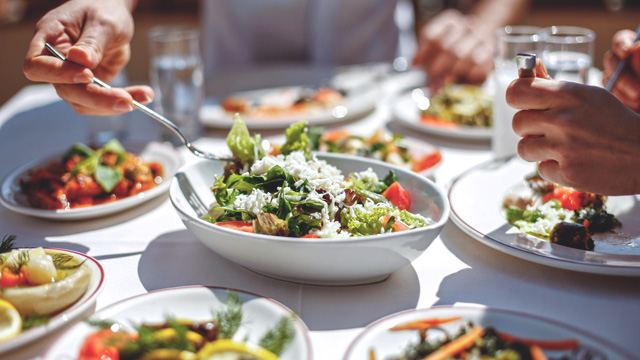 Here's a common assumption about healthy living in the Philippines: it's expensive, and can only be realized if you shop in specialty stores or order from pricey restaurants advertising organic food. Here's another assumption: that healthy living is inconvenient, and involves a set of lifestyle changes that might be difficult to perform: gym memberships, workout classes, and memberships in bespoke health programs.
ADVERTISEMENT - CONTINUE READING BELOW
The assumptions are not entirely inaccurate. In the first place, in a country like the Philippines, to 'live healthy' implies privilege, the financial freedom to control what food goes on the table and ample support in making decisions that affect health and well-being. To deliberately make healthy choices implies one has surpassed a more basic problem: poverty and hunger.
As it is, in 2018, a Social Weather Stations survey found that 10.5 percent or an estimated 2.4 million families experienced involuntary hunger at least once in a three-month period, due to a lack of food to eat. Many still lack access to basic health services.
Any discussion of healthy living must also examine the sustainability of systems of production, access to healthy food, environmental impacts, food security, and how land reform benefits or disenfranchises farmers and agricultural workers. As of now, choices that advocate for these issues are few, but are slowly becoming part of the collective consciousness.
That said—what does it cost to make healthy, sustainable, and ethical choices in Manila? What are you buying when you make these choices?
Food
Ultimately, the cheapest and best way to eat well is to grow or cultivate most of your food. Urban farming is very much possible in Manila, and is even encouraged. The cost of doing this varies on the method (one can employ traditional farming techniques, or employ an aquaponics system, for example) but pays back a hundredfold.
All you basically need is a small area—a backyard or an empty plot of land—some soil, seeds or cuttings (ask around or extract from existing raw food), a bit of know-how, and large amounts of resourcefulness. Learning to grow and cultivate your own food also emphasizes the value of food producing sectors (such as farmers and fishermen) and continually reminds us of their struggle for better systems.
ADVERTISEMENT - CONTINUE READING BELOW
If you can't grow your own food, you can always take a trip to the nearest wet public market. Contrary to popular belief, organic food doesn't always come with a label in grocery stores; reasonably-priced organic food is available in your local talipapa or palengke, from farmers who do not or cannot use chemical inputs.
Otherwise, there are pop-up markets that clearly offer sustainably-sourced produce and products, such as Good Food Sundays in Mandala Park, Mandaluyong. Good Food Community, one of the vendors at the market, also delivers fresh vegetables to designated drop-off points weekly, and introduces the concept of community-shared agriculture—where subscribers (of produce) become producers and stakeholders in the food production system. The community offers the following vegetable packages: gulay pambahay (.3.5 kg of seasonal hearty and leafy veggies, P630/week), small tampipi (a smaller version of the former at 2 kg, P470/week), juicing pack (2 kg of hearty veggies, P470/week), and a salad pack (500 g of salad greens, P320/week).
ADVERTISEMENT - CONTINUE READING BELOW
Food sources similar to Good Food Community include Elmntm: Elements of Tomorrow, which offers organic and aromatic brown rice (P80/kg), chicken, pork, egg, and mushrooms (other prices available upon request). Real Food offers a whole gamut of products, from raw fish (e.g., manuka smoked salmon at P230/pack), fruit (latundan banana at P110/kg), to meat (beef cuts for sinigang at P206/500 g).
Exercise
Exercising on your own is free, and there are many activities to choose from—jogging, walking your dog, walking around green spaces, dancing along to Youtube videos, riding a bike, and doing household chores. One of the easiest ways to get physical is actually engaging in a hobby that doubles as exercises, such as hiking or martial arts. This way, you won't find exercise a chore. 
But if you must enroll in a gym or a class, it will set you back a few thousand pesos. There are now many options available, so choose as you see fit: yoga, barre, pilates, indoor cycling, martial arts, circuit training, indoor cycling, or boxing. GuavaPass allows flexibility in choosing workouts, and has two package offers: 4 class (1 visit per studio for 1 month at P1,399) and 8 class (2 visits per studio for 3 months at P2,399). Gym memberships range from around P700/month to P4,000/month.
ADVERTISEMENT - CONTINUE READING BELOW
Checkups
Regular checkups may be covered by a competitive employee benefits package. If not, there are local clinics (such as Health First) that offer yearly packages (from P800 to P3,000/year) including unlimited free consultations, annual physical exams, dental services, and discounts for other medical services. Maria Health offers prepaid health plans. For adults, it offers a plan covering unlimited consultations, emergency coverage, and confinements at P8,049.
For artists and freelancers, a group called Artists Welfare Project Inc. helps secure HMO services (valid for a year) depending on the number of paying participants (the most recent contribution required was P10,000 for a year).
Well-being
Health—beyond the buzzwords—is a holistic term, referring not only to physique or sustenance but also to well-being and quality of life, involving not only individuals but also society. Traffic affects our health, for example, and no amount of food, exercise, or insurance is going to compensate for the daily deadening crawl of the highway. Constant exposure to social media content negatively wires our brains in ways we are just beginning to understand. Even in an increasingly connected society, social isolation exists, and can lead to serious health complications.
ADVERTISEMENT - CONTINUE READING BELOW
Surely, to live healthily also factors in the willingness to slow down in a fast-paced world; the warmth of our relationships with others; our sense of integrity and self-worth; the conduciveness of our environments as we perform daily activities; our ability to empathize and be compassionate; and many other things that cannot be quantified, and only have meaning so long as they remain priceless.
Load More Stories