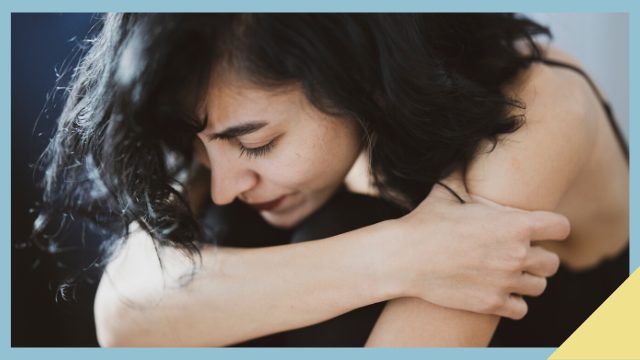 A few hours after the extension of the enhanced community quarantine (ECQ) was announced, I was washing the dishes and I suddenly felt the urge to cry. I anticipated an extension and I actually think it's necessary, but even ironclad logic couldn't keep the tears from coming.
ADVERTISEMENT - CONTINUE READING BELOW
And this wasn't the first time I randomly started crying. A week ago, I was standing in the delata aisle in the grocery, trying to figure out how many cans of Spam I wanted when my chest started to tighten and I felt tears form in my eyes. I sucked it back down 'cause I didn't want to sob in public and cried at home instead. But it made me wonder: Are people randomly crying more these days, too?
ADVERTISEMENT - CONTINUE READING BELOW
Recommended Videos
Researchers have found that crying might be a form of self-soothing. To cope, we cry so we can regulate or release strong, unwanted emotions. Of course, crying isn't the only way to deal with these emotions: Some people "may try to distract themselves, try to relax, engage in physical activities, talk to a friend or family member, think about something positive, use drugs or alcohol, (the latter behaviors are also often used to deal with extremely positive feelings)." And sometimes, after you cry it all out, you experience catharsis—a sense of relief.
So if you've been crying more lately, it's probably because the current situation has made you feel scared, anxious, and not in control. Apart from letting yourself go through it, what else can you do to deal with all these feelings? Below, Pinays shared the last time they burst into tears and how they dealt with it:
ADVERTISEMENT - CONTINUE READING BELOW
"[It was] l

ast night, while working on a project that could potentially create revenue and save jobs within my own company (restaurants are in a rough spot these days), and thinking—

how well could it possibly perform...or not perform...and what will happen to the indu

stry as a whole within the next months? Projections are impossible right now. Took a few shots and slept it off. Woke up early to work with more focus instead of staying up too late with a troubled mind. Long story short, shots shots shots!" -Catalina
"I cry almost every day. The uncertainty of the whole situation and the fact that 'normal' is now an unattainable luxury is difficult to comprehend. Both my parents died in the recent years to cancer, and I feel their absence is more pronounced during this difficult time. Whenever I feel grief washing over me and the tears start flowing, I go to the kitchen and cook for my siblings. This helps keep me focused on the present." -Stephanie
"It was probably two weeks ago when I cried and had a panic attack. It was triggered by work, but while I was crying, I realized it was the first time I let myself feel my emotions this whole ECQ. I, apparently, bottled everything up and when I couldn't take it anymore, I just purged. Thankfully I started exercising regularly so that's been a great help in managing stress. It's also a way for me to feel like I have control over this very weird and uncertain period. Another thing that I've done to lessen the anxiety was getting off Facebook. I haven't been scrolling through my personal feed for over a month (although at times I allow myself a minute or two!), and it's a great way to not get overwhelmed by info overload." -Cindy



"A few weeks ago, I had a breakdown just because I wasn't feeling [like] myself lately. I don't know if it's because of the quarantine or if I was just having [experiencing] PMS. But listening to [my] fave relaxing songs while having a good warm shower really makes me calm, emotionally, and mentally." -Chelle
"I cried a lot during the first week of the ECQ. And every day for the next 10 days or so, I always felt like I was on the verge of tears. As in, any time, may tutulo ng luha. It was mostly because I felt helpless, I couldn't do anything about the situation. I'm a planner by nature and it was really hard for me to not be able to know what will come next. I felt stuck, scared, worried, and unsure. I think I'm in a better place mentally now, but there are still days when I just really cry out of frustration. It helps to look forward, but even that is a challenge during these times. I think what helped for me was controlling what I could. I choose the content that I consume, the people I follow online, the amount of time I spend doing something, and more. It's a little step, but it really does help. I've also turned to journaling and painting. It's what I look forward to at the end of a long work day. Really nice to be able to zone out." -Retty
"

Never knew cabin fever existed until now, LOL! I burst out crying a couple of nights before my 30th birthday. I had already moved on from the fact that my house party wasn't pushing through, so I honestly don't know where it came from. I was glad

 that my husband helped me process my emotions. It turned out that I've been overwhelmed by A LOT of things that time and I was dealing with it by myself... One of the things that got to me was the fact that I was turning 30: I was thinking about everything that I have to be responsible for and everything that I should accomplish to make up for what I couldn't and didn't do. It's my usual case of overthinking, I guess, hehe! I made a 10-year 'growth chart' to review how the past 10 years were for me. Turns out that from my lowest point in 2010 (hands down, was the lowest year of my life thus far), it was an upward trend towards 2020. I couldn't be more blessed! Every time I feel like I'm sinking, I think of that chart to help me remember that I'm still in a good place." -Anya
ADVERTISEMENT - CONTINUE READING BELOW
Load More Stories