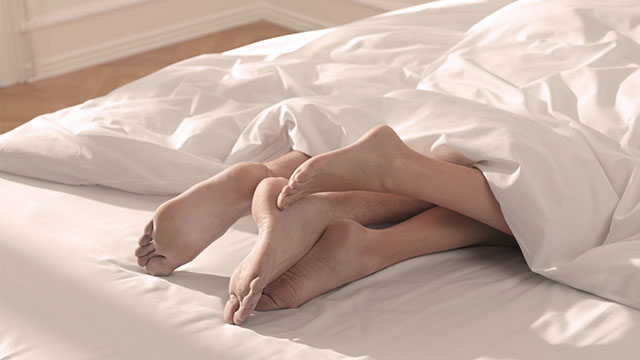 When parents-to-be are asked about their desired sex for their baby, the template answer is they're okay whether it's a boy or a girl as long as he or she is healthy. It's any parent's wish, of course, but sometimes there is a gender they secretly pray for, whether it's because of tradition or a lack of a boy or girl in the family.
ADVERTISEMENT - CONTINUE READING BELOW
If you ask around, you'll hear a lot "experts" on how to have a baby boy or girl. We hate to break it to you though—there is no 100-percent natural way to predict the gender of your child.
CONTINUE READING BELOW
Recommended Videos
"It's really a 50-50 chance, but there is no surefire way to get pregnant with a baby boy or baby girl. It's something science has not been able to pinpoint. It's the miracle of life," say obstetrician gynecologist Dr. Ian Castro. (If you're going for pregnancy via in vitro fertilization, then the chances are high that you can choose the sex.)
That said, many couples don't mind trying a technique they've heard or read about (no harm done, after all). Here's a few who shared their experience with us plus some that we've heard and read as well.
1. Use the Chinese gender calendar.
The 300-year-old Chinese Gender Prediction Calendar is said to be based on old Chinese literature called I Ching or the Book of Changes, the yin yang Chinese philosophy, and time projections. "We already have a daughter and would like just two kids. So when my husband and I started trying for a second baby, we carefully followed the calendar. Good thing it worked for us!" says Ann May Lee, human resource practitioner and mom of two. She adds that she has four other friends who used the calendar and were successful in their gender of choice.
ADVERTISEMENT - CONTINUE READING BELOW
2. It's all about the timing.
We all know that sex during ovulation is the scientific way to conceive. The Shettles Method explains that sperm cells with boy-producing sperm (the Y chromosome) swim faster but can only survive a short time in the women's reproductive environment. The girl-producing sperm with the X-chromosome, on the other hand, lives longer, but are lazy swimmers. So if you want a girl, have sex two to four days before ovulation, so when the egg comes, only the X-sperms are there to fertilize it. If you want a boy, get busy under the sheets during the highest peak of your ovulation to give the Y-sperms higher chances of fertilizing the egg.
3. Do deep-penetration sexual positions.
Bernice Lazona shares she and her partner conceived their two boys with this technique. "My doctor said that positions that allow my husband to go deeper inside me could up our chances of having a boy, so we'd always do rear-enrty positions. If we go missionary, she also suggested having a pillow under my butt to give Y-sperm cells a push in the right direction. And also, not to get up right away after my husband ejaculates. True enough, I have two boys."
ADVERTISEMENT - CONTINUE READING BELOW
4. Watch what you eat.
Researchers from the U.K. found that a woman's energy intake during ovulation and time of conception diet could be a factor in baby gender selection. In the study, more than 50 percent of women who consumed more calories (i.e., ate the most, didn't diet, or skip meals) gave birth to baby boys.
Another study says a mom should eat more red meat, salty and potassium-rich foods to have a boy. This diet leads to a more alkaline, or more Y-chromosome friendly conditions down there. Acidic conditions kill boy sperm like a plague. To have a baby girl, the woman should have more eggs, milk, yogurt, and chocolate.
5. Watch what your partner eats.
"Someone told me to feed my husband lots of protein, such as burgers and red meat, if we want to conceive a boy. If we wanted a baby girl, then he should eat more fruits and vegetables," said April Gomez. Her husband, however, abandoned any kind of diet early on. They have a boy and a girl.
ADVERTISEMENT - CONTINUE READING BELOW
Another theory we heard: give your partner a cup of coffee 15 to 30 minutes before making love to make his Y-chromosome sperms more awake and active during sex.
6. Foreplay or no foreplay?
Lots of foreplay before sexual intercourse can result to having a boy, while less or none at all would result to having a girl. Esper Jimenez (she has three boys and one girl) says that was what her doctor told her. "It has something to do with the hormones released during foreplay. A lengthy foreplay releases more happy hormones and makes the vagina more Y-sperm friendly."
7. Take one for the team.
New mom Ina Falcon shared, "A friend told me that if we wanted a baby girl, I should let my partner orgasm and not even bother with mine. If we wanted a baby boy, I should definitely have the big-O almost at the same time as my partner does." Ina didn't know how true this was, but she and her husband decided what mattered most was they both enjoyed the sex. They have a boy.
ADVERTISEMENT - CONTINUE READING BELOW
What did you do to conceive a baby boy or girl? Let us know in the comments below!
This story originally appeared on Smartparenting.com.ph.
* Minor edits have been made by the Femalenetwork.com editors.
Load More Stories