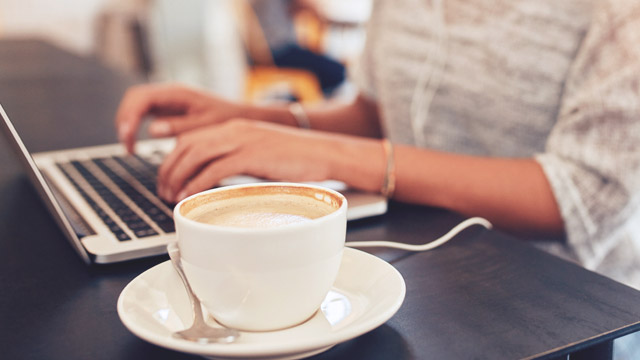 Coffee seems to be everyone's go-to morning drink if the long lines at Starbucks are any indication. It doesn't just keep you awake, there's also quite a list of health benefits attached to this drink, including but not limited to helping prevent diabetes, protect against stroke, and lower your chances of cancer.
ADVERTISEMENT - CONTINUE READING BELOW
But alas, coffee isn't for the faint of stomach! Yes, we're looking at those who frequently suffer from hyperacidity, and those who just really have senstive stomachs. Here's what you can do so that you won't have to give up your favorite brew:
Go for dark roast, not light.
The process afforded to dark roast coffee, as opposed to lighter ones, results in the production of chemicals that tone down the coffee's acid levels. Hence, this type of roast is easier on the stomach and a safer option for the hyperacidic coffee lover.
Try cold brew.
Knowing the right brewing method can also help protect a sensitive tummy. With this, it's best to stick to cold brew coffee. According to Starbucks Coffee Master Ana Mendoza, the cold water extraction process involved in making this certain type of coffee eliminates or tones down its acidity level. If you find yourself in Starbucks, why not try out their new Cascara Cold Foam Cold Brew, a smooth black coffee drink with delicious subtle notes of dark brown sugar.
ADVERTISEMENT - CONTINUE READING BELOW
However, if you're leaning towards the sweeter side, Ana recommends the Vanilla Sweet Cream, a cold brew drink sweetened with vanilla syrup and sweet cream milk. We're told that cold brew is also especially perfect for morning coffee drinkers who suffer from riser's reflux—a term for morning acid build up. Plus, it's not a bad fix when you're in tropical weather either.
Always balance with water.
With all this in mind, the best advice would still be to always balance your coffee intake, whatever kind that may be, with water as it helps neutralize the acid in your body. Of course, you have to make sure that your H2O has been distilled and is absolutely free from any toxins that might aggravate your stomach. Prevention is always better than cure!
Sometimes, it's not just the coffee, so always remember to...
ADVERTISEMENT - CONTINUE READING BELOW
Watch the milk.
For some, coffee and dairy are a painful double-whammy to the tummy. If you find that you're lactose intolerant, try opting for soy milk instead of full-cream. If soy milk is not available, go for half-and-half, which is the lesser evil. Or simply do away with milk (and sugar) and get to appreciate your coffee black.
Double check what you pair your cuppa with. 
Coffee can be more enjoyable with the right food to pair it with, but while creamy cakes and pastries are definitely a delicious option, it may trigger an uncomfortable bout of belly pain. Make sure to keep things light.
With additional reporting by Charlene J. Owen
This story originally appeared on Preview.ph.
* Minor edits have been made by the Femalenetwork.com editors.
Recommended Videos
Comments
Load More Stories