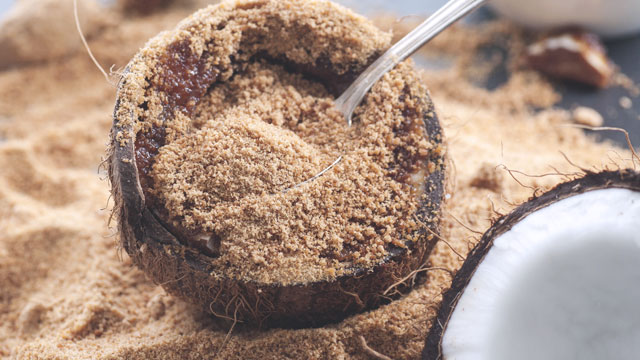 Coconut sugar, which comes from the sap of coconut flowers, may be an excellent alternative sweetener especially if someone in the family has diabetes, according to research from the Food and Nutrition Research Institute (FNRI) of the Department of Science and Technology.
ADVERTISEMENT - CONTINUE READING BELOW
For the study, researchers tested the blood sugar levels of 10 non-diabetic participants before and after being given coconut sugar to eat, according to an article published in FNRI Digest. Blood samples were also collected every 15 minutes for the first hour and every 30 minutes for the second hour. 
CONTINUE READING BELOW
Recommended Videos
"Results showed that coconut sap sugar did not drastically increase blood glucose levels but was slowly released into the bloodstream," says the FNRI. "Coco sugar, when taken in recommended amounts, may be used as an alternative sweetener for diabetics."
Researchers also classified coconut sugar as a low glycemic index (GI) food. What does this mean? "The glycemic index is a value assigned to foods based on how slowly or how quickly those foods cause increases in blood glucose levels," according to Harvard Health Publication. High glucose levels increase the likelihood of kidney failure, obesity and the diseases that can come with it like diabetes and cardiovascular problems.
ADVERTISEMENT - CONTINUE READING BELOW
"Foods with a high glycemic index, like white bread, are rapidly digested and cause substantial fluctuations in blood sugar. Foods with a low glycemic index, like whole oats, are digested more slowly, prompting a more gradual rise in blood sugar," explains the Harvard School of Public Health.
Moreover, regular table sugar doesn't contain any nutrients and are considered "empty" calories, according to Healthline. On the other hand, "coconut sugar does retain quite a bit of the nutrients found in the coconut palm," says writer Kris Gunnars, a nutrition researcher. This includes iron, zinc, calcium, potassium, and antioxidants.
Coco sugar can be used to sweeten coffee and tea, in baking, and in cooking. You can also use it to make Brown Rice Champorado.
You can even create syrup with it to top dessert. Here are instructions from Yummy.ph: "Make a simple glaze with coconut milk and coconut sugar — all you have to do is mix both ingredients together, with the sugar to taste, and reduce in a saucepan until dark and thick. Use this to glaze and decorate your favorite sweet treats!"
ADVERTISEMENT - CONTINUE READING BELOW
Remember that coco sugar is still sugar. "Use coconut sugar in moderation, just as you would use regular table sugar," says Gunnars. "It's healthier than refined sugar but definitely worse than no sugar at all."
"Following the principles of low-glycemic-index eating is likely to be beneficial for people with diabetes (whose bodies cannot process sugar efficiently)," says Harvard Health. "But reaching and staying at a healthy weight is more important for your blood sugar and your overall health." 
This story originally appeared on Smartparenting.com.ph.
* Minor edits have been made by the Femalenetwork.com editors.
Comments
Load More Stories