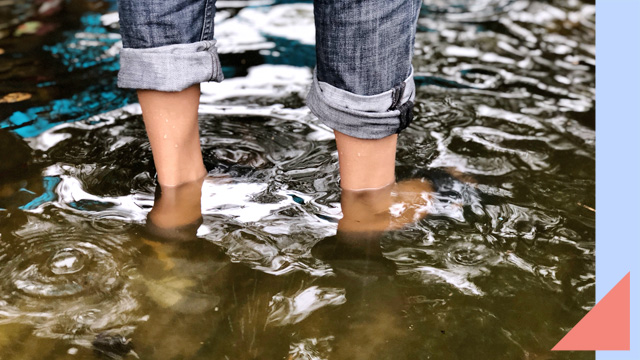 Floodwater is filled with things that are dangerous to your health. Some substances like feces, hazardous waste, coal ash waste, and other contaminants may cause illness. There are also debris and downed power lines that may harm you. You may get wounds, skin rash, gastrointestinal diseases, tetanus, and leptospirosis.
ADVERTISEMENT - CONTINUE READING BELOW
Ideally, you need to stay away protect yourself from floodwater, but in case exposure happens, the Centers for Disease Control and Prevention recommends doing the following steps:
Wash the area with soap and water. We recommend this cleanser that effectively gets rid of disease-causing germs. 

TRY: Betadine Skin Cleanser 250ml, P281.52, Lazada

If soap and water aren't available, disinfect the skin with alcohol or hand sanitizer.

TRY: Hygienix Germ Kill Alcohol, P75/500mL, Shopee

For wounds, clean the area first with soap and water (or povidone-iodine solution) and examine for any foreign objects stuck on it. Apply gauze, bandage, or a dry, clean cloth to protect the wound. Don't hesitate to seek medical attention when needed.
Wash floodwater-drenched clothes in hot water and detergent. 
CONTINUE READING BELOW
Recommended Videos
Load More Stories