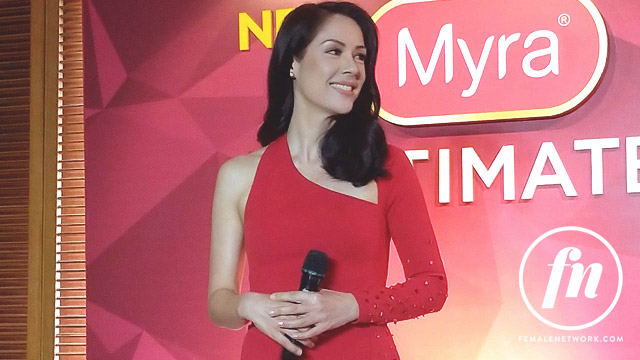 Former actress Cindy Kurleto, who played the oracle Cassiopea in the original Encantadia series, flew back to the Philippines for a short but sweet return to the limelight.
Now a mom and the face of Myra Ultimate, she shared her personal philosophy on beauty, aging, and self-care that fueled her through the years.
ADVERTISEMENT - CONTINUE READING BELOW
CONTINUE READING BELOW
Recommended Videos
"[If] I want to be able to look after my loved ones, I have to first look after myself," she said during the recent press con that launched her as the supplement's endorser. "I have to love myself first, before I share love to my children, my partner, my ailing father, my ailing mother…"
Sadly, there are women who tend to forget about taking care of themselves once they start a family. According to a study featured on Smart Parenting, many moms "only get to spend an average of one hour for themselves out of 24 hours in a day." A woman's to-do list doesn't end after she clocks out the office: she also has to do "unpaid work" at home, which includes chores and taking care of children.
Another survey commissioned by Bright Horizons Family Solutions featured on Business Wire revealed that "86 percent of working moms say they handle all family and household responsibilities," and this causes a heavy "mental load" on women who eventually feel burnt out by the many roles they play.
ADVERTISEMENT - CONTINUE READING BELOW
"If you want to be a good mom, you have to look after yourself first," Cindy said. "I think it all has [something] to do with empowerment; knowing that you're doing the best for yourself."
The celeb endorser also noted that aside from loving and finding contentment within ourselves, women should also avoid stressing over the fact that everyone inevitably ages.
"Aging gracefully shouldn't be something to be scared of. We shouldn't walk through life thinking that us women, we're not allowed to age. We're absolutely allowed to age, and aging is not contrary to being beautiful."
Cindy highlighted how simple self-care habits can actually make one feel forever young from the inside out:
"Eat clean."
It's pretty straight-forward: avoid junk, lessen your sugar intake, and eat your veggies. Be aware of what you eat and take time to look for food that tastes good and does you good, too. 
ADVERTISEMENT - CONTINUE READING BELOW
"Sleep well"
Lack of sleep causes the production of the stress hormone cortisol, which leads to inflammation and "accelerates the aging of your blood vessels." Always try to clock in at least seven to eight hours of shut-eye a day to allow your body to recuperate from the day's stresses.
"Exercise."
A study published in the Preventive Medicine journal and featured on Newsweek noted that "adults with a high level of physical activity had a 'biological aging advantage' of nine years compared to sedentary adults." Exercise also helps the body produce endorphins, also known as "happy hormones" that lower the risk of depression.
"Drink water."
Water doesn't only help your body flush out toxins, it also keeps your muscles going and locks moisture in your skin.
"I think that, the more you age...the more you realize what your life should be like...the more content you feel about your life," Cindy ended. "The more content you are, the more beautiful you're gonna be."
ADVERTISEMENT - CONTINUE READING BELOW
Comments
Load More Stories