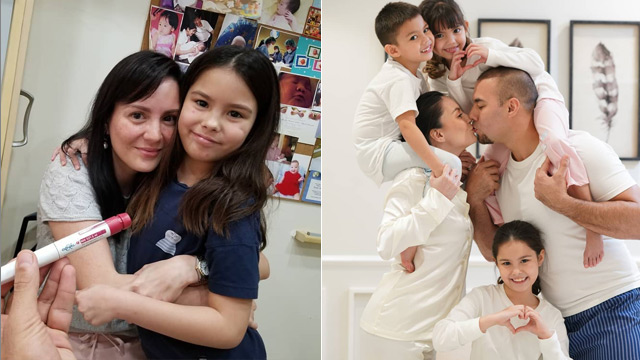 The road to baby number four for Team Kramer has officially started—and they're turning to in vitro fertilization (IVF) to help them conceive.
On March 6, 2019, Chesca Kramer received the first of nine (or more) injections to stimulate her ovaries to produce eggs for harvesting. She was accompanied by their eldest Kendra, and her husband Doug, who received instructions on how to properly do it as he would be administering the subsequent injections at the comforts of their home.
ADVERTISEMENT - CONTINUE READING BELOW
CONTINUE READING BELOW
Recommended Videos
"And so it begins! After six years, we are trying to have another baby!" Chesca wrote as caption for the video she posted on Instagram. "So happy we can do this here in our country," she added. "Exciting time for the next chapter of our family!"
Team Kramer is not only hoping and praying for baby number four, but they're also looking to move to their new family home as soon it's finished.
ADVERTISEMENT - CONTINUE READING BELOW
"We will be sharing with you every step of our way to getting baby no. 4... maybe possibly baby no. 4 and 5 together!" Doug assured their followers on Instagram.
"Today, we started the first injection for stimulation for more eggs to be harvested within two weeks," he said, adding that he's nervously excited for the results
ADVERTISEMENT - CONTINUE READING BELOW
Chesca, 38 years old, joins other celebrity moms like Aubrey Miles and Miriam Quiambao who conceived at a later age.
Chesca is scheduled to take a pregnancy test on April 2 or 3. "Keep praying for me! It's not a sure shot yet, but we will keep pushing for baby number 4 or even 5!" she wrote.
ADVERTISEMENT - CONTINUE READING BELOW
Doug explained that while "tests have been done to see that her body is ready for another go," Chesca may or may not get pregnant right away. "It will all depend on how her body reacts to everything," he added.
Doug and Chesca are already parents to Kendra, 9, Scarlett, 7, and Gavin, 6.
Six years ago, Chesca had a ligation, a permanent type of birth control, according to Mayo Clinic, but surprised everyone with an announcement last month that they were going to try for another baby.
"Getting pregnant almost two straight years with Scarlett and Gavin took a toll [on] Chesca's body, so we decided to have her ligated," the dad of three explained.
ADVERTISEMENT - CONTINUE READING BELOW
IVF is one of the many assisted reproductive technologies (ART) that has been available in the country for more than two decades now. The IVF procedure involves harvesting a woman's eggs and a man's sperm. Fertilization or conception happens in the laboratory. After a couple of days, the fertilized egg or embryo will then be implanted in the woman's uterus.
The success rate of IVF in the Philippines is now almost more than 35 to 50 percent, which largely depends on the woman's age and health profile. The quality and standards of the IVF technology as well as the laboratory, doctors, and staff are also important factors for the IVF procedure's success. Many have availed of this service locally, even celebrities, including Rona and Eric Tai who have just welcomed their first baby. 
Kendra hinted on wanting twin siblings after looking at the many photos of babies her mom's doctor has delivered. We'll have to wait and see.
ADVERTISEMENT - CONTINUE READING BELOW
S
Best of luck, Doug and Chesca!
This story originally appeared on Smartparenting.com.ph.
* Minor edits have been made by the Femalenetwork.com editors.
Load More Stories