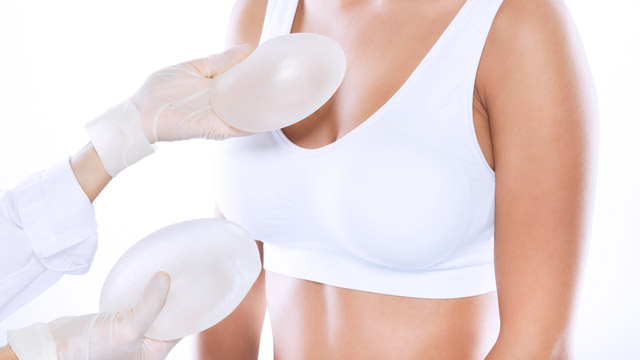 As technology becomes more accessible and affordable, beauty enhancements have become so common. One of the most common cosmetic procedures women save up for is breast augmentation, or augmentation mammoplasty, to increase breast size. Inserting the implants into the breast requires surgery that usually takes 1 to 2 hours, and recovery time is up to 2 weeks or more.
ADVERTISEMENT - CONTINUE READING BELOW
However, while the procedure may sound simple enough, there are a few more considerations a woman must make when deciding to get breast implants that goes beyond form or aesthetics. One of these is function, such as the capability to produce breast milk, and breastfeed. It's a matter of utmost importance should a woman decide to start her own family and choose to nurse her child.
CONTINUE READING BELOW
Recommended Videos
Can women with breast implants still breastfeed?
In a 2016 article on Cosmo.ph, Dr. Arnold Angeles of The Aivee Clinic answers the question. The answer is Yes, BUT.
"There's one incision that really decreases breast lactation—around the areola. It decreases the rate of lactation by about 50%, because you have to go through the areola and some of the breast tissues. This is why we talk to the patient and their future plans so we understand completely where to place the incision," says Dr. Angeles. It's important, therefore, to discuss with your doctor the location of the incision to avoid this problem.
ADVERTISEMENT - CONTINUE READING BELOW
Or, you can also have the procedure done after having kids. "If you decide to get implants after having children, you just have to wait for lactation to stop," he adds.
According to breastfeeding.support, however, scarring as a result of the procedure may affect milk supply because scar tissues may cause firmness, which may extend into milk ducts. This may result to engorgement and mastitis if the milk can't drain freely from the breast.
There is also a tendency for women who have had breast implants to feel more sensitive in the breast area, thus becoming more prone to pain that they would normally be able to endure otherwise. On the other hand, some experience not sensitivity, but numbness in the nipple, which gets in the way of the reflex needed for milk production.
In a post on her Instagram Stories in October, actress Michelle Madrigal made it clear just how much she regrets getting breast implants, saying she should have made a better-informed decision before. Michelle, now a mom to a 1-year-old baby girl named Anika, is known for her curvy physique and her sexy image.
ADVERTISEMENT - CONTINUE READING BELOW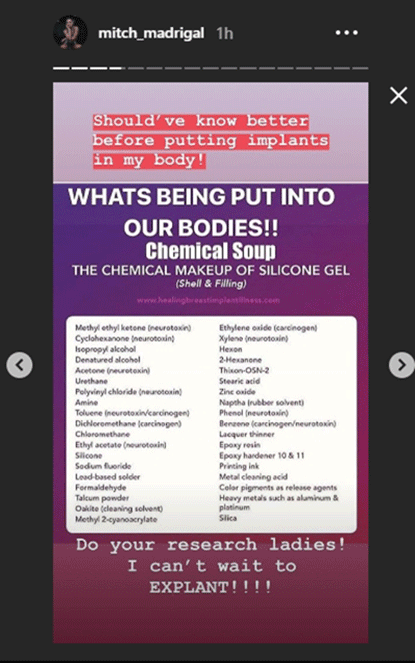 ADVERTISEMENT - CONTINUE READING BELOW
She also posted a screenshot of an article from the Daily Mail, which talks about banning certain materials that are being used in breast implants because of cancer fears.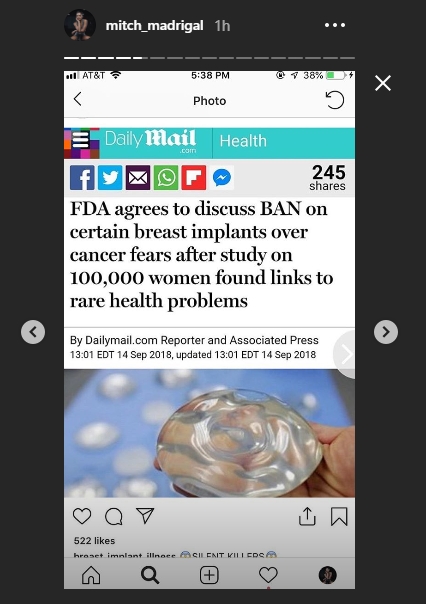 In Cosmo.ph's article, Dr. Angeles gives an assurance that breast implants can be removed should the patient change her mind.
ADVERTISEMENT - CONTINUE READING BELOW
This story originally appeared on Smartparenting.com.ph.
* Minor edits have been made by the Femalenetwork.com editors.
Load More Stories