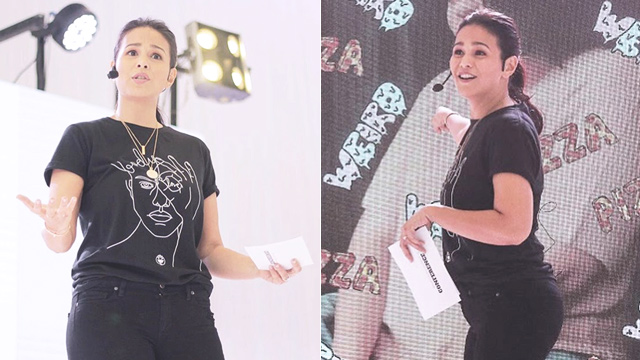 No matter how self-aware you become in your 30s, there are still some things so deeply ingrained in our minds that we don't realize the full extent of its effects on our self-esteem, and in some cases, our health. Actress Iza Calzado is a testament to this, as she shared at the press con of She Talks Asia's Body Love Conference that even though she already knows that it's okay not to feel pressured to look a certain way, psychologically, she still "has a long way to go" when it comes to truly accepting herself.
ADVERTISEMENT - CONTINUE READING BELOW
Iza Calzado on the process of unlearning
CONTINUE READING BELOW
Recommended Videos
"It's very hard to unlearn the negative self talk. Part of it is judging your body. It's very hard to unlearn that (while) skinny is beautiful, so is an average body, or having folds, or having imperfections. I realized that it was easier for me to transform my body than it was to transform my mind. Because until now ang hirap pa rin. I'm still on that path and... maybe I'm just 50 percent there. Whereas my body, I feel like malayo na talaga 'yong narating ko. It's so hard to unlearn especially culturally, what has been passed on to us, like the 'tumaba ka ba?' (greetings), wanting to be praised for being thin... As if your worth is measured by your weight or your size.
ADVERTISEMENT - CONTINUE READING BELOW
"Especially for me, because I work in media... when you're in front of the camera and everybody around you is almost perfect, you really believe that you have to be perfect to be worthy and to be viewed by a massive audience."
Good health comes with a proper perspective
Remember, we're all works in progress. You can't go on a fitness journey and take the mental and emotional process for granted if you want to make real changes in your life. It's called a fitness JOURNEY for a reason, it's not just about reaching your fitness GOALS. If you become too focused on weight loss or hiding your imperfections, then you lose the opportunity to get to know parts of yourself and your personal history—it's like skipping a chapter in your book. As Jim Rohn famously says, your body is "the only place you have to live."
ADVERTISEMENT - CONTINUE READING BELOW
So in the same way that cheating on a relationship is rarely just about the sex, cheating on your diet (or making poor health choices) isn't just about food or cravings. There are motivations behind our actions that we'll only understand once we take the time to reflect on them. So while it's okay to count calories or follow a diet trend, taking concrete step towards being kinder to yourself is also a daily practice that you need to devote your energy to.
ADVERTISEMENT - CONTINUE READING BELOW
What I learned from She Talks Asia: The Body Love Revolution
At the conference itself, held on September 29 at Whitespace Manila, Iza elaborated on her story during her session called "A Journey to Self-Love and Why It Matters." Based on her talk, along with insights from other panelists, here are a few things we should focus on in order to lead a more positive relationship with our bodies and minds:
ADVERTISEMENT - CONTINUE READING BELOW
Healthy social relationiships
According to Iza, it's important to "do some filter work in our social life. Follow social media accounts that inspire us, not just ones that look good… Let's mix it up a bit.
"Filter who you spend time with online and offline."
Learning positive self talk
"The most important worth is inner worth. Catch your negative self talk, it is so powerful that we catch this and instead fill ourselves with positivity.… As Naomi Judd says, 'Your body hears everything that your mind says.'"
Your breathing and mental clarity
As Francis Flaviano shared during his talk on Mindfulness and Meditation, "when the breath relaxes, the mind relaxes." Start by taking 10 minutes every day to just sit down and clear your head. Focus on deep breaths, and try to meditate.
FN TIP: If you'd feel more comfortable with an app to guide you, try downloading the Headspace app.
ADVERTISEMENT - CONTINUE READING BELOW
Eating right
If we motivate ourselves with a deeper purpose like nourishment, then the easier it will be for us to avoid taking shortcuts that could actually become health risks one day. As Stacey and Danah Gutierrez of Plump.ph said during their talk, Myths on Body Positivity, self-acceptance isn't an excuse to be unhealthy.
Comments
Load More Stories