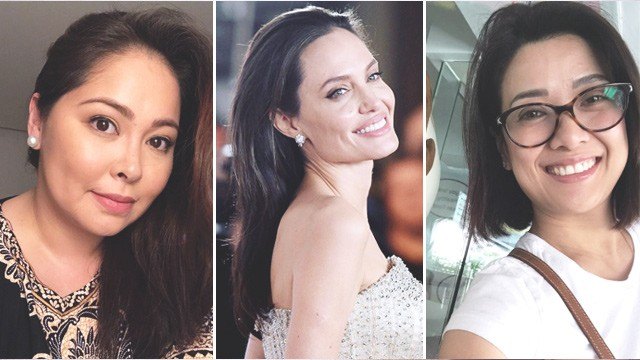 What do you know about Bell's palsy?

In the latest issue of Vanity Fair and reported CBS News, Angelina Jolie revealed that she had received a Bell's palsy diagnosis that prompted people to ask questions about the condition. What is it and what are its symptoms? 

ADVERTISEMENT - CONTINUE READING BELOW

Bell's palsy is a condition that causes temporary weakness or paralysis on one side of the face. But it is not caused by a stroke, according to Mayo Clinic. It occurs when a nerve that controls your facial muscles becomes inflamed or swollen. It is unclear what causes it although the likely culprits in most cases are the herpes virus that causes cold sores and respiratory illnesses like the colds and flu. It is why it is possible to catch it in the air. It is NOT, however, contagious, according to KidsHealth. 



Bell's palsy also commonly occurs in pregnant women especially during the third trimester, people with diabetes, and those with respiratory infections. 

Angelu de Leon-Rivera told Smart Parenting she has suffered from Bell's palsy twice. "The recent one was November last year and then the first one was in 2009. 'Pag di mo alam, 'kala mo naso-stroke ka.

"Tapos 'di mo na alam kung kanino ka pupunta. Pupunta ka ba sa derma kasi mukha siya? Pero 'yun pala you have to go to a neurologist and have yourself checked," Angelu said. Her incident last year was even scarier than her first, she added. "Akala mini stroke so I had to do an MRI just to check. Pero glory to God wala naman 'yung stroke."

Reporter Bernadette Sembrano, who was diagnosed with Bell's palsy in 2011, spoke of her symptoms to ABS-CBN. "Linggo ng umaga...parang sabi ko malakas ata 'yung earphones ko kasi sumasakit 'yung tenga ko…And then during TV Patrol that night, sabi ko parang may mali sa mata ko sa kaliwa, twitch nang twitch." 

ADVERTISEMENT - CONTINUE READING BELOW



She continued, "Sabi ko, 'Dok, feeling ko I have Bell's palsy.' Pag-iyak ko isang part ng mukha ko lang kumulubot...so sabi ko mukhang Bell's palsy na nga."

Based on her experience, Angelu recalls, "In the left side of my face, if I pout naiiwan lang yung bibig ko. But by God's grace umo-okay naman siya."

Often, Bell's palsy makes it difficult for the person suffering from the condition to make facial expressions on one side of the face. It can make it hard to smile or close one eye, according to the U.K. National Health Service (NHS).

Other symptoms (which will be felt on the affected side) include pain around the jaw or behind the ear, increased sensitivity to sound, headaches, and a decrease in tear and saliva production. In some cases, the condition causes a facial droop. Severe cases, which are rare, have shown complete paralysis on one or both sides of the face.

Bell's palsy's symptoms are rapid, and severe cases take a while to go away completely. According to Mayo Clinic, "A mild case of Bell's palsy normally disappears within a month, but recovery from a more severe case involving total paralysis varies." Complications can include long-term difficulty with speech, eating and drinking; persistent facial weakness; and permanent nerve damage. 

ADVERTISEMENT - CONTINUE READING BELOW

Thankfully, however, mild cases should not cause unnecessary worry. Bell's palsy is a benign condition, Dr. Emmanuel Eduardo, director of St Luke's International Institute for Neurosciences, tells Bernadette in an interview on the TV show Salamat Dok, "Hindi po ito serious and gumagaling sila nang kusa kadalasan. Kailangan lang i-therapy," he said.

For Bernadette's treatment, her doctor recommended physical therapy several times a week, daily facial exercises, and she was also prescribed steroids, she shared in a column for The Philippine Star. "The rehab doctor assured me that Bell's palsy is self-limiting and cures itself. But the first three days are crucial for recovery," she wrote. As a believer in Eastern medical practices, she also sought the help of an acupuncturist.

Angelu had also undergone physical therapy. She is no longer taking medication, but she is undergoing acupuncture therapy. "I battled a few times with depression with what's happening kasi ang tagal," she says, elaborating that in her profession the condition can be especially damaging. "But, I've always tried to lift it up to God."

Take care of your health. And again, if you experience any paralysis, seek immediate medical attention. "Bell's palsy is only diagnosed if other possible causes of your symptoms are ruled out," said the NHS.  

Interview of Angelu de Leon by Jocelyn Valle

ADVERTISEMENT - CONTINUE READING BELOW

Sources: Mayo Clinic, NHS, WebMD, KidsHealth, ABS-CBN News, The Philippine Star

This story originally appeared on Smartparenting.com.ph.

* Minor edits have been made by the Femalenetwork.com editors.
Load More Stories