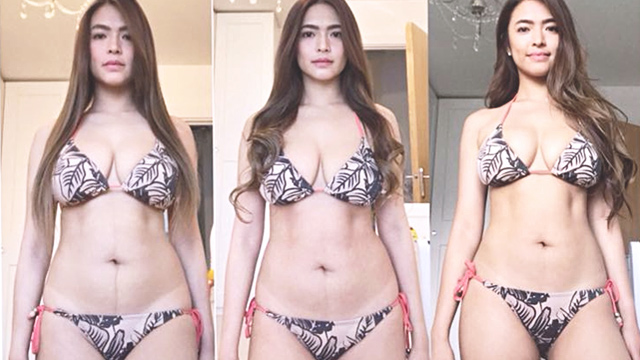 Valerie "Bangs" Garcia has been an inspiration to others moms because of her honesty since she announced her pregnancy on June 2017.

The first-time mom, now based in London with husband Lloyd Birchmore and daughter Amelia, documented how her baby belly grew, bravely sharing her body's transformation from pregnancy to seven weeks postpartum.

ADVERTISEMENT - CONTINUE READING BELOW



Now seven months after giving birth via C-section, Bangs is again posting about her body transformation on social media to show other moms that they can get their pre-preggy body back, whether one gave birth vaginally or via cesarean section.

On Instagram, Bangs posted a series of photos: before she got pregnant, at eight months pregnant, seven weeks after birth, and four and seven months postpartum. In the caption, she shared that diet and exercise helped her get her body back in shape.

CONTINUE READING BELOW

Recommended Videos

"When I was young, I used to hear that when a woman bears a child at 30 years and older, she cannot get back her pre-pregnancy body anymore," Bangs wrote. 

She got married at age 29, got pregnant at age 30, and gave birth at age 31. "I strongly disagree that a woman can't get back into shape at this age! It may not be exactly as it used to be, but it is possible," Bangs said. "Perhaps, with perseverance, you could even be in better shape than before," she added.

ADVERTISEMENT - CONTINUE READING BELOW

Bangs' advantage was she was already working out before pregnancy. "I'm so glad I trained hard a few years ago. Hence, it improved my wellness, and I became truly disciplined in general," she added. 

"I used to work out really hard from 2014 to 2015. Perhaps, too hard that I used to cry in the shower after my training thinking, 'What have I gotten myself into?!' she shared.

"I never wanted to show my trainer any signs of weakness, I was determined to complete my sessions to improve my endurance, discipline; and basically, every aspect of my health inside out," she said.

It's the kind of discipline that helped her tremendously in her eating habits during pregnancy for diet. According to her post, she only ate quinoa, fish such as salmon and mackerel, chicken breast, beef, vegetables every day, fruits, pasta, wheat bread, eggs, and soy milk. She refrained from eating rice or pork and only indulged her sweet tooth seven months into the pregnancy.

ADVERTISEMENT - CONTINUE READING BELOW

Bang's postpartum recovery, however, required baby steps. "Having been through an emergency C-section hinders me from doing any strenuous activity at the gym 'til eight to nine months postpartum," Bangs shared. Her bikini-cut incision wound needed to completely heal first.

When she first posted about her transformation seven weeks after giving birth, Bangs credited breastfeeding and tight high-waisted underwear (it supported her uterus) for getting rid of the flabby pouch.

ADVERTISEMENT - CONTINUE READING BELOW

The celebrity mom started exercising four months postpartum. She did brisk walking on the treadmill and a few squats but no sit-ups yet. Bangs's body at seven months postpartum was already close to it pre-pregnancy shape, and she hasn't even been fully exercising yet.

Bangs looks determined to work out more as soon as she gets her doctor's go-ahead. Until then, "I eat anything, but I eat rice only two to three times a month. I rarely eat pork. I eat fruits first thing in the morning, [and I eat] veggies every day," Bangs shared.

ADVERTISEMENT - CONTINUE READING BELOW

Just a note to moms: it's different for every pregnancy and CS is a major operation. Bangs reminded fellow moms to consult their a doctor first before trying anything. 

This story originally appeared on Smartparenting.com.ph.

* Minor edits have been made by the Femalenetwork.com editors.
Load More Stories