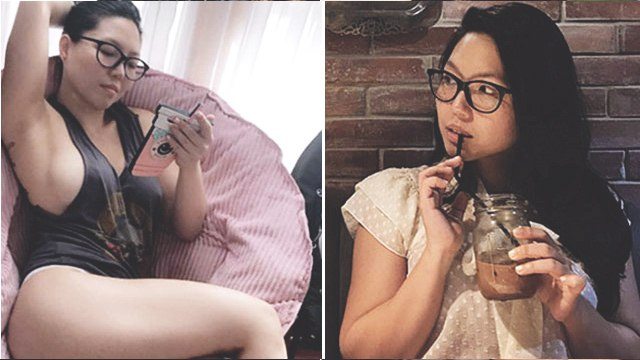 Aila Sim Yonzon, 36, is known for her fabulous work at The Bunny Baker Cafe and Cake Studio, which she runs with her husband Zach.
Aila has been married to Zach for 10 years. They have three kids—her eldest child is a girl who's turning 10 in November, next is a seven-year-old girl, and a little boy is turning five also in November.
On top of being a baker and a mom, Aila—a BS Management Engineering graduate from the Ateneo de Manila University—is also gaining fame as a fitspo queen. A quick look at her Instagram account, pinksunstory, proves she's certainly destroying a lot of stereotypes.
The abundance of super sexy side boob and butt imagery (She'd give Kim K a run for her money) is enough to garner violent reactions from her conservative Chinese friends and family (She went to Immaculate Conception Academy too, an all-girls high school catering to Chinese-Filipino students). 
ADVERTISEMENT - CONTINUE READING BELOW
So how does a girl deal with all this online hate? Aila opened up to Cosmo.ph: 
Q: What pushed you to start working out?
Aila: I started going to the gym casually in high school because of my dad, who had been going to the gym since he was a teenager. I stopped completely when I got married, but it was easy for me to bounce back to my pre-pregnancy weight after my first two kids just through breastfeeding (which burns a LOT of calories!).
Things changed after I had my last baby in 2012, and I couldn't seem to shed the extra pounds through breastfeeding alone. Maybe it was age—since I'd just turned 31 then. Maybe my metabolism had finally slowed down, but for the first time in my life, I was what I considered huge. I was obese, according to the BMI test.
I became depressed. That's when I decided to hit the gym hard and try to get back into shape. There is also so much information available online now that it was easier to develop my own programs.
ADVERTISEMENT - CONTINUE READING BELOW
Q: When did you decide to document your workouts on Instagram?
Aila: January 2017, which is when I got Instagram.
Q: What was the reaction of your family to your photos? We know your husband is supportive, so is this the same for everyone in your family?
Aila: A few friends and family know about it, but we don't really talk about my Instagram page.
ADVERTISEMENT - CONTINUE READING BELOW
When I decided to put up the kind of content I have, I knew it came with certain risks and implications here in conservative Manila—and especially with the ultraconservative Chinese community.
I deliberately didn't link my Instagram to my Facebook account in the beginning because I felt I could be myself more without being judged. I guess it was inevitable that folks would find my account. But my husband and I felt that as long as we were in this together, I would be okay.
I come from a Chinese family and, typically, Chinese women are very conservative, so this is probably something of a shock to people who knew me before.
But my husband has always encouraged me to be confident and sexy. Even when I wasn't in this shape, say when I was bloated like a whale from pregnancy, he always tried to make me feel sexy and beautiful. He always called me "The Hotness" even when I didn't feel so hot myself. It was only with Instagram and its positive community did I begin to see what he insists he's always seen.
ADVERTISEMENT - CONTINUE READING BELOW
I'm also very lucky to have the most supportive husband in the world. I've had exes who didn't want me to work out or stopped me from wearing certain clothes, or basically held me back one way or the other.
I work damn hard on my body, and it's very empowering to be able to show off that hard work. You don't work hard to get a Ferrari and then just hide it away in the garage!
Q: You have your fans but you also have critics. How do you deal with the latter?
Aila: I won't lie. It's hard to deal with negative criticism. It can give rise to self-doubt, it hurts feelings, and there's just a lot of negativity you can't shake off. But I've learned to deal with it a lot better now.
ADVERTISEMENT - CONTINUE READING BELOW
I really had to adopt a "don't give a fuck" attitude. This is who I am, I'm very happy with myself, and I'm not harming anybody. What matters to me is my husband and my kids, and as long as they love and support me, the rest of the world doesn't matter.
ADVERTISEMENT - CONTINUE READING BELOW
Q: We read that your IG account got deleted five times. How did this happen? Did you know who was reporting you?
Aila: I don't know for sure who it was, but I have had Instagram friends message me about it, so I have a suspicion. I don't even know or follow this person.
As to how I got deleted, I suspect that the hater knew how to abuse the Instagram reporting tool. Just like on Facebook, if you have enough people reporting an account, it can get suspended even without an investigation. So even though I didn't violate Instagram's Community Guidelines, my account was banned. I was banned on five different accounts even with the tamest content, so I knew there was some foul play.
ADVERTISEMENT - CONTINUE READING BELOW
Q: What keeps you going despite all the hassle with IG and other people who criticize you?
Aila: I love Instagram. It's simply the best social media platform. It's full of positivity and support. I've met and been inspired by so many people on it.
You know how toxic and unwelcome Facebook can be sometimes? Instagram is the opposite. There's so much love there. If I didn't have Instagram, I don't think I'd be as motivated. Instagram allows you to connect with like-minded individuals and you inspire each other's passions.
It was also important for me not to let the bullies win. When my first account was deleted, I was devastated. I honestly didn't want to continue. But my husband helped me through it. He kept making new accounts for me and he was also the one who fought to get my original account returned.
ADVERTISEMENT - CONTINUE READING BELOW
I wanted to prove that bullies and haters shouldn't win. If I had stopped after my first page was banned, they would have won. I really, really didn't like that message.
I also hope that my page inspires other women—wives and mothers—to be more confident in their own skin. I don't think we should stop being sexy after we get married and have kids! I think women should be even more emboldened to be themselves. There's nothing sexier than a strong, confident woman who loves herself.
ADVERTISEMENT - CONTINUE READING BELOW
Q: Do you have any fitness tips to share with women or young moms like you?
Aila: Lift heavy! Don't be afraid to lift weights. I know some women are afraid to lift because they think they might end up looking "manly" but weight lifting will actually give a woman curves. If you can manage to pair lifting weights with a proper diet—I'm still working on that part, haha—that's the perfect formula.
This story originally appeared on Cosmo.ph.
* Minor edits have been made by the Femalenetwork.com editors.
Load More Stories