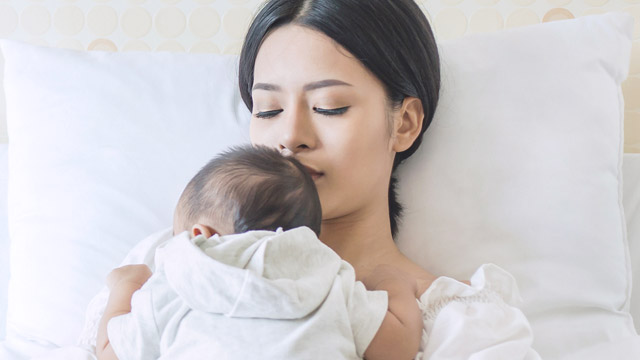 Many women tend to set self-care aside as they attend to their newborn's needs. But the first three months (or more) after giving birth is called the fourth trimester because you still need to take extra care of your body the way you did when you were pregnant. Your postpartum period is crucial to your health and wellness because you now have a baby who needs you to be in the best shape.
ADVERTISEMENT - CONTINUE READING BELOW
That's why you have to consider making a postpartum plan and preparing your recovery essentials before giving birth. Going to your postnatal checkups and following your doctor's postpartum orders is imperative.
CONTINUE READING BELOW
Recommended Videos
After giving birth, you will be eager to get back to things you used to do pre-pregnancy, but we advise you to take it easy. Keep the following precautions in mind to help with your postpartum recovery:
Don't do any strenuous activities
Strenuous activities include lifting or carrying objects that are heavier than your baby, going up and down the stairs quickly or repeatedly, and doing any kind of exercise, especially if you experienced diastasis recti or the separation of the muscles along the midline of the abdomen. You don't want to overexert yourself.
And just because you may not feel pain doesn't mean you don't have to take it slow with physical activity. This is especially true if you've had natural tearing or episiotomy and CS delivery.
ADVERTISEMENT - CONTINUE READING BELOW
Exercise will have to wait until your doctor gives you the go-ahead to work up a sweat. Need help? Make arrangements beforehand, so you can just focus on your baby and your recovery.
Don't force yourself to poop
The muscles you use to pass stool are the same ones that you've overexerted during childbirth, so give them a break and lots of TLC (tender, love, and care). Of course, keeping it in is not healthy either. Fight constipation after birth through drinking lots of fluids and tweaking your diet to add lots of high-fiber foods to pass stool more efficiently.
Don't wear too tight clothes
Too tight underwear or bottoms can make you sweat in your vaginal area, especially in a tropical country like ours and if you are wearing a maternity pad or adult diaper. Coupled with a sore vagina, sweating increases the risk of infection. Cotton undies are your best bet since it's a breathable fabric.
ADVERTISEMENT - CONTINUE READING BELOW
If you have a CS wound, large high-waisted panties can help secure it. Wearing a binder also helps keep everything together in the abdominal area. Don't put it on too tight that it restricts movement or blood flow and encourages sweating. If wearing a binder is an inconvenience, talk to your doctor about alternatives.
Avoid engaging in sex
Going through labor and vaginally delivering a baby strains your privates. Even if you had a belly birth, you still have the cut in your abdomen that may restrict movement. Did we mention your uterus is still healing? Yes, so try to keep the physical intimacy PG  for at least six weeks or until your doctor says it's okay for you resume sexual relations with your partner.
Take it slow when it comes to sexy time with your partner. Having sex again after giving birth may be uncomfortable or feel sore for several reasons (vaginal tearing, tender breasts). It's okay. You're still getting to know your post-baby body. Explore other physical and non-physical ways to be intimate while waiting to be ready to do the deed.
ADVERTISEMENT - CONTINUE READING BELOW
Avoid swimming or bathing in a tub
During pregnancy, you have your mucus plug that protects your uterus and the baby in your womb. But that's gone the minute you go into labor. After giving birth, you'll also experience postpartum bleeding as your uterus heals and shrinks back to its original size.
Submerging your privates in water, whether in a bathtub, swimming pool or at the beach, isn't a problem if you are sure it is absolutely clean. Unhygienic water makes you more prone to bacterial infection during this period.
You want to keep your vagina clean and dry. Having a portable bidet with you helps with hygiene but make sure to always wipe from front to back. Don't skimp on maternity or sanitary pads—change every time you pee or at least every four hours. You may also want to avoid using tampons until your postpartum bleeding has ceased.
ADVERTISEMENT - CONTINUE READING BELOW
If you have an incision wound, make sure to follow your doctor's instructions for cleaning and changing dressings. Thanks to technology, there are waterproof gauze strips, which lets you take a bath without having to worry about your CS sound getting wet and possibly infected.
Don't ignore what your body is saying and follow your doctor's advice so you can get back on your feet in no time.
This story originally appeared on Smartparenting.com.ph.
* Minor edits have been made by the Femalenetwork.com editors.
Load More Stories