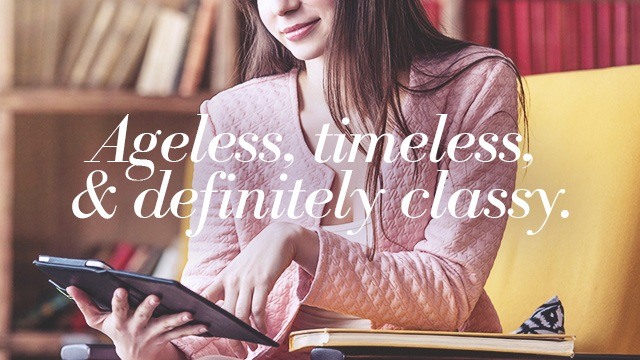 After the craziness that was your early twenties, you're now at that stage in your life where you're faced with the reality that you truly are an independent adult and that you're not getting any younger. If you've finally accepted that you'll eventually settle into that tita-like state of saying no to late nights out and to growing a slightly fuller puson, then let us help you out with a few tips on how you can transform yourself into your own version of Alice Dixon – ageless, timeless, and definitely classy.
ADVERTISEMENT - CONTINUE READING BELOW
1. Be more mindful of your health.
You probably already know this, but let us just say it one more time: eat right and exercise regularly. According to the US National Library of Medicine, levels of the neurotransmitter serotonin lowers as you age, which makes you more prone to foul moods and depression. Exercise is a good way to give your serotonin levels a boost. Paired with a healthy diet, you'll feel physically lighter and younger.
CONTINUE READING BELOW
Recommended Videos
2. Have a skincare routine.
You should have started this in your 20s, but if you haven't, it's not too late to do so! You don't need a long, complicated ritual to do right by your face – just make sure to always keep it clean and moisturized, and you're good to go!
3. Cut the bad habits.
Bad habits don't only include smoking and drinking. Not getting enough sleep, not drinking enough water, and indulging in a sedentary lifestyle can also make you look haggard. Work hard and rest well. If you want to stay in tip-top shape, allow your body to detox.
ADVERTISEMENT - CONTINUE READING BELOW
4. Dress tastefully.
You don't need to always follow trends to be chic. A glamorous tita always wears clothes that fit her well in a style that's all her own. If you feel comfortably beautiful in what you're wearing, then the confidence follows.
5. Read.
Go back to those books you've bought but haven't finished reading, or better yet, visit a new library in your area for the perfect afternoon me-time! Reading widens your worldview, plus it also helps keep your brain young and active. 
6. Find reasons to be happy.
Negativity harbors stress, and according to Psychology Today, stress "can speed up the aging process by shortening the length of each DNA strand." If possible, veer away from people or situations that cause you to feel bad. You can also try looking at every cloud's silver lining, as research reveals that a positive perspective is one of the secrets to happiness.
ADVERTISEMENT - CONTINUE READING BELOW
7. Stop sweating the small stuff.
When you encounter small hassles and petty people, brush them off before they dampen your mood. Letting go of things that don't really matter gives you more room to think about those that do. 
8. Embrace who you are.
As you grow older, you begin to realize that you're not perfect and that's totally fine. Celebrate YOU and accept every flaw and quirk! Knowing and being comfortable in your own skin is the start to become a fabulosa tita, so don't be afraid to strut your stuff and show the younger generation how it's done!
Comments
Load More Stories