Credits: Gossip Girl/Warner Bros. Television Distribution; GIPHY.com
1. The Ultra Nega Person
A bit of pessimism can keep you grounded, but if you have someone in your life who puts a pessimist to shame by radiating loads of negativity wherever she goes, then you may need to put a good distance between you. The Ultra Nega Person can't seem to find anything she can be happy about, and when something good happens to her, she dismisses it as nothing special, or something that will eventually disappear. She is never content or grateful, and the worst part is that her negativity can easily rub off on others. Her aura is heavy with doom and gloom, so best keep out of it.

2. The Inggitera
The Inggitera is jealous of everything – and she lets you know it in your face, or through parinig. She often drops hints like "Wow, ang sarap naman niyan" or "Ikaw na ang mayaman" when you have something that she doesn't. The jealousy of The Inggitera isn't only over good food or nice things; it also extends to your great career and your happy love life. There are times when she can be so envious that she makes up nasty stories about you. There's nothing that makes The Inggitera happier than watching other people fall to her level.

3. The Braggart
The total opposite of The Inggitera is The Braggart. She boasts about everything – her vacations with her afam boyfriend, the designer brands that she wears, and that new Kylie Lip Kit that her Tita sent her. She usually underplays her swag with statements like "I don't deserve to be this happy," and posts with the inafamous hashtag, #blessed. But you just know that she wants to show off her glitzy life. She's probably overcompensating for something, and you don't need that kind of vibe anywhere near you.
ADVERTISEMENT - CONTINUE READING BELOW
CONTINUE READING BELOW
Recommended Videos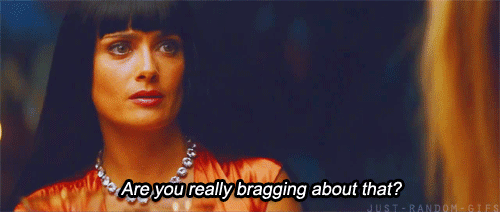 4. The Abusada
The Abusada is a person who starts out as a good friend, and when you're all chummy, she starts borrowing stuff from you, like books, clothes, or money. Somehow, she always forgets to return them. She even goes on the defensive when you ask her about what you loaned her. She feels that it's her right as your friend to be included in your budget, and doesn't even feel the slightest bit of shame about the stuff that she asks of you. Better cross this girl out of your early Christmas list.

5. The Doble Kara
She seems really awesome when she's with you, but heaven forbid that you hear about what she says about you when you're not around. The Doble Kara pretends to be a trustworthy friend, then spreads exaggerated versions your secrets to other people when you're not looking. When the gossip comes full circle and you confront her about it, she'll deny it to death, and will even act hurt that you ever judged her so harshly.

6. The 'Perfect' Intellectual
The 'Perfect' Intellectual is smart, and she doesn't think that anybody is as smart as her and her small circle of friends. She talks about politics, science, or whatever she's really good at, and is opinionated about everything. Although she may have great points about relevant matters, her validity dissolves when she thinks that other opinions that are not as educated as hers are silly. She makes controversial statements and argues with everyone who doesn't agree with her, making you think that she's just spewing things for the sake of showing off her smarts. (You probably unfriended her on Facebook during the elections, and have no plans of friending her back.)


ADVERTISEMENT - CONTINUE READING BELOW
Load More Stories