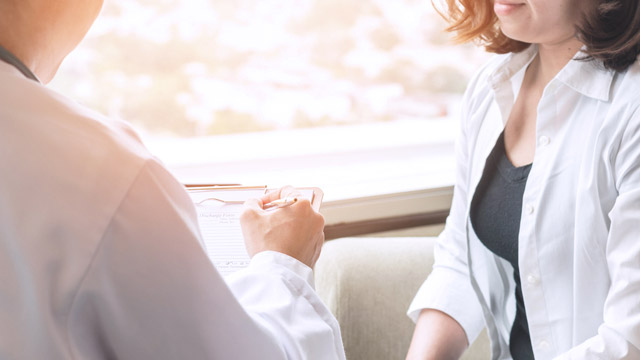 As you grow older, your health needs change. Just because you don't feel anything now doesn't mean there is nothing wrong with your body. Every woman should make their health a top priority and here are four essential tests and screenings you should get when you reach the big 3-0. 
ADVERTISEMENT - CONTINUE READING BELOW
Cholesterol Test
A cholesterol test, also called a lipid panel or lipid profile, is a blood test that can measure the amount of cholesterol and triglycerides in your blood.
How it's done: A small sample of blood will be drawn from your arm and will be analyzed in the laboratory. 
Why you need it: a complete cholesterol test can determine if your cholesterol is high or if you're at a higher risk of developing a heart disease. 
How often should you get tested: The American Heart Association recommends having your cholesterol levels checked every four to six years as part of a cardiovascular risk assessment if you are age 20 or older and have not been diagnosed with cardiovascular disease.
Clinical Breasts Exam and Mammogram 
During the clinical breast exam, the doctor checks for any abnormalities in your breast, such as differences in size or shape. He or she may also check your skin for any rash or dimpling. A mammogram is an x-ray that allows a qualified specialist to examine the breast tissue for any suspicious areas.
How it's done: In a clinical breast exam, you may be asked to raise your arms over your head, let them hang by your sides, or press your hands against your hips. During a mammogram, the breast is exposed to a small dose of iodizing radiation that produces an image of the breast tissue.
Why you need it: Getting these tests will show if there are any lumps or specks that are caused by cancer, fatty cells, or other conditions like cysts. 
How often should you get tested: According to the National Breast Cancer Foundation, women over their 40s should have mammograms every one or two years while those below 40 years of age should talk to a doctor whether they should get one or not. Women in their 20s and 30s should have a clinical breast exam every three years. 
STD Screening/Testing
The types of sexually transmitted infection (STI) testing you should get depend on your age, your sexual activities, and other risk factors. Women who are sexually active, have multiple sex partners, or are under the age of 24 should get an STD test. 
ADVERTISEMENT - CONTINUE READING BELOW
How it's done: The STD/STI tests depend on the infection that you have. You may have to go through a physical exam or asked for a blood and urine sample. 
Why you need it: STD screening can detect early signs of Chlamydia, Gonorrhea, HIV, Hepatitis B, Syphilis, and Trichomoniasis. 
How often should you get tested: Once a year 
Pap Smear and HPV Test
Pap smears are recommended for all women starting at age 21 or within three years of becoming sexually active, whichever comes first. An HPV test can detect the human papilloma virus, which infects the skin and mucous membranes. 
How it's done: The doctor or nurse gently places an instrument called a speculum into the vagina to open it slightly. This allows the doctor or nurse to see inside the vagina and cervix. After that, cells scraped from the opening of the cervix are examined under a microscope.
ADVERTISEMENT - CONTINUE READING BELOW
Why you need it: A pap smear is a screening test for cervical cancer while an HPV test detects the presence of human papillomavirus, a virus that can lead to the development of genital warts, abnormal cervical cells or cervical cancer. 
How often should you get tested: Pap smears should be done once a year while the HPV test must be done every five years. 
PHOTO: Pixabay
Load More Stories