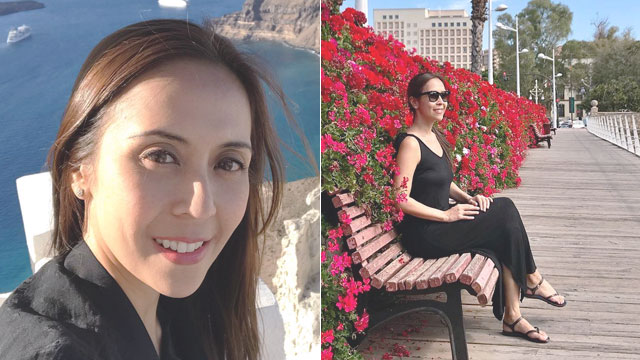 Weight loss is the focus of the book 21 Days to a Sexier You, the third in a series of cookbooks authored by singer-actress Rachel Alejandro and her sister, Chef Barni Alejandro-Rennebeck. The launch was held on February 2, at Victorino's restaurant in Diliman, Quezon City.
Their previous books, The Sexy Chef Cookbook and Eat Clean Love, featured recipes for healthy meals and wellness tips. This time, according to Barni, their book talks about the types of food that will help reduce weight.
ADVERTISEMENT - CONTINUE READING BELOW
She says, "Kasi, 'di ba, yun naman talaga ang gustong malaman ng mga readers. The first two cookbooks that we had, we focused more on just having a healthy lifestyle.
CONTINUE READING BELOW
Recommended Videos
"But this time, we include recipes [with] fat-fighting nutrients that will help you get rid of belly fat and will help you lose weight, pero masarap pa rin siya… The four fat-fighting nutrients are actually calcium, vitamin D, omega-3, and fiber. All of these nutrients help get rid of belly fat, so that's what sets this book apart from the first two cookbooks. It's not about counting calories, it's not about portion control or low carb [diet]. It's about including these nutrients in the food that you eat every day."
For Rachel and Barni, the secret to losing weight begins with the desire to be fit.
ADVERTISEMENT - CONTINUE READING BELOW
Rachel explains, "More than our free will, it's actually our desires that really propel us to do things, especially when they are hard. So, in the case of dieting or in the case of weight loss, mas natural sa atin to be passionate about food. Mas natural sa atin to wanna eat and eat all the things we love, di ba? 
"So, what will make us not have as much of those things and actually be more disciplined with the way that we eat? Hindi naman puwede 'yung, 'Hindi, kailangan disciplina, disciplina, disciplina!' Hindi magwo-work, 'di ba? How desire comes into play is when you start visualizing what are the things you love more? If there is some discontent in the way that you look, the way that you feel. If it especially stops you from doing certain activities, 'yun na, that's where the desire kicks in.
"What I advised in the book is that you start to think beyond losing weight. Mas maganda yung isipin natin kung anong makukuha kapag ginawa ko ito? Kapag tiniis ko ito? Kahit just the first 21 days, anong mga nakikita mo? It's about visualizing in your mind 'yung things na gusto mo makuha."
ADVERTISEMENT - CONTINUE READING BELOW
In addition to the sisters' original recipes, the book highlights a 21-day weight-loss plan devised by Rachel.
"Bakit 21 days? Does that mean ba in 21 days ay anyone can already be sexy? First of all, being sexy, lot of it is mindset and being confident and feeling good. Why do I recommend you go on our 21-day plan? It's because a lot of experts agree that it takes at least 21 days to build new habits. So what this book does is you literally go through a 21-day period where you learn something new every day."
ADVERTISEMENT - CONTINUE READING BELOW
Also important, according to Rachel, "At any meal, eat only until you are almost full. 'Yung konting bitin, 'yung bang, 'Hay, gusto ko pa ngumuya.' Guarantee ko sa inyo, as long as you eat healthy, 'I'll eat vegetables… blah, blah, blah…' Du'n ka papayat, believe it or not."
Barni adds, "If you give it five more minutes, busog ka na. That's the perfect time to stop."
Both emphasize that dieting should never be about starving yourself, it's still about enjoying food. Rachel and Barni also both advise to stick to the one plan that works best for you.
Rachel stresses, "Whatever diet plan it is you choose, stick to [it.]
"Obviously, hindi one diet fits all, there's no such thing, hindi lahat ng tao babagay sa Ketogenic.
"Hindi lahat ng tao babagay sa vegan, hindi lahat ng tao bagay sa calorie control."
Barni throws in, "You have to listen to your body talaga."
ADVERTISEMENT - CONTINUE READING BELOW
This story originally appeared on Pep.ph.
* Minor edits have been made by the Femalenetwork.com editors.
Load More Stories