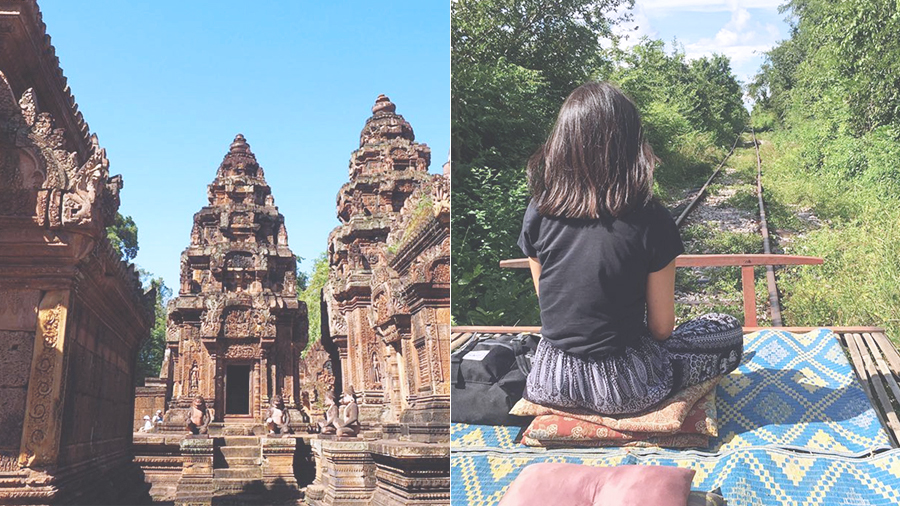 Cambodia is probably the most underrated country in Southeast Asia. For some people, the first (or only) thing that comes to mind is that one temple in Tomb Raider: Ta Prohm. But there's so much more to see and experience! Plus, Cambodia can be an affordable trip if you plan it right. Here are our notes to get you started:
ADVERTISEMENT - CONTINUE READING BELOW
Where to go
1. Phnom Penh
Phnom Penh is where you'll learn about Cambodian history, specifically the atrocities that people experienced under Pol Pot's regime. There are several harrowing museums as well as culturally relevant places where Khmer people suffered: Choeung Ek (a former orchard turned killing field), Tuol Sleng Genocide Museum (a school that became a torture center and prison), and The Killing Fields Museum of Cambodia (where hundreds of thousands of people were slaughtered).
If you need a little pick-me-up after the killing fields, you can visit the Royal Palace, which is where the king of Cambodia lives, and the National Museum, which houses the world's largest collection of Khmer art. Take a break by perusing the stalls of Psah Thom Thmey (Central Market)—sharpen your bargaining skills!
ADVERTISEMENT - CONTINUE READING BELOW
Suggested hostels: Envoy Hostel (as low as $6.50 or P320 a night for a shared room) or White Rabbit Hostel (around $5 or P250)
2. Siem Reap
We're not going to write a travel guide to Cambodia and leave out Angkor Archaeological Park! After all, it's where the ruins of the Khmer Empire are, making it the world's largest religious monument. Most of the time, you can easily arrange for a tuk-tuk driver to pick you up from your hostel, and that costs around $10 (P500). Some people have reportedly paid up to $15 though, so prices may vary. Your tuk-tuk driver will probably suggest picking you up really early in the morning so you can watch the sunrise, but this isn't as zen as it sounds because literally crowds of people will be doing the exact same thing. An advantage to starting early though is avoiding the tour groups that arrive a few hours later, so it's up to you!
ADVERTISEMENT - CONTINUE READING BELOW
Temple hopping usually includes visits to Angkor Wat, Bayon (the one with the large faces), Ta Prohm (the one where Tomb Raider was filmed), Preah Khan (or "Royal Sword"), and Banteay Srei (also known as "City of Women"). All-access passes cost $20 (P1,000) for one day, $40 (P2,000) for three days, and $60 (P3,000) for seven days.
ADVERTISEMENT - CONTINUE READING BELOW
If you're looking for something else to do in Siem Reap, watch an "Apsara." It's a Khmer performance about Cambodian mythology.
ADVERTISEMENT - CONTINUE READING BELOW
Suggested hostels: Ta Som Guest House ($10 or P500 for a really nice single room) or Downtown Siem Reap Hostel (as low as $4 or P200 for a bed)
3. Battambang
Though technically still a city, Battambang is more laid back than Phnom Penh and Siem Reap. It's where you can catch your breath and enjoy the pretty views of Cambodia, with its fishing villages, roadside stands, and local farms. Battambang is also where you can ride the famous "bamboo train," also called a "norry." It's essentially a bamboo platform on wheels! The whole ride is around fourteen kilometres, with each trip costing $5 (P250). 45 minutes well spent!
ADVERTISEMENT - CONTINUE READING BELOW
Suggested hostel: Here Be Dragons ($3 to $5 or P150 to P250)
4. Sihanoukville
This place is pretty much the Cambodian equivalent of Boracay. It's definitely for backpackers and tourists who are looking to party—yes, it has a strip of bars. If you want to experience a booze cruise, this place is for you. A short boat ride from Sihanoukville will take you to Koh Rong, which is more like Coron, Palawan. It has cute beach bungalows, a couple of scuba dive shops, and a more laidback vibe!
ADVERTISEMENT - CONTINUE READING BELOW
Suggested hostels: One Stop Hostel ($7 or P350), Monkey Maya ($8 or P400 for a bed)
What to eat
Good news: Food in Cambodia is wonderfully cheap. Cambodia's cuisine is a mix of Chinese, Thai, and Vietnamese food, with French influences. Sandwiches and pasta dishes are usually around $3 to $5. Of course, if you opt to eat at a place that serves western style dishes, the prices are generally $5 to $10 per dish.
Because Cambodia has an abundance of fish and rice, these are staples for most of their dishes. Amok is the national dish, which is fish cooked with coconut milk and curry paste; Amok chouk is snails cooked in a similar sauce, served in banana leaves. Samlor machu trey is a sweet and sour fish soup that's common in Cambodian households. Char kroeung sach ko is stir-fried lemongrass beef. Kuy teav is a noodle soup made from pork or beef stock, rice noodles, bean sprouts, and green onions. Most people top it off with meat or fish balls! Nom banh chok is rice noodles with fish gravy and fresh vegetables. Similar to Vietnam's banh mi, Cambodia has a sandwich called num pang pate. If you're worried how safe it is to snack on Cambodian street food, just make sure they cook it right in front of you. ;)
ADVERTISEMENT - CONTINUE READING BELOW
ADVERTISEMENT - CONTINUE READING BELOW
Other tips
The best time to travel to Cambodia is sometime between November and January. This way, you avoid the monsoon season as well as the unbearable heat.

USD is the main currency, but most people accept the local currency if you're paying for something that's less than $1. 
ADVERTISEMENT - CONTINUE READING BELOW
This story originally appeared on Cosmo.ph.
* Minor edits have been made by the FemaleNetwork.com editors.
Load More Stories