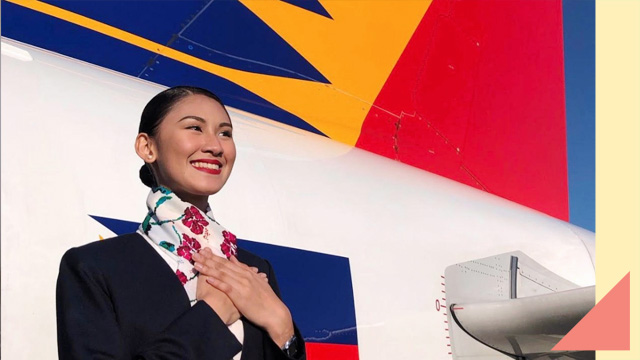 Flight attendant Christine Dacera's death reignited debates on women, drinking, and abuse. She is the new rallying point for thousands, but to her friends, she is simply Ica.
The 23-year-old was "more than just a headline or a cautionary tale. She is a real person, someone we love," college friend Jamie Therese Tejada Gundaya wrote in eulogy.
ADVERTISEMENT - CONTINUE READING BELOW
To the people who knew her best, the hashtag #JusticeforChristineDacera is a fight to remember her for the person she was, as much as it is a fight for justice.
Dacera graduated cum laude from the University of the Philippines Mindanao in 2017 where she was recognized as a performing artist, a dancer. Before her untimely passing, she was a flight attendant for the Philippine Airlines unit PAL Express.
"We refuse to let the circumstances of her death define who she was in life—endlessly forgiving, sincere, hardworking, and excellent in everything she puts her heart to. A filial daughter, a loving sister, a model student, an inspiring dancer, and a reliable forever friend," Gundaya said.
'Tao ang anak ko'
Christine's mother, Sharon, told GMA News she last spoke to her daughter through a video call minutes past midnight of January 1. Her daughter only wanted to have a good time on New Year's Eve, she said. 
ADVERTISEMENT - CONTINUE READING BELOW
Recommended Videos
Her body was found after their last phone call.
"Kung ano mang kababuyan ginawa niyo sa anak ko, hindi deserve ni Christine 'yon, hindi deserve ng anak ko. 'Wag nyong gawing baboy ang anak ko, tao ang anak ko. Hindi makasalita si Christine, pinatay niyo pa," she said. While the police official have dubbed the incident a case of "rape-slay," some of Dacera's last companions who have became persons of interest have denied such claim. As of press time, details of what happened that night remain unclear.
'#StopVictimBlaming'
A college roommate, Nicole Travilla Revisa, recalled seeing her friend on IG stories "having a good time" on New Year. She didn't expect to receive a phone call regarding her death and become "bearer of the bad news" to their friends. 
As people began to crowd her social media accounts to come up with their own speculations about what transpired, friends of Dacera went on social media to ask for respect. Opinions that zeroed in on what she was wearing and why she had been drinking filled online discussions.
ADVERTISEMENT - CONTINUE READING BELOW
The hashtags #StopVictimBlaming and #ProtectDrunkGirls were started by Gundaya together with other close friends of Christine. 
"YOU DID NOT DESERVE IT. NO ONE DESERVES TO BE TREATED THAT WAY! You had such a wonderful life ahead of you. I did not want to see you in the news like this," Revisa wrote. 
Himati, the official student publication of UP Mindanao, also released a statement condemning the culture of violence against women that triggered the alumna's death. 
"This revolting tragedy reminds us of the relentless attempts to shrink the democratic spaces of women—a by-product of the macho-patriarchal system in our society. Nowhere is safe when simply existing serves as an invitation for violence to those who wish to violate," it said. 
"Her passing is unjust, unfair, and undeserved. While the investigation is still ongoing, it is clear Christine is a victim and justice must be served. It could have happened to anyone. If people involved are not held accountable, it could happen again," said Gundaya.
ADVERTISEMENT - CONTINUE READING BELOW
Load More Stories