This month's #FNLifePeg is 33-year old Lynn Pinugu: Social Entrepreneur, Co-founder of Mano Amiga Philippines, and She Talks Asia. 
Most people enter their twenties still with a lot of growing up to do; there are even a lucky few who can literally afford to take their time. As a teen studying in Manila, Lynn Pinugu was on track to ease her way into adulthood just like her peers. Back then, her parents owned a small bottling business, and her mom worked in an insurance company which allowed them to send her to Ateneo de Manila University.
"I originally wanted to be a journalist and I applied to Ateneo. I took up IS (Interdisciplinary Studies) because I remember falling in love with the concept that you can mix two disciplines… I decided that I was going to combine journalism and sociology. I thought that would be a great opportunity for me to develop my skill."
But as with many character-defining moments, it's often the things you don't plan for that shape the person you become. While her curiosity may have brought her to closer to her passion, it was a series of unfortunate circumstances that led Lynn to her true purpose.
ADVERTISEMENT - CONTINUE READING BELOW
"I think that was the first time I realized being able to study is a gift. It's not something everyone has access to."
"I started as a paying student, but by the time I was in second year college, I got a call from my mom… They had to close down their bottling business…. And my mom got retrenched because a bigger company bought the insurance company she was working for. So, she said, 'You know, it's going to be difficult for you to be in Ateneo because it's expensive, you have a condo, etc.…"
"Before that I was a very mediocre student," reveals Lynn. "I only excelled in classes that I liked and I think that was the first time I realized being able to study is a gift. It's not something everyone has access to."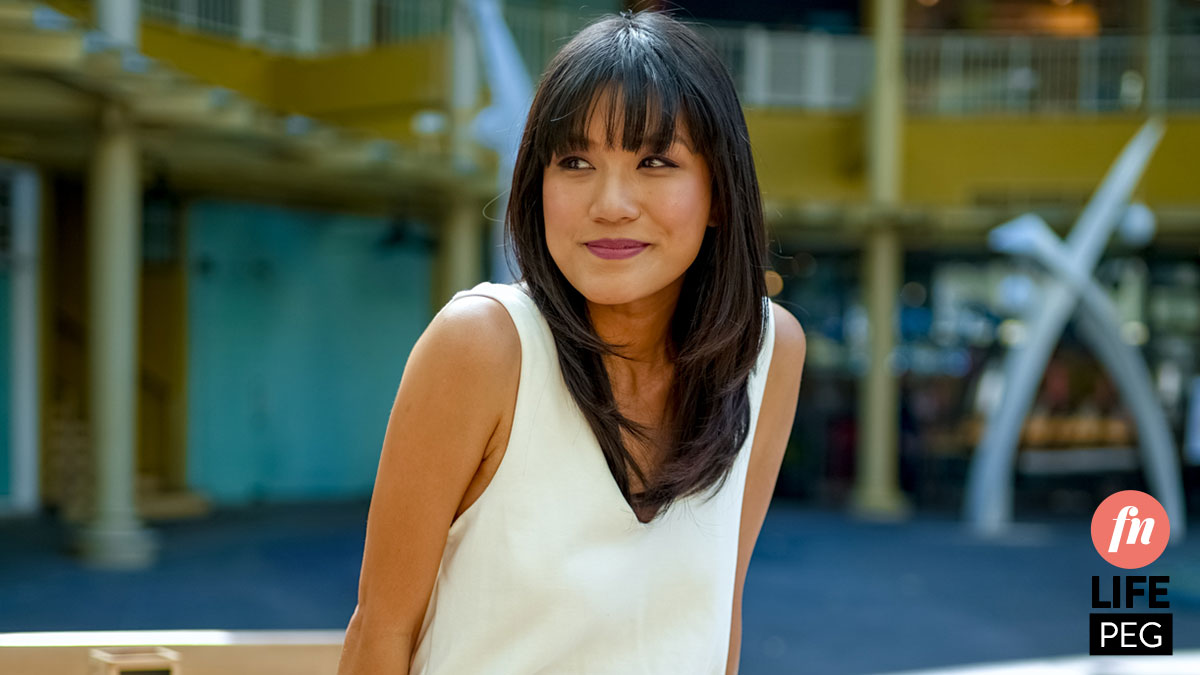 "I always tell my team that there are values that make you an efficient person, like grit, perseverance, optimism, hard work. There are also values that make you a good person: integrity, patience... and you need both to be successful.
PHOTO: Mark Jesalva
Landing on her feet and getting a scholarship
"Luckily, there was a journalism scholarship available. And usually, it's only available for communication majors, but I applied. I was supposed to write an essay on the state of the Philippine media industry and what kind of dent I plan to make in the future, and I won.
"Because of that, I got a scholarship. The following year, I applied again, and I got it again. I basically got to study from third to fourth year in Ateneo for free."
"I never forgot that... That's my 'why' in whatever I do. I feel like the opportunities I've had in life wouldn't have been possible if it weren't for that scholarship. "
After college, Lynn saw an opportunity to give back when she was invited to be an international youth volunteer missionary. To cover the cost, Lynn once again took to the kindness of donors who saw her potential, and raised funds for her to be able to go.
"I was in Mexico for one year as a youth missionary. I would dress up as a clown, I would go to public hospitals… kind of like Patch Adams. That was my role. It was really fun."
ADVERTISEMENT - CONTINUE READING BELOW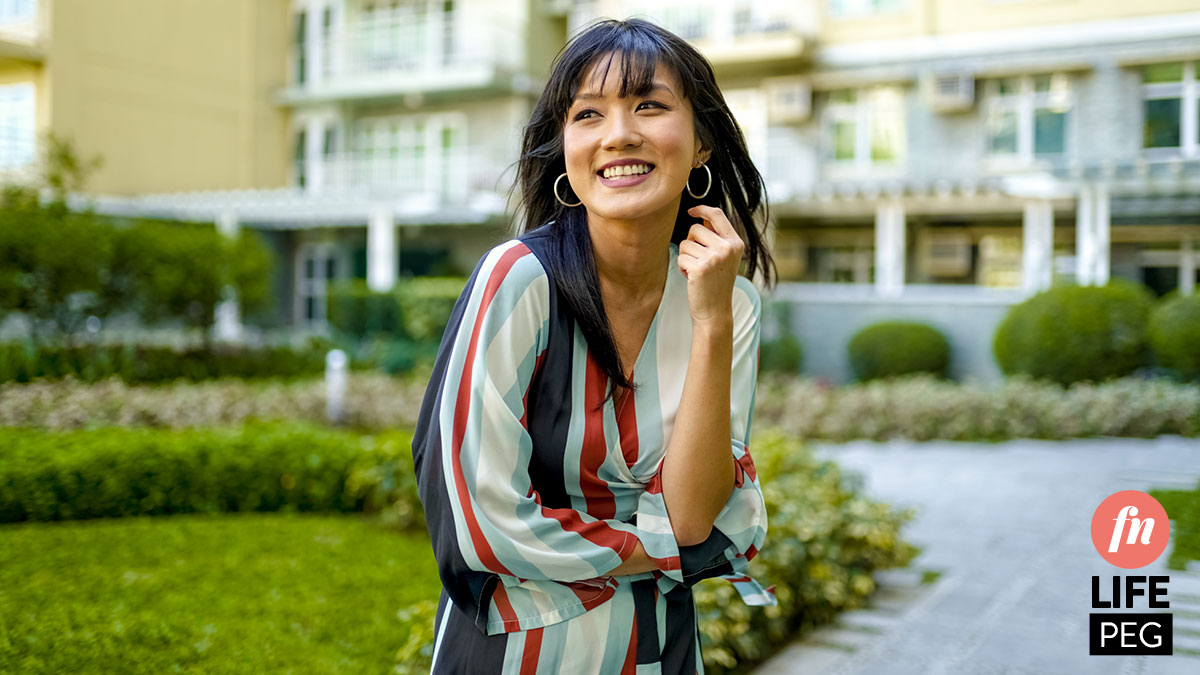 "Living in the Philippines, you don't have to go far to find causes that you can support. For example, if you're a person who really cares about family, why don't you try to understand the situation of children who are abandoned, or girls who are sold into prostitution—there are so many things related to the things you value."
PHOTO: Mark Jesalva
She was also in charge of recruiting more volunteers, and one of her stops was Mano Amiga Mexico, a school for children whose parents otherwise couldn't afford to send them to a good one. "I was blown away," Lynn relates. "None of the kids looked like they came from an impoverished family." The children were dignified, clean, and had access to quality education centered on community building and values formation. "It was such a great project so, I made a joke to the principal, 'Hey, if you decide to bring this to the Philippines, give me a call.'"
Little did Lynn know that her half-meant remark would eventually become a decade-long commitment. Well, a decade and counting.
Coming home to the Philippines
"I got back, started working in public relations and… I liked it a lot, but I did feel like I was shortchanging the people who paid for my education. Because [I finished] journalism and there I was writing press releases and selling products."
ADVERTISEMENT - CONTINUE READING BELOW
Eight months later, she got a call from the Regnum Christi network about bringing Mano Amiga to the country.
"The original plan was to replicate the entire model of Mano Amiga Mexico and bring it to the Philippines. So, I said yes… I had no background in education, no background in non-profit, and I was 22 years old when I got the call. I was about to turn 23."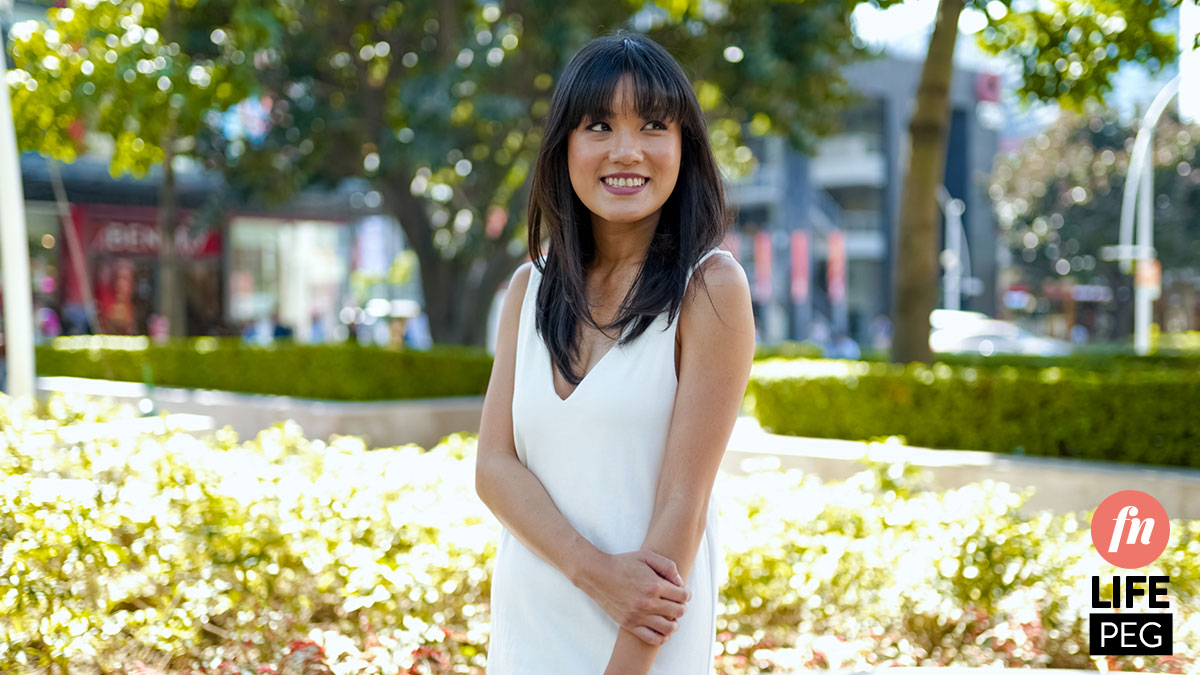 "The first thing you really need to do is to ask yourself, what is it you value? And then understand that every choice you make is like a vote to the kind of future you want to see."
PHOTO: Mark Jesalva
To address her lack of experience, Lynn hired a principal with a strong background in education so they could complement each other. While her principal was busy building the foundations, Lynn focused on researching educational innovations all over the world, as well as fundraising for their school.
"We put up a small school in FTI. It was completely NGO-run in the beginning."
They opened Mano Amiga Philippines in 2008. Coming up with the curriculum, Lynn relates, "We asked ourselves, 'What made our education good and what made it bad?'" From there, they created a school that "replicated what was good and then changed what was bad."
ADVERTISEMENT - CONTINUE READING BELOW
"We really built our school model from scratch."
Rising to the challenge: Localizing 
Mano Amiga
Setting up a school for underprivileged kids, especially for someone trained to be in a totally different industry, is no ordinary feat. But as with any business, the true test comes in building an institution with longevity.
ADVERTISEMENT - CONTINUE READING BELOW
Today, Mano Amiga Philippines has found a permanent home in Better Living after Lynn, with the strong support of friends and professional contacts, spent years raising money for the building. She even shares that at one point, she only had eight months to raise about 80 million, or else they'd have to close down the school. "Kaya ang payat ko dati eh," Lynn jokes.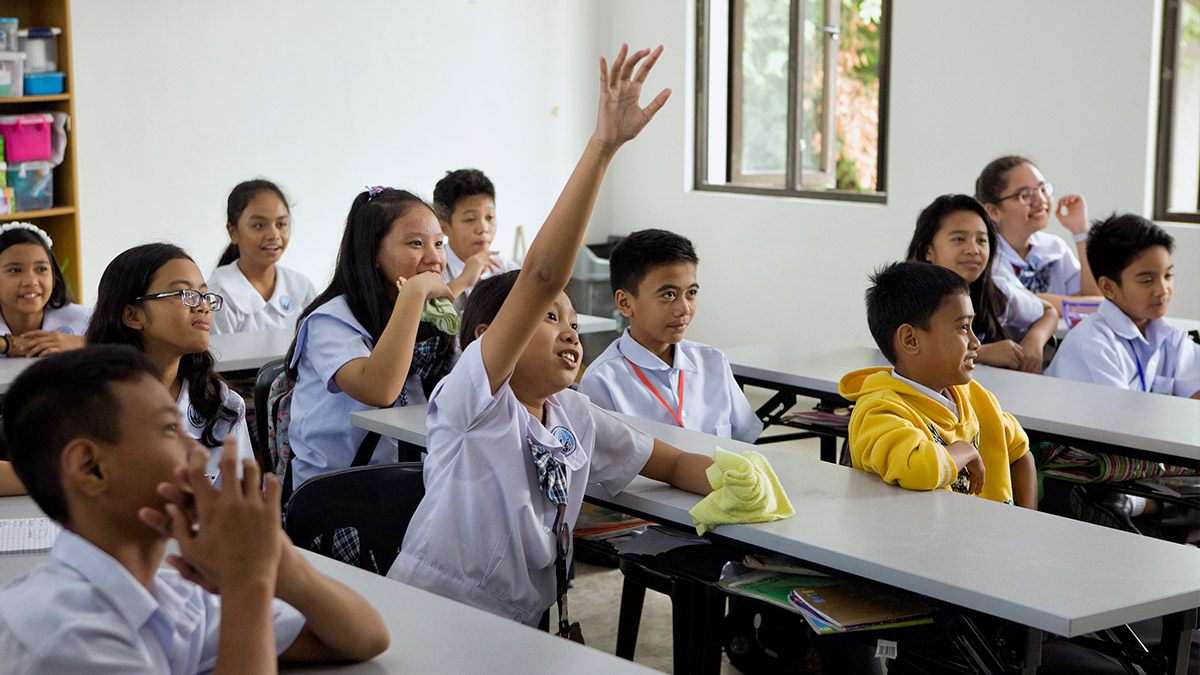 ADVERTISEMENT - CONTINUE READING BELOW
"Ultimately, it was a collective effort of people that really helped us build the school." Their first ever academic school year in the new Mano Amiga was in 2016, eight years after they opened.
"We're fairly new there. Wala pa kaming bubong, I'm still raising funds for that," she says with a laugh.
Getting creative with seeking out financial support isn't new to Lynn—her entire future depended on it from when she was a sophomore in college, after all. But what's even more impressive is how these challenges only seem to provide bigger and brighter platforms for Lynn's advocacies.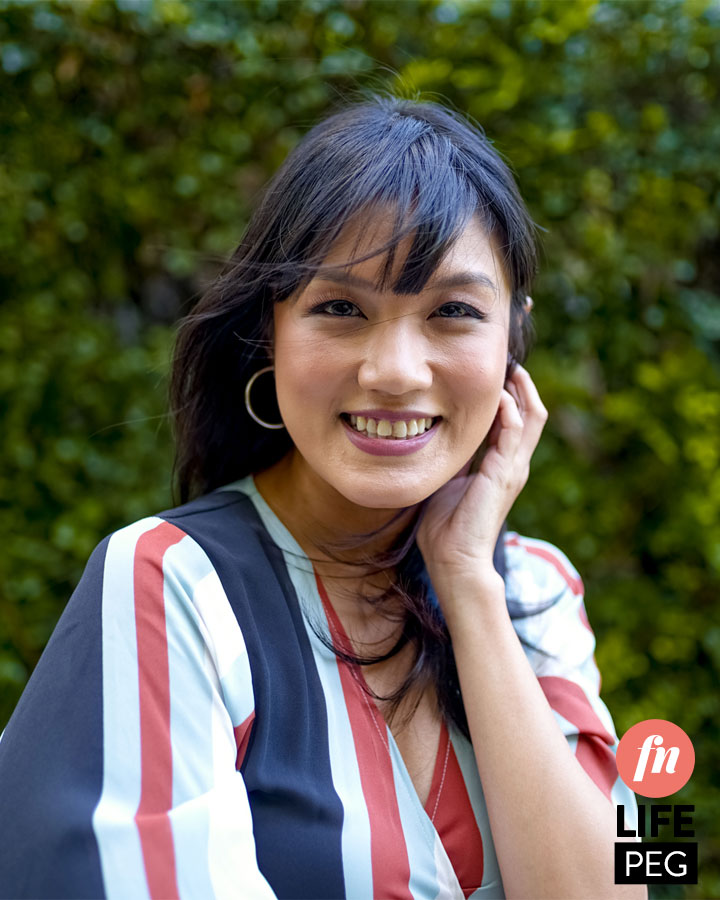 ADVERTISEMENT - CONTINUE READING BELOW
Welcome to the business
One of the first major challenges Lynn had to overcome presented itself in 2009:
After Typhoon Ondoy hit the country, donors understandably chose to redirect donations to communities who had more urgent needs. That was the first time she realized that the original Mano Amiga model wasn't sustainable as an NGO.
"I remember I couldn't go to sleep because I didn't have money to pay for the salaries of my teachers, and that's when I realized... We were going to close down if we keep relying on donations. It's not sustainable at all. Kasi nga, we were a small NGO. Why would people give to us in the first place? We were lucky… So, in 2010, we put up a sustainability plan for Mano Amiga."
ADVERTISEMENT - CONTINUE READING BELOW
From there, they decided to diversity their sources of funds. From a standard P50 tuition fee for all students, they started implementing a socialized scheme, wherein the tuition fee of each student is based instead on a family's capacity to pay.
The setup now allows them to offer more scholarships for students from impoverished backgrounds.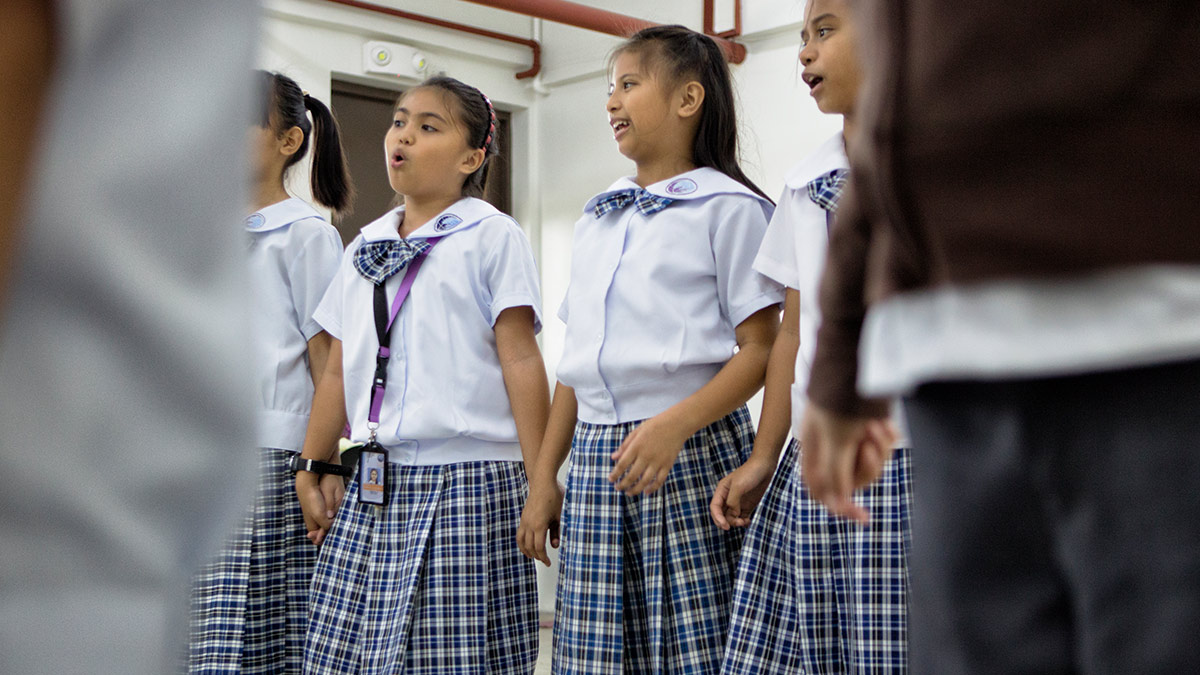 ADVERTISEMENT - CONTINUE READING BELOW
That same year, they also founded Bistro Café, a cafeteria and lunch delivery service run by the mothers of Mano Amiga.
"We donate 100 percent of the profits to help us with some costs of the school, and at the same time, it employs parents from the community either as full-time employees or part-time suppliers.
"We really prioritize our families who come from the poorest backgrounds. And we see the dramatic difference…"
"I saw how a woman who owns her money can actually make better decisions for herself and her family."
"Because the mom has access to a steady job, we see it in terms of the improvement in the well-being of the family. The kids are now well-fed, they look better, cleaner also… You also see the dramatic improvement in the grades of the students of the parents we employ.
"Other amazing things about this is, these are the parents who used to have a lot of debt, but because of a steady income, we were able to help take them out of debt.
ADVERTISEMENT - CONTINUE READING BELOW
"One of our moms was even able to leave her abusive live-in partner because she now makes her own money. Ang galing ng impact ng economic empowerment, especially for women."
This valuable insight was also what led Lynn to her next venture.
Women's empowerment and She Talks Asia
"After Bistro, I really saw how sometimes, it's women who keep other women down. There were mothers in the school who wanted to work but their mothers-in-law wouldn't let them work because they think their job is at home to take care of the children.
"I also noticed how some moms in the school tend to reinforce certain stereotypes about girls. (Dapat mahinhin, not too strong, and the like.)
ADVERTISEMENT - CONTINUE READING BELOW
"But, I saw how a woman who owns her money can actually make better decisions for herself and her family."
In perfect timing, media personality Sarah Meier also wanted to do a small conference and they decided to join forces, along with other accomplished women, to establish a movement called She Talks Asia.
ADVERTISEMENT - CONTINUE READING BELOW
"By combining our network, experience, and knowledge, [we knew] we could be a strong force in being an education platform about women's issues."
Their most recent project was a whole day conference called The Body Love Revolution, held at Whitespace Manila on September 29. Some of their speakers were Nikki Gil, Miss Universe Philippines 2018 Catriona Gray, and fellow co-founder Iza Calzado.
"We wanted to show other young women examples of other women who have broken through the glass ceiling, and use it to raise funds for mentorship for girls."
PHOTO: Courtesy of Lynn Pinugu
Money raised from the conference goes to the mentorship of women from low-income communities.
Aside from The Body Love Revolution and their Every Girl Can campaign, She Talks Asia also runs consent classes for both boys and girls.
ADVERTISEMENT - CONTINUE READING BELOW
Looking back
Lynn admits that in order to accomplish what she set out to do, a big part of her personal investment was in building her credibility as a social entrepreneur. She even spent her life's savings on a post-graduate degree she took in the University of Cambridge in 2014.
"My course was on sustainability because I didn't have any background on anything related to my field of work. And I wanted to gain a broader understanding, and learn from other practitioners."
Ultimately, Lynn believes that "you don't need to be an expert for you to be able to start something. But you must be willing to put in the hours to try and develop a skill."
"[Running a school and setting up multiple ventures at a time], these aren't skills I originally had. You don't go to a fundraising school, and in my time, there were no social entrepreneurship training schools... But I think what allowed me to succeed or to thrive in that industry is the determination not to give up in the face of a challenge, and accepting that challenges will always be a part of our work."
ADVERTISEMENT - CONTINUE READING BELOW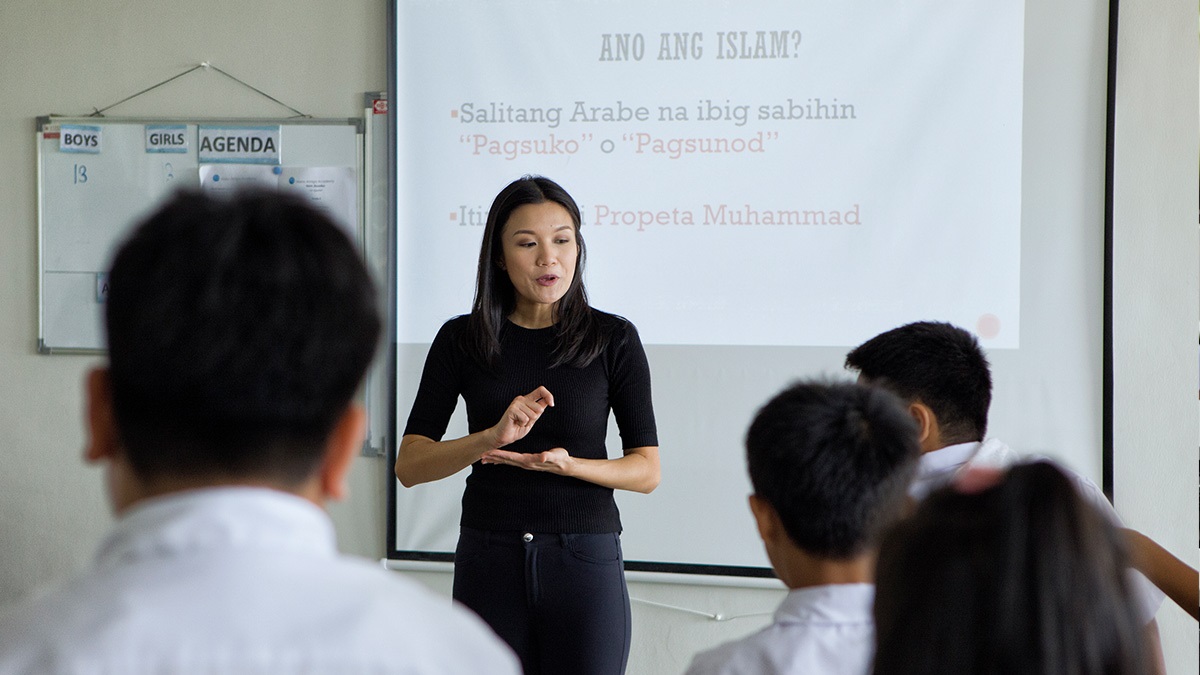 "I always say the Mano Amiga we see now was born out of several challenges and it wouldn't be successful if it weren't for those challenges."
PHOTO: Courtesy of Lynn Pinugu
Over the years, Lynn admits there were sacrifices she's had to make. "There were parties I missed, there were stuff I couldn't buy, because I don't earn a lot from this work. I have to be smart about where that money goes." She admits it's not always easy, especially when so many of her batchmates have risen the ranks at work and are now enjoying their status and money. "But because for me what I value is purpose and a deeper sense of fulfillment, I didn't feel like I was missing out."
For many women, pursuing something you're totally passionate about on top of your responsibilities as a mother, wife, or daughter, doesn't always seem viable. But if there's one thing we can all learn from this social entrepreneur, it's that the right motivation can lead you to opportunities (and people) that'll provide the support you need.
ADVERTISEMENT - CONTINUE READING BELOW
"Sure, maybe you'll have to sacrifice sleep for a while because you have a second a second venture. Or cut down on certain expenses, certain luxuries you enjoyed before. 
"Is it worth it, though? Yes. Definitely."
Click here to learn more about Mano Amiga Philippines and She Talks Asia.
PHOTOGRAPHY: Mark Jesalva
ADVERTISEMENT - CONTINUE READING BELOW
HAIR & MAKEUP: Jopie Sanchez
SHOOT COORDINATION: Charlene J. Owen, Ysabel Y. Yuzon
TEAM ART DIRECTOR: Jico Joson