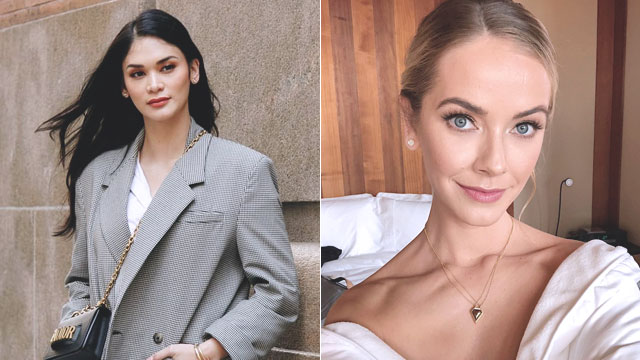 On an Instagram post dated May 20, former Miss USA Olivia Jordan shared that she was sexually assaulted in her younger years.
"I was molested as a child and raped as a teenager..." she wrote. "I've learned that we all have experiences that shape us and alter our lense with which we see the world."
ADVERTISEMENT - CONTINUE READING BELOW
The post was in relation to Alabama's "near-total ban on abortion" which has been causing major protests in the state and around the US. "I view the new policies that govern what happens to a woman's body as a direct assault. Decisions were made for my body without my consent," she noted, adding. " I won't impose my beliefs on you, no one will ever force you to have an abortion. And I ask, if you could pause for one second and realize how insane it is to impose your views on me, to force me or any woman to endure a pregnancy she is not ready for, maybe even one she didn't consent to in the first place."
When asked about her thoughts on the matter during the opening of Blue Water Spa in Greenhills, Miss Universe 2015 Pia Wurtzbach, who was Olivia's contemporary, said, "This is an issue with the state of Alabama so I don't want to say kasi I'm not 100 percent sure, baka magkamali pa ako. 
"But... doon sa shinare niya, I had no idea," she continued. "She never really spoke about it during her whole pagaent life, 'di niya...ever shinare 'yan, so talagang nakakagulat. And it really... You kind of realize that it can happen to anyone. It can happen to anybody. Someone like Olivia who I thought grew up like, parang perfect... Hindi mo alam 'yong mga pinagdaraanan ng mga tao... You could be facing the most popular celebrity, sobrang ganda, parang walang problema, pero 'yon pala, meron din siyang pinagdaan."
ADVERTISEMENT - CONTINUE READING BELOW
According to Gabriela Party List Representative Arlene Broas in a report by Manila Bulletin, there are "at least 20 cases of rape... reported daily to the police." 
"Rape statistics in the Philippines remains troubling, with one Filipina raped every 72 minutes, and thousands more sexually harassed especially in public places," she said.
The US Country Reports on Human Rights Practices for 2018 has noted that in the Philippines, "Sexual harassment remained widespread and underreported, including in the workplace due to victims' fear of losing their jobs. A 2016 Social Weather Stations study showed that 60 percent of women in Metro Manila were harassed at least once in their lifetime."
If you are a victim of rape or sexual assault, don't be afraid to report it. There are a lot of people who support you.
Department of Social Welfare and Development (DSWD) - 931-8101 to 07
DSWD –NCR Ugnayan Pag-asa Crisis Intervention Center - 734-8639/ 734-8654/ 734-8626 to 27
Philippine National Police (PNP) - 723-0401 to 20
PNP-Women and Children Protection Center (WCPC) - 410-3213
NBI-Violence Against Women and Children Desk (VAWCD) - 523-8231 to 38 / 525-6028
ADVERTISEMENT - CONTINUE READING BELOW
Load More Stories