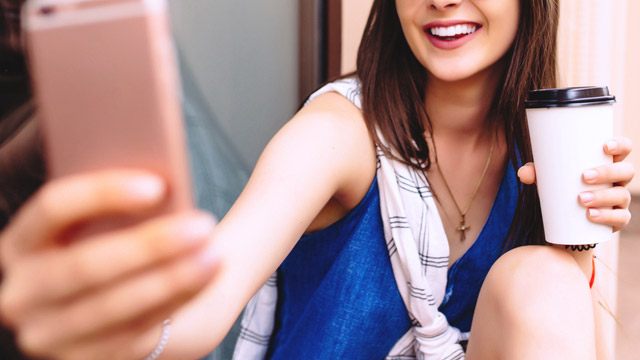 Social media has become such a sounding board for everyone, that you may tend to forget that ranting about a private matter on a public post is similar to shouting your secrets out in a crowded mall. Not only are you having a meltdown under the scrutiny of hundreds, but you may also be revealing too much about yourself that can risk your security.
ADVERTISEMENT - CONTINUE READING BELOW
In the Celebrate Women talk with Cosmo.ph for the launch of WomenWill, a global initiative by Google to provide women online access to information, celebrities Rica Peralejo-Bonifacio and Chesca Garcia-Kramer expressed what they thought about sharing parts of their lives online, and their take on how people perceive them to be:
"What you see is what you get but at the same time it's different when you see the person…" says Chesca. "Some people in fact feel close to us because they see so much of our family, which I understand, but it's about putting boundaries… There are still things that we keep to ourselves… These [posts on social media] are things that we just pick, that we feel like we can share. But there are also things that we keep sacred, that is only ours."
For Rica, it's one thing to be known on social media, and another to create relationships off of it. "A relationship is not a relationship if it does not have an offline component… It has to be a face-to-face thing, a side-to-side thing. It helps, but it cannot be purely online…" she notes. "Not everything you see online is already it."
CONTINUE READING BELOW
Recommended Videos
So how much of who you are should you be sharing online? According to several studies featured in an article by Gwendolyn Seidman Ph.D. on Psychology Today, many of what we post on social media may already be too much, such as:
1. Each and every meal you're about to eat and other "trivial personal information"
It's your account, so you can technically post anything, but we're sure that you have so many other interesting things to share than what you're about to eat for breakfast, lunch, and dinner (and merienda, and second merienda). 
2. Albums upon albums of kissy photos with your boyfriend
A candid shot of you and your S.O. is sweet, but MOMOL shots (and too many of them) are better kept between the two of you. You don't really need a study to know that too much amour on your timeline is not exactly classy, but in case you do, experts believe that those who share a blow-by-blow account of their romantic relationship are more likely to be insecure about the commitment than those who don't. 
ADVERTISEMENT - CONTINUE READING BELOW
3. Too many rants
That one post is fine, but a continuous bombardment of negativity can cause you to feel worse about yourself and your situation, and even affect those who read your feed. "Research has also found that people don't appreciate a constant stream of negativity on Facebook," writes Dr. Seidman. Instead of ranting, why not turn it into a constructive criticism if you think it can help others––or why not just let off steam offline?
4. That "Me-Me-Me" post
No one likes a show-off, and someone who consistently posts "#blessed" while wearing too much bling during an expensive Mediterranean cruise gives off vibes that everything is curated to overcompensate for certain things lacking in his or her life. Besides, photos of your possessions may even trigger online predators to stalk you and cause you harm.
The moral of the story is act online the same way you'd act when you're physically in a public venue, and respect yourself enough to remember that even in this era of real-time sharing, there are still some things that should be held sacred.
ADVERTISEMENT - CONTINUE READING BELOW
Load More Stories