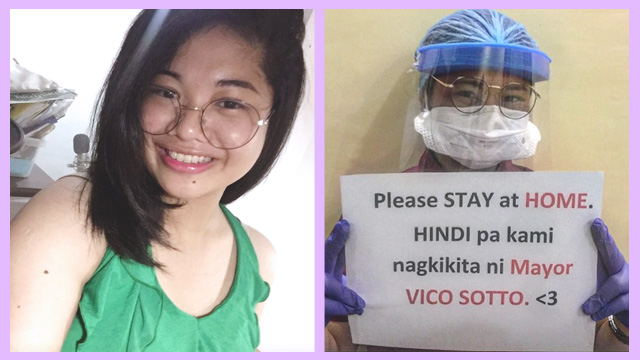 There are so many reasons why it's important to stay at home amidst COVID-19 — other than protecting and shielding yourself from the virus, you're also protecting your loved ones as well as the general public by cutting the chain of transmission. Moreover, you're "flattening the curve" by buying our medical frontliners time to treat cases without breaking the healthcare system.
ADVERTISEMENT - CONTINUE READING BELOW
One nurse also requests you to stay home for another reason — she has yet to meet Pasig City mayor Vico Sotto.
In a photo Kimberly Villarosa uploaded on Facebook, she dons full protective gear while holding a sign that says, "Please stay at home. Hindi pa kami nagkikita ni Mayor Vico Sotto.
CONTINUE READING BELOW
Recommended Videos
Kimberly is an ER nurse at the Adventist Medical Center in Bacolod. In an online interview with Female Network, she says that she has only recently returned to the practice "after four years of working as an OFW in a different field of interest."
She has long followed the career of the young Pasig mayor as she admired his personality and performance as a public servant. "I was already eyeing on Mayor Vico Sotto even before his 'best thing since sliced bread' for COVID-19 measures has been recognized on social media," she shares. "I have seen countless interviews about his campaigns, platforms, principles and personal life." A woman of faith, Kimberly says that Vico beating the long-reigning Eusebios reminded her of the story of David and Goliath. 
"If that was true to his life, then, it could also be true to mine and to all other young professionals. And mind you, I would give the same admiration even if he wasn't good-looking or a biological product of two renowned celebrities. Vico himself is always worth emulating."
ADVERTISEMENT - CONTINUE READING BELOW
Playful photo aside, however, Kimberly knows the gravity of the COVID-19 situation in Bacolod and in other parts of the country.
"As other frontliners globally [have been], we too were caught off guard by this outbreak. With the increasing number of PUMs and PUIs daily, I feel perturbed for our welfare and for our loved ones we abode with. But as grace would have it, medical supplies for COVID and COVID-suspected cases in our institution are amply supplied; PPEs and precautions are also adhered to strictly.
ADVERTISEMENT - CONTINUE READING BELOW
"We do recognize the generosity of private individuals and businesses who have given us their extra effort in whatever means in this time of need. Nonetheless, government-subsidized institutions in our area are pleading for more PPE's and facilities in preparation for a greater blow, though God forbid that this should happen. As of this writing, there are 6 confirmed cases with 4 recoveries in our city. For the latter, we give due honor to their hospitals, to our city government and of course, to our Almighty God."
The good news is that her hospital already has a working system which helps limit the interaction of those suspected to have COVID-19 from those with other issues.
"As for the ER department, we have set up another triage area outside the hospital to initially screen patients. PUMs, PUIs, and patients with respiratory cases are assessed separately in an isolated area with a designated healthcare team."
ADVERTISEMENT - CONTINUE READING BELOW
She also notes that all those on the floor are required to wear at least a face mask, a face shield, and a hairnet, while those in high-risk and isolation areas are required to wear additional PPE such as a hazmat suit, boots, and gloves. "Furthermore, our Infection-Control department has required the following before any person enters the hospital: queueing at least a meter apart from each other; handwashing with soap and water; disinfecting of shoes; temperature scanning." The hospital also has a "No mask, no entry" policy.
Kimberly hopes that people would continue to heed the call to stay indoors. "If you value the sanctity of life, the least and the most you can do for now is to STAY AT HOME. Utilize this gift of time to grow in wisdom, spend time with your old loved ones, and meditate on the Word of God. Also, if you have something extra, do not forget to reach out to the poor in your community.
ADVERTISEMENT - CONTINUE READING BELOW
"We in the frontlines could only do so much, our strength is finite. Doing your part means lessening ours."
And when this is all over and she finds herself in a situation where she finally gets meet Mayor Vico Sotto, she says she'd express her gratitude.
"I would thank him for all his hard work that is more contagious than corona; and for letting us see that genuine change begins with God and within oneself (II Corinthians 5:17). We might also discuss my relocation plans to Pasig. LOL."
For more stories on COVID-19, please click here. 
ADVERTISEMENT - CONTINUE READING BELOW
Load More Stories