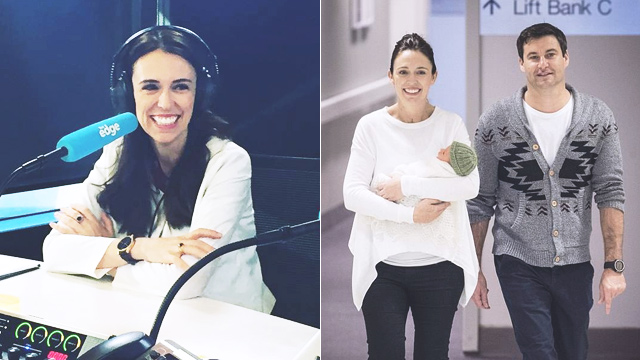 Jacinda Ardern is a new mom and, at 37, became the third female prime minister of New Zealand, making her the youngest female head of the government in the world today. She's also only the second one to give birth while in office. (The first one was Pakistan's Benazir Bhutto in 1990.) Ardern had been on top of her duties before handing the reigns to her deputy on the day of her daughter's birth. She scheduled visits and trips or conference calls during the last few days of her pregnancy. 

Now halfway through her six-week maternity leave, the prime minister is ready to go back running the country full-time, knowing her partner (yes, this modern couple isn't married) and her daughter's father, Clarke Gayford, will be at home taking care of their daughter.  
ADVERTISEMENT - CONTINUE READING BELOW
Gayford, a TV show host, will be a stay-at-home dad when Ardern returns to work. In a New York Times piece, Arden told reporters she hoped it would one day be accepted "not just that women can make choices but actually that men can, too."
"Clarke's being as much of a role model here as I am," she was quoted in the article as saying. "I hope for little girls and boys that actually there's a future where they can make choices about how they raise their family and what kind of career they have that are based on what they want and what makes them happy."
CONTINUE READING BELOW
Recommended Videos
In a previous interview featured on NBC News, the Prime Minister said being unwed was not a "deliberate decision."
"It sounds terrible, because we're very committed to each other. [Marriage is] just not something we've really gotten around to... We haven't correctly sequenced, perhaps," she laughed.
Ardern gave birth on June 21 at the country's largest public hospital, and the couple reportedly arrived in their car with Gayford driving. They chose to name their daughter, Neve Te Aroha Ardern Gayford. 
Neve is Irish for "bright" while Aroha is Mäori for "love." She Te Aroha is a mountain in the Kaimai Range, near Ardern's hometown of Morrinsville.
Despite being on her maternity leave, Ardern launched the country's new Families Package via Facebook Live on July 1. She was cradling her newborn daughter who, according to reports, had just finished nursing.
The Families Package increases New Zealand's' paid parental leave from 18 weeks to 22 weeks and to 26 weeks starting July 2020. Every baby born after July 1, 2018, will also each receive $60 weekly until they turn one. Low-middle income families could keep receiving that benefit until the child reaches three years old.  
ADVERTISEMENT - CONTINUE READING BELOW
"I'm really excited about the difference this package is going to make to New Zealanders," the prime minster said, who wasn't qualified for a paid parental leave. "I'm really proud of it. I think of all the things people ask me that we've done since starting in Government, this is the proudest thing."
ADVERTISEMENT - CONTINUE READING BELOW
Motherhood is hard enough that pursuing a career at the same time requires quite the balancing act. Prime Minister Ardern is proof that it is possible to be a mother and have a successful career. Now that's someone all women, whether single, married, a mother or not, can look up to for inspiration.
This story originally appeared on Smartparenting.com.ph.
* Minor edits have been made by the Femalenetwork.com editors.
Load More Stories