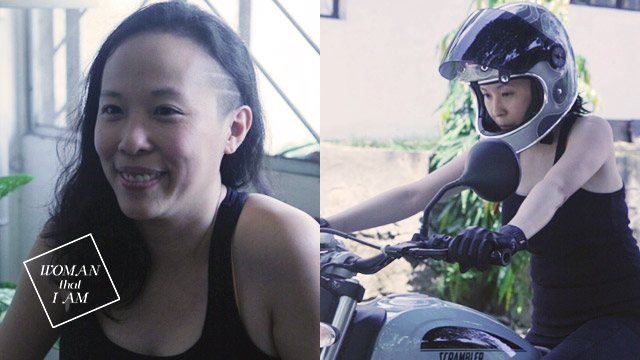 The first time I ever heard of Flying Ipis drummer Gaki Azurin was in college. Her name would come up in conversation among those in the band scene in unabashed tones of admiration. For many of them, her passion on the drums was magnetic and "crushable."
To meet the woman behind the name more than a decade later took her off that unattainable fanboy pedestal in a good way.
ADVERTISEMENT - CONTINUE READING BELOW
Even without the extra glamour that others heap on her, 36-year-old Gaki is still nothing short of a life peg.
She does what she loves doing, and goes wherever her passion takes her.
"It's quite a stereotype that once you hit a certain age, you're not fun to watch anymore," she says after offering our team plates of ensaymada and settling on a wooden chair. "But the band is in [their] 30s, and we're still rocking out for, like, millennials, and we can still rock harder than a lot of these kids!"
As if to prove her point, Flying Ipis has just recently launched their newest album Roach Motel, which finds the band's edgy music still edgy, but with lyrics that have gone beyond the anger of their older songs.
"Some of it is actually happy, or it's like… moved on already. I don't play a part lyrically, so with my beats, it's really what I'm feeling at the moment it's being written, so it's still very energetic."
CONTINUE READING BELOW
Recommended Videos
Energy is something that Gaki has a lot of, as aside from being a drummer, she's also a personal fitness coach—something that not a lot of people know about her. "I wanted to be Madonna's trainer in the '90s," she laughs, remembering how she loved the fact that the pop icon was super fit and how amazing it would have been to train someone like her. "I took up Sports Science at the University of the Philippines… When I started, there weren't a lot of female trainers and in fact, when I was in Sports Science… we would be like a handful of girls only per block… So it was a very male-dominated thing…"
But something as inconsequential as being in a male-dominated field has never stopped her from doing what she loves. She jumps straight on into anything that she wants to do, including motorcycles.
ADVERTISEMENT - CONTINUE READING BELOW
Gaki is also known on YouTube as GakiMoto, one of the few Filipina motorcycle vloggers around.
For her, being able to fly through Metro Manila has always been an enticing idea even as a child. "When I was young, I used to imagine my bicycle was a motorcycle. So I'd really like, pedal fast, go downhill, and just cruise like 'Oh, motorcycle!'"
Now, she has three bikes, and one of them is a seriously wicked Ducati Scrambler 62. "I just like the speed… This is something people who ride will understand," she explains, and while she does wishes that everybody should go back to driving school, she has yet to experience being called out on the road for being a lady rider.
"No. I can ride my motorcycle better than a lot of guys, so no."
Gakimoto isn't only a way for her to share the joy of riding, it is slowly becoming an online beacon for women who have initially been scared of hitting the road. "I get messages from women, like, 'You give me confidence to ride,'" she shared.  
ADVERTISEMENT - CONTINUE READING BELOW
So what makes Gaki Azurin exude magnetism? It's probably the fact that her confidence and convictions break through all of her passions, and it's almost envious how she can pull back her shoulders and jump from one adventure to the next almost without worry or fear. It even takes her a while to think if she has had any life-altering failures across all her careers—she says she hasn't really had one big failure, but a series of hurdles she's had to overcome.
"In these things, you just go ahead and pick up," she says. "If people don't like your songs, then get up on the next stage and play again…
"I really believe you can't please everybody, but at least you can please yourself."
What makes Gaki special isn't the fact that she's in a band, or that she's buffer than those younger than her, or that she can confidently weave through city traffic on a Ducati without trepidation. What makes her special is that she's actually a regular woman who pays her dues and works hard for her successes (not to mention someone who offers you really tasty Pancit Malabon when you visit her home). Her only difference is that she's unafraid to follow her heart.
ADVERTISEMENT - CONTINUE READING BELOW
"I say you know, just go for it." And with her own way of making complicated things seem simple, she says, "Life's not worth living if you're not doing what you want. So if you're not living with a passion, then you know, what for?"
Load More Stories