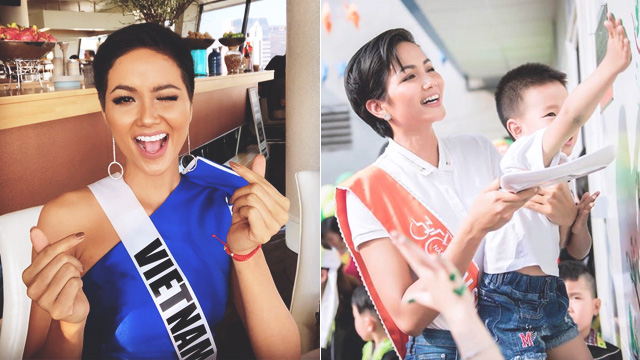 "From nothing, I am here. You can do it."
That was part of Miss Universe Vietnam 2018 H'Hen Niê's opening statement after she made it through the Top 20 of Miss Universe 2018.
H'Hen was among the success stories that made an impression at the 67th edition of the Miss Universe pageant.
ADVERTISEMENT - CONTINUE READING BELOW
The 26-year-old model was named Miss Vietnam on January 6, 2018, the first from an ethnic minority group to win the title.
According to the country's national radio broadcaster The Voice of Vietnam, H'Hen Niê hails from the Ede or Rade ethnic minority group.
H'Hen revealed in a recorded interview that her people make up "approximately 5 percent of Vietnam's population."
At the age of 14, her parents asked her to find a husband and get married according to tradition.
H'Hen defied their tribe's custom and moved instead to Ho Chi Minh.
This drastic move led H'Hen to her Miss Universe journey.
TURNING POINT
During the evening gown competition at Miss Universe 2018, it was revealed that H'Hen financed her way through college by working as a nanny.
ADVERTISEMENT - CONTINUE READING BELOW
She was "serving food" and "cleaning houses" to get herself an education.
She worked as a tutor and leaflet deliverer as well.
Later on, H'Hen's luck began to change when she entered modeling in 2014.
In 2015, the aspiring model got a gig in Vietnam's Next Top Model and finished ninth.
Her experience in the show boosted her self-confidence and sparked her ambition to become a beauty queen.
In the next two years, H'Hen prepared herself for the Miss Universe Vietnam pageant.
ADVERTISEMENT - CONTINUE READING BELOW
PAGEANT ASPIRATIONS
H'Hen's golden skin complexion, pixie haircut, and athletic body type made her an instant standout at the Miss Universe Vietnam competition.
But it was her personal advocacies that won her the title.
Her pet causes included HIV awareness, women's empowerment, and education.
She particularly hoped to help the orphans from the provinces.
H'Hen later became a global ambassador for the international organization, Room to Read.
ADVERTISEMENT - CONTINUE READING BELOW
SHOW-STOPPING MISS UNIVERSE MOMENTS
H'Hen was expected to be one of the top contenders of Miss Universe 2018 from the beginning.
Her official Miss Universe profile was one of the most-liked posts on the website.
H'Hen's national costume was a playful choice, with Banh Mi bread as the main inspiration.
ADVERTISEMENT - CONTINUE READING BELOW
At the preliminary round, Catriona Gray was not the only scene-stealer on stage.
H'Hen had her own show-stopping twirl, using her gown's light and flowing fabric to its advantage.
ADVERTISEMENT - CONTINUE READING BELOW
But the most commendable part of H'Hen's Miss Universe feat was her Top 5 finish.
This story originally appeared on Pep.ph.
* Minor edits have been made by the Femalenetwork.com editors.
Load More Stories