When they were in college, future directors Leilani Chavez and Danica Sta. Lucia had a dream: to make a film.
Like many other filmmakers, the dream started with a love for cinema, buoyed by years of close friendship. "There was this one class [in St. Scholastica's College] where we were required to watch 10 films from the first batch of Cinemalaya," says Lei. "I think that's when we started becoming close."
It's a happy coincidence that the Cinemalaya Film Festival brought Lei and Nica together several years ago, because this August 2019, they are now part of the film festival as co-directors of Malamaya (The Color of Ash), starring Sunshine Cruz and Enzo Pineda.
In the film, Sunshine plays a 45-year-old artist, Nora, who Lei and Nica both describe as "beautiful, brilliant, and unapologetic," an anti-hero of sorts who is not afraid to speak her mind. She meets Migs (Enzo Pineda) who leads her towards a "creative and sexual reawakening."
ADVERTISEMENT - CONTINUE READING BELOW
The film joins nine other full-length films in what is shaping up to be an exciting festival. This year, half of the directors are women, among other milestones: the celebration of 15 years of Cinemalaya, 100 years of Philippine cinema, and 50 years of the Cultural Center of the Philippines.
Telling a woman's story: The beginning of Malamaya
To Nica and Lei, the most exciting milestone may be their personal accomplishment in bringing Malamaya to life, as two strong women who have never stopped believing in what they can do.
"The fact na we're doing this, kami ni Lei, it's a testimony that others can do it as well... that it will happen to you, timing lang," says Nica. "If you have a dream na feeling mo ang tagal na, pero in your heart, there's still fire... don't give up."
To dream of making a film is one thing; to actually create one is another. Lei and Nica have never directed a film before. Lei is a 32-year-old journalist who reports on the environment, while Nica is a 31-year-old freelance video producer.
They are both multi-hyphenates who have struggled and blossomed in their respective fields, but waited for the most opportune time—spanning years—to create their own film.
"We've always wanted to join Cinemalaya, every year, pero hindi natutuloy," says Nica. "This time, nag-usap kami, and iba siya, kumpleto siya. Hindi lang siya concept. It's a story."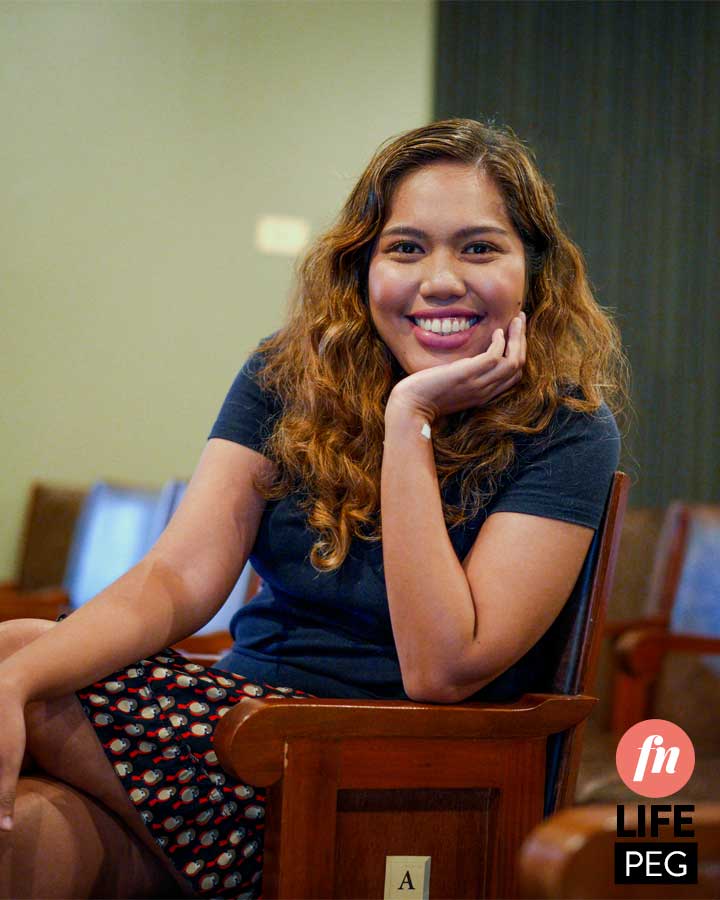 Danica Sta. Lucia shares that Malamaya delves deep into the local art scene, something which she says has rarely been the focus of Filipino movies.
PHOTO: Mark Jesalva
Nica refers to November 2017, when Lei (along with Liberty Trinidad) wrote the draft of a film that would eventually become Malamaya. "Noong sinabi ni Lei 'yong concept, it was close to me," she says. "It was about art, women, the things I want to tell the story about."
"May feeling ako na lahat ng art kuwento I've watched in the Philippines, the artist is just a character," Nica adds. "Pero parang wala pa akong napanood na it really delves into the art world and the art community."
ADVERTISEMENT - CONTINUE READING BELOW
Malamaya, among others, wants to fill that gap. The film does this by investing in Nora, a female artist portrayed by Sunshine Cruz, inspired by the many strong women that Lei and Nica know.
"As women, we're told to act as gracefully as we can, and with whatever negative emotion you feel, you have to not let it show."
"Nora is based from a lot of people. In terms of quirkiness, eccentricity and perspectives, I think Nora is half me and half my friends who are also empowered women," says Lei. "When it comes to the feelings, the emotionality, I based it on my personal feelings."
Marketing materials from the film present Nora as a poster girl for unapologetic women. "I don't owe this fucking world an explanation," the character says in a poster. "Mukha ba akong malungkot?" she asks in another.
"Once you watch Malamaya, you'll realize that the prevailing emotion in it is anger. So isa siyang galit na pelikula," says Lei. "As women, we're told to act as gracefully as we can, and with whatever negative emotion you feel, you have to not let it show."
ADVERTISEMENT - CONTINUE READING BELOW
Lei and Nica (along with Lei's co-screenwriter Liberty) wanted to turn the tables on that idea. "Anger, kapag kinabit mo sa isang babae, it's a very foreign idea. Kahit na sa soap opera you see a lot of that, sa filmmaking, not so much," Lei says.
In Malamaya, Nora is perhaps a vessel for that anger, and is unapologetic because Lei and Nica feel it's a more accurate reflection of Filipinas' lived experiences. "I am surrounded by women who are strong, who don't have the victim mentality for instance, who are not boy crazy," says Lei. "I wanted to see those kinds of women in whatever it is I'm doing," she adds.
ADVERTISEMENT - CONTINUE READING BELOW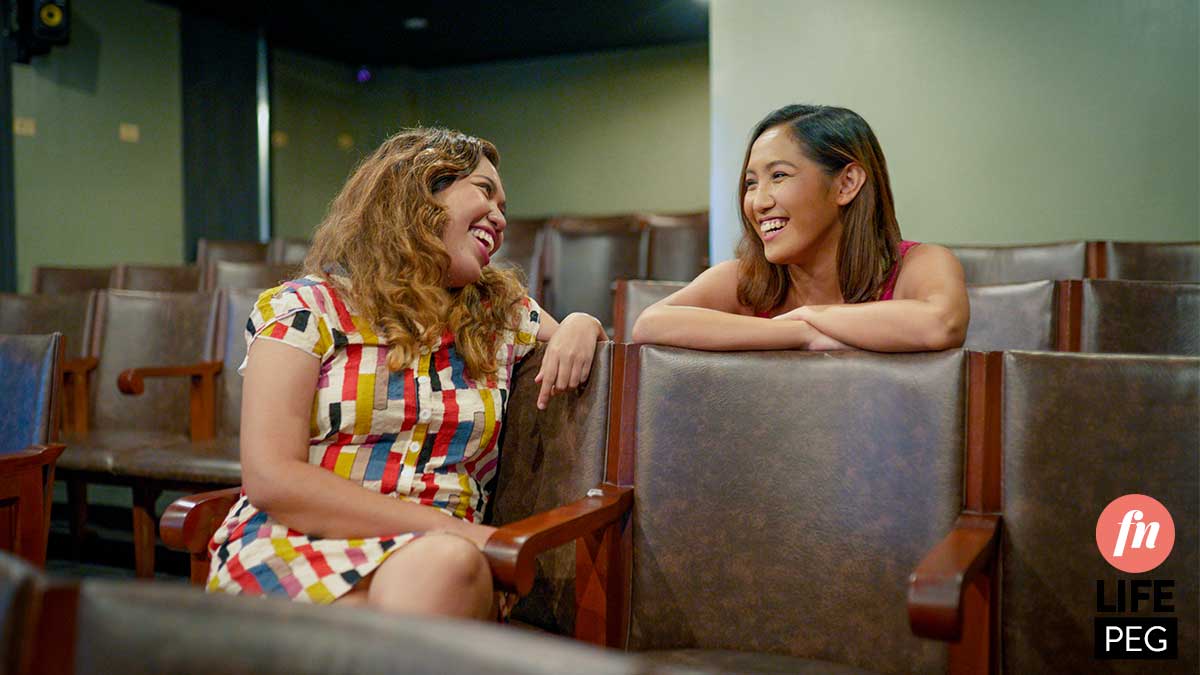 The two first-time directors prove that despite moments of self-doubt, having a clear goal of what you want to achieve will set you on the right path.
PHOTO: Mark Jesalva
In a context of a country arguably experiencing huge setbacks in gender sensitivity and equality, Malamaya feels like a film to watch for, and Nora feels like a character we sorely need. But it's not like the film was written to address the need to reinforce gender sensitivity and empowerment. "Nagkataon lang na ganoon siya," says Lei. "And feeling ko, I haven't seen a strong female character in film na mag-sa-start siya na strong and mag-e-end siya na strong."
"And personally, I'm a bitch, 'di ba?  I feel underrepresented, na walang bitch sa movies, lagi silang mababait, and victims of circumstance," laughs Lei. "This time, I want a woman who claims her own destiny without that being the main point of the material. I want a career-oriented woman na hindi lang malungkot. Na kung malungkot siya it's not just because [she] needs a good lay," she says.
Does Nica feel the same way about Nora? Not exactly. "In real life, ayaw ko siyang friend. Bitch siya eh. Feeling ko ang hirap niyang kaibigan," says Nica, laughing. But she adds: "Feeling ko everybody wants to be Nora at one point in their lives—beautiful, brilliant, and unapologetic. Pero it's how you get there. Si Nora... kaya siya ganoon kasi may pinagdaanan siya."
ADVERTISEMENT - CONTINUE READING BELOW
"I think we have our own versions of that. Pero I think [Nora's] a good icon or presentation na, if you are like that, it's okay. Acceptance siya... hindi mo puwedeng ihulma sa isang bagay ang isang tao," says Nica. "The film is about that, Nora accepting herself, na she's at this season in her life, maybe not her prime, but it doesn't necessarily mean tapos na siya."
 "It's very scary kasi it's the first time. It's Cinemalaya, it's your dream."
When Lei and Nica speak about Nora inside the cozy Cinema Centenario, they speak with a fervor that makes you want to watch the film right then and there. That fervor—even after weeks of hardship and unfortunate first reactions—is still infectious.
When Malamaya started to inch closer to reality, Lei and Nica had to leave their hesitations and press ahead. "I doubted [myself] more than the material," says Nica. "I always believed in the material. Mas, 'Kaya ko ba itong gawin...' It's very scary kasi it's the first time. It's Cinemalaya, it's your dream."
ADVERTISEMENT - CONTINUE READING BELOW
But the two made it happen, knowing that behind every dream fulfilled are long days of hard work and perseverance. "Sabi ko nga, dreams are made of hard choices," says Nica. "Kasi in your head it's good, it's flashy and fun. It's your dream eh. Pero dumating 'yong point na sinabi ko kay Lei, grabe hindi na siya pangarap, trabaho na siya. So you grind it out."
Grinding it out also means taking other people's opinions in stride. Already there are clickbait headlines choosing to focus on the surface of the film—about Sunshine Cruz doing "different kinds of sex scenes" with Migs Pineda—rather than its plot. 
ADVERTISEMENT - CONTINUE READING BELOW
"Right now, our publicity is very objectifying, kasi it limits the purpose of Ms. Sunshine Cruz as a bold star, as someone who's going to take her clothes off, and you should watch her," says Lei. 
"When you talk about sex, because of the society that we have now, you have two perspectives: [when] you use the male gaze, it's objectifying. It's always objectifying," says Lei. "But when you use the female gaze naman, it's empowering. So you have one general thing, which is sex, and it can be viewed in so many ways."
It's unfortunate that the film, as of now, is viewed from the male gaze—as with many other things that women have to contend with in society. "I think we should also see it as a reflection of, this is the kind of society that we have. Na ang idea natin ay papanoorin ang pelikulang ito kapag may babaeng naghuhubad, or may babaeng nag-bo-bold, or may babaeng makikita mong, who's finding her orgasm on screen," says Lei. "It's sad, actually, siyempre while 'Malamaya' pushes for this sexual empowerment, nagiging ganoon 'yong presentation sa kanila."
ADVERTISEMENT - CONTINUE READING BELOW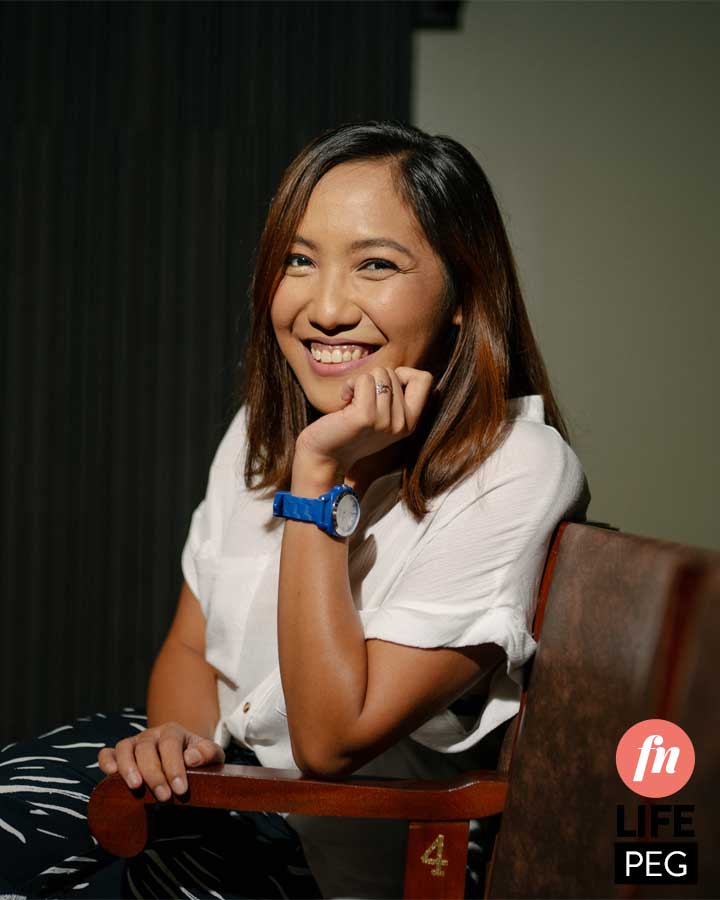 Lei notes that Nora's strength of character isn't the main focus of the story, because she just is: "This time I want a woman who claims her own destiny without that being the main point of the material."
PHOTO: Mark Jesalva
But Lei is not one to be bothered by that, moreso Nica. Lei says she'll let people watch the film and discover for themselves what it is. "If you're going to make a film, you want as many people as possible to watch it, para kung ano man 'yong pinaglalaban mo doon sa pelikulang iyon, nakikita at na-re-reinforce sa mga tao na ito," she says.
"Ako the priority is to finish the film, I don't care what they say," adds Nica.
It is in this unapologetic spunk, reminiscent of their main character, where Malamaya finds its foothold. There are still a few things to do before the film is ready for Cinemalaya on August 2, but the co-directors cannot wait to see where the film will take them and where it will go.
From Lei and Nica's story as budding filmmakers, there's perhaps another story to be told—not Nora's, but their own—about holding on to your dream and believing in it with all your heart, despite nagging self-doubt. "Noong nangyari ['yong film], noong nag-go signal siya, you can't stop it, it's on," says Nica. "Ako pa 'yong parang, 'Oh my god, are we ready? Am I ready for this?'"
ADVERTISEMENT - CONTINUE READING BELOW
But for Lei and Nica's case, that doesn't seem to be the proper question. Maybe the question should have been: What's holding you back?
"I think 'yong buong 12 years na iyon, the training that we had, it prepared us for now," says Nica. "Parang hindi mo alam, pero life has already trained you. You just had to live the journey to get there."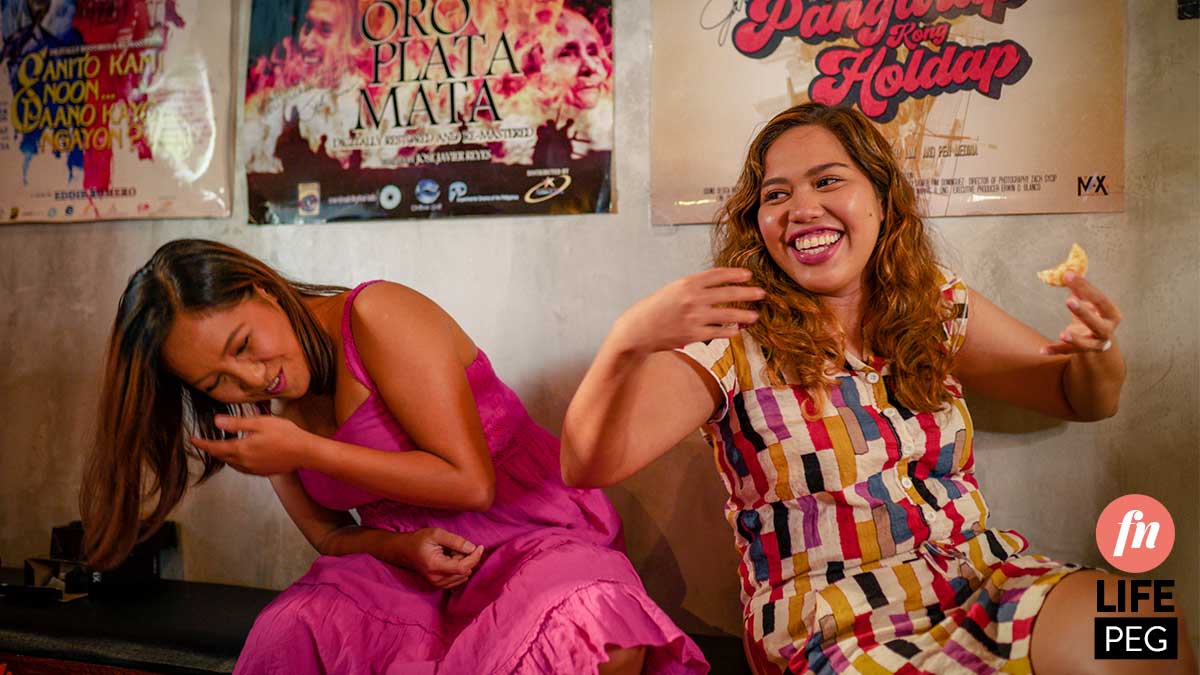 Leilani and Danica hope to continue creating and directing stories, but for now, they take their first big step in Cinemalaya 2019.
PHOTO: Mark Jesalva
PRODUCED BY: Charlene Owen
ASSISTED BY: Patricia Melliza
PHOTOGRAPHER: Mark Jesalva
ART DIRECTOR: Jico Joson
HAIR & MAKEUP: Jopie Sanchez
SHOT ON LOCATION AT CINEMA CENTENARIO, QUEZON CITY
Special thanks to Dev Angeo, Ivy Peralta, and Hector Calma
Watch the film's trailer here:
ADVERTISEMENT - CONTINUE READING BELOW